Disclosure: This content is reader-supported, which means if you click on some of our links that we may earn a commission.
Work order software has streamlined the way businesses across all industries that manage facilities and maintenance departments. It's used by organizations in manufacturing, healthcare, property management, education, and more.
This technology is far more efficient than paper work orders.
With work order software, all tasks can be managed electronically within a single tool. New work requests can come internally or from a customer, like a building tenant who needs a repair.
Companies can also use work order software to schedule preventative maintenance regularly. The use cases and advantages are seemingly endless. 
Any business with a maintenance department will benefit from work order software. But which solution is the best? Let's dive in to find out.
The Top 5 Options For Work Order Software
ServiceMax
UpKeep
MaintainX
FMX
Limble CMMS
How to Choose the Best Work Order Software For You
Certain factors must be evaluated when you're looking for and comparing work order software side-by-side. Below is the methodology I used to narrow down to the five on this list. You can use this as a work order software buying guide and weigh the following factors according to your personal needs. 
Industry and Use Cases
As previously mentioned, work order software is trusted across a wide range of industries with maintenance and facilities teams. But some solutions are better suited for specific industries.
For example, property managers and real estate companies likely won't use the same work order software as a single-site manufacturing facility. Some solutions are better for field service operations, while others are designed for on-site internal maintenance. 
Do you want customers, tenants, students, faculty, or staff to submit work order requests? Or will requests only be coming from internal management? Are you looking for preventative maintenance with scheduled tasks? Or will all work orders be manually added into the system?
These are the types of questions you should be asking to narrow down the search. 
Mobile Access
Mobile apps are a crucial tool for work order management, especially for field service, remote, and multi-site teams. 
This is the best way to benefit from real-time job updates. Your staff can update the status of a task on-site directly from an app, instead of being forced to find a computer or wait until they get back to base. Apps also reduce the need for phone communication from a dispatch center. Workers can receive new work order assignments directly on their mobile device that includes everything they need to get the job done. 
Overall, mobile access improves efficiencies and even drives autonomous work for your staff. 
This isn't necessarily a must-have for maintenance teams working at a small single-site location. But it definitely makes things easier at scale. 
Records Management
In general, electronic work order requests eliminate the possibility of physical work orders being lost or misplaced. But you'll still have options for managing electronic requests with different work order solutions. 
Each platform will have a unique order creation system. The best systems allow you to create custom digital forms that include all information required to start a work order. 
How will work orders be approved and assigned? Some platforms manage these steps manually, while others leverage automation. 
Determining the priority for a new request is crucial as well. For example, something like a water leak in a building is obviously more time-sensitive than replacing a light bulb. Make sure you choose a system that allows you to set parameters or manually control the priority of new requests.
Cost Tracking
Depending on your business type, cost tracking is another useful feature offered by work order software. Some work order software has built-in cost tracking tools. 
As each task and step in a work order is documented, you can calculate the total cost associated with a job. Then you can make the necessary adjustments to improve your efficiencies and keep costs as low as possible.
Not every work order solution is ideal for cost tracking. In some cases, the extra steps required to calculate these costs will end up doing more harm than good. If your staff is spending extra time trying to update every single aspect of a task, it could end up killing their productivity. 
Asset Management
Combining your work order software with an asset management solution can really improve efficiencies at scale. But not every work order software is built for asset management, and not every organization needs this feature.
Asset management is crucial for larger maintenance teams that need to check their inventory against pending work orders. It's also useful for preventative maintenance. Fleet-based maintenance teams can use asset management tools to check for parts and inventory while on the road. 
But a small, single-site maintenance crew can probably survive without asset management features.
The Different Types of Work Order Software
Work order software comes in all different shapes and sizes. But generally speaking, these tools can be put into four main categories. 
CMMS Software
CMMS stands for "computerized maintenance management system." These tools are ideal for large businesses seeking a solution for managing their entire maintenance department. 
Most CMMS software is optimized for preventative maintenance. They usually come with additional tools for asset management and even features for managing your staff. 
FSM Software
Field service management (FSM) systems are built for organizations with employees out in the field. Examples include electrical, plumbing, HVAC, and utility teams. 
FSM software makes it easy to assign new work orders to remote technicians. These tools typically come with other value-add features like vehicle tracking, asset tracking, and GPS check-ins. 
Mobile access is arguably the most crucial feature to look for in FSM software. This will be the best way to communicate with your field service workers and facilitate a two-way sharing of information. A dispatcher can share a file with a remote technician, and that same technician can upload relevant pictures from the job. All of this information will be available in real-time.
ERP Software
Lots of enterprise resource planning (ERP) software comes with work order management solutions. Larger organizations with complex needs may want to consider adding a work order module to a larger ERP solution. 
But getting ERP software if you only need a work order management solution is not necessary.
Standalone Work Order Tools
Standalone work order solutions are usually very simple. These tools are better for smaller crews who don't have complex needs. 
Standalone solutions still offer electronic order creation, tracking, completion, automation, and task management. But they don't come with extra distractions, bells, or whistles. 
Small businesses operating at a single site are viable candidates for a standalone work order solution. These tools will still improve efficiencies even without advanced features like asset management. 
#1 – ServiceMax — The Best For Work Order Scheduling and Dispatching
ServiceMax is a field service management solution with built-in work order features. It's trusted by global leaders like Sony, GE, and Tyco. 
The average ServiceMax customer improves technician productivity by 23% and increases service revenues by 25% after making the switch. If you need a better way to manage the work order process for your field service operation, look no further than ServiceMax.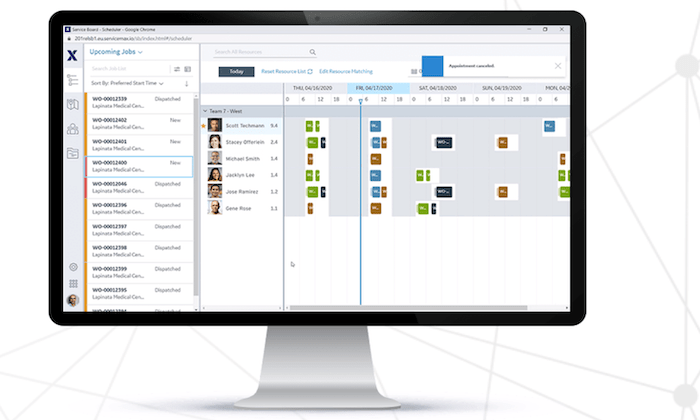 The unique standout of ServiceMax is its work order scheduling and dispatch board. Dispatchers will benefit from intelligent recommendations to ensure the right technician is assigned the right job at the ideal time. ServiceMax automatically considers the schedules of each mobile worker to maximize productivity. 
Aside from the modern and unique scheduling environment provided by ServiceMax, other top highlights of this software include:
Field service mobile app
Remote customer signature capabilities
Track costs associated with labor, parts, products, and more
Pre-built workflows
Supports work orders, service contracts, accounts, installed products, and more
Reports with in-depth work order insights
90+ self-service dashboards
Benchmarks and KPIs
Tools to empower customers
ServiceMax is trusted by organizations in a variety of industries. Examples include equipment dealers, medical device manufacturing, telecommunications, construction, energy, mining, high-tech manufacturing, industrial equipment manufacturing, and more. 
Get a free demo and speak to a ServiceMax specialist to get started.
#2 – UpKeep — The Best For Tracking Time and Costs
UpKeep is an all-in-one CMMS solution. It's a modern and robust way for organizations to streamline work orders and manage preventative maintenance. 
More than 200,000 maintenance professionals across a variety of industries rely on UpKeep for work order management. 
For such a feature-rich tool, UpKeep is surprisingly easy to use. Even for advanced use cases like cost tracking, the software maintains its simplicity. You can track time, parts, and any additional costs associated with each unique work order. 
UpKeep provides trend analysis and reports to help organizations lower costs associated with maintenance spending. 
Other key features and benefits include:
Easy to assign and prioritize new work orders
Reduce equipment downtime
Increase equipment lifespan
Automatically send mobile notifications to technicians for new work orders
Attach instructions and PDF manuals to work orders
Work order completion based on location and priority level
Global leaders like McDonald's, Marriott, and Yamaha all rely on UpKeep. From facility management to property management, preventative maintenance, and more, the software can accommodate a wide range of use cases.
The basic version of UpKeep's work order software is free to use. Paid plans start at $35 per month per user. 
#3 – MaintainX — Most Versatile Work Order Use Cases
MaintainX is an industry leader in the maintenance and operations space. The software is designed to increase productivity and asset lifecycle while simultaneously reducing maintenance costs, inspection times, and training costs. 
From daily operations to preventative maintenance, quality control, and operating checklists, MaintainX has it all.
MaintainX is undoubtedly the most versatile work order solution on the market today. The software is used across industries like hospitality, property management, country clubs, fleet management, education, restaurant, retail, manufacturing, industrial, facilities, and more.
It is trusted for a wide range of use cases, including asset management, inspections, preventative maintenance, inventory management, and compliance.
Here's a quick look at some of the noteworthy features and highlights of MaintainX's work order software:
Works on desktop, web, iOS (including iPads), and Android
Unlimited work orders
Unlimited assets
Unlimited locations
Unlimited photos and messages
Simple form templates
Real-time work order metrics
Recurring and reactive work orders
MaintainX can be as simple or advanced as you need it to be. There's a free version for small teams, and paid plans start at just $8.33 per user per month.
#4 – FMX — Best Work Order Software For Property Managers
FMX is another facilities and maintenance management solution with a wide range of potential use cases. But its work order software for property management is definitely the platform's unique standout. 
This is a complete CMMS solution built for property managers. 
The software has everything you need to manage single and multi-site properties at scale. Tenants can submit requests, and third-party vendors can respond to work orders. Your entire team can stay informed and in the loop on the status of each work order. 
Some of the features and benefits of FMX for property management include:
Customizable work order forms
Custom workflows
In-depth reporting and dashboards
Attach photos and files to work orders
Simple search and filtering
Work order notifications
Maintenance calendar
Time and cost tracking tools
Communication with tenants and vendors
All of FMX's tools and features can be accessed from an intuitive mobile app. So, technicians can view work orders and update their status on-site in real-time. 
Contact the FMX sales team for a quote. You can try it for free before committing to a contract.
#5 – Limble CMMS — Best Mobile App For Managing Work Orders
Limble CMMS is a modern way for maintenance teams to add simplicity, organization, and automation to their work order processes. 
The software is trusted by global leaders like Nike, DHL, Holiday Inn, and more.
Most of the best work order tools on the market today come with some version of mobile access. But the mobile app from Limble CMMS is second to none. Regardless of the industry or use case, this app is designed to increase productivity and make work order management more efficient. 
Work orders can be logged and updated in less than 60 seconds from the mobile app. Technicians have the ability to start new orders while in the field directly from the app as well. 
Top features, benefits, and noteworthy highlights of Limble CMMS include:
Instant communication and alerts via push notification
Asset management for up to 100,000 assets
Real-time reporting and KPIs
Real-time asset data with sensor connectivity
Ability to attach invoices, pictures, files, or parts to work orders
Cost and time tracking
Custom maintenance dashboards
Limble CMMS starts at $40 per user per month. Even the entry-level plan comes with work order management features, and you can try it for free for 30 days.
Summary
Work order software is the way modern maintenance and facilities teams manage and complete tasks. It's significantly more efficient than relying on paper or carbon copy work orders. 
Which work order software is the best? It depends on your needs.
From property management to field service work and more, the recommendations reviewed here have something for everyone. Use this guide as a resource to find the best work order software for your business. 
The post Best Work Order Software appeared first on Neil Patel.