Print on demand can be a convenient, cost-efficient way to get your creations out there. Of course, like anything in business, there are pros and cons to using print on demand.
However, the many opportunities available with print on demand services are almost limitless. Putting your creativity to work, you may find print on demand is a great way to supplement, experiment with, or support your business goals.
What is Print on Demand?
So you have a great new idea. Maybe it's a new design or a new book.
What if you could get it out on the market without the expensive overhead of a bulk order?
That's where print on demand comes in. As the name suggests, an item is printed when the demand calls for it. When you or one of your customers orders a product, only then is it printed and shipped out.
A type of dropshipping, print on demand allows you to engage with a third-party seller who customizes a blank item from their inventory of options with your design or personalization. Your customers can place their order through that seller, or you can purchase your products in smaller quantities.  
Print on demand is available for a wide range of items from a variety of vendors. We'll discuss a few specific vendors below, but here are a few categories of items you can print:
Books: Fiction and non-fiction books, e-books, workbooks, notebooks and journals, photo books, coffee table books
Apparel: T-shirts, sweatshirts, hats, socks, bibs, kids' clothing
Household Items: Kitchen towels, cushion covers, tote bags, pet products, mugs
Office Items: Pens and pencils, notepads, mousepads, thumb drives
Paper Items: Posters, stickers and labels, folders, bumper stickers
Create something new. Get it out there quickly. That's what print on demand is all about.
The Benefits of Print on Demand
Print on demand is a popular revenue stream or marketing strategy for many businesses, and for good reason. Here are a few of the benefits.
Printing on Demand Means Lower Overhead
Rather than purchasing inventory, which often requires large, bulk orders, you can sell items one at a time. That means you only have to pay when an item is actually purchased. Whether you're starting lean or aren't sure how popular a product will be, you can keep your overhead low and costs in line with exactly how many you have sold.
There May Be Less Work With Print on Demand
If you want to sell a new product line, you may not want to spend time looking for a new vendor or be responsible for research or shipping. The third-party vendor takes care of the printing and the shipping for you, letting you focus on more product lines or ideas. It's a great way to get the product out there without a lot of work on your part.
Printing on Demand Often Takes Less Time
We've all been there. You come up with a great idea in the middle of the night, and it needs to become a reality the next day. But, you don't have time to print and gather inventory. Print on demand allows for this kind of spontaneity and flexibility.
You May Face Lower Risk With Print on Demand
Let's be honest: Not every idea is a winner. Rather than shelling out a lot of money on inventory, putting you on the hook for selling those products, print on demand allows you to test out an idea without putting all your eggs in that basket.  
You may find your customers respond to your design, but only on certain products, but not others. Or they may love the design for a time and then be done. And when they're done, you can be, too.
With lower risk and lower overhead costs, it's an option that makes sense in many circumstances.
The Drawbacks of Print on Demand
There are a lot of reasons to turn to print on demand for your next idea, but there are downsides as well. Consider some of these drawbacks before deciding whether this option is right for you.
Print on Demand May Have Lower Profit Margins
In general, print on demand costs more per item than inventory you purchase in bulk. This means you'll either have to pass these costs on to your customers by charging more or absorb the costs and make less per item. This may not be a problem if this is a supplemental or side project, but it's worth calculating.
There Are Often Limited Product Options With Print on Demand
When you work with a print on demand vendor, you're limited to their inventory. Maybe you would prefer that sweatshirt in plum or a more modern style hat? Well, the company doesn't necessarily have that kind of flexibility. You usually have to just go with what the vendors have available.
You Usually Have Less Control When Printing on Demand
With print on demand, you don't have much control over the products, including the quality of design, where the product is made, and so on.
For some, this isn't a big deal. You're just trying to get the design out there. But for others, this could be a sticking point. You may not want your brand or designs associated with a product you don't have ultimate control over.
Printing on Demand Means Shipping From Somewhere Else
This can be an issue when it comes to customer service and general follow up. When a customer orders a product from a print on demand vendor, it's not coming from you—it's shipped from the vendor.
This means their logo and address are associated with the shipping, and they have control over when it ships and how it's tracked. But, you may be the one customers will come to when there are problems, not the vendor.
Overall, print on demand could be a great option if you can handle a more hands-off approach. But if you're the kind of business owner who needs that hands-on touch throughout the process, then you may want to reconsider how well print on demand is going to serve you.
Who Uses Print on Demand Services?
With so many different products available through print on demand and endless customization options, theoretically, just about everyone could use this service to benefit their business.
Here are just a few common groups that leverage print on demand to further their business goals:
Content creators, artists, and designers showing off their skills
E-commerce business owners expanding their offerings
Social media influencers selling merch to their followers
Start-ups getting the word out about their brand
Growing companies sharing their logo or slogans with loyal customers
Nonprofits fundraising for their causes
As discussed above, the best people for print on demand services are creative, fast-moving business owners who want to get a product on the market but don't want to spend a great deal of time, money, or energy to produce and ship items in-house.
5 Reasons Print on Demand Can Benefit Your Business
If you're the kind of business owner who's ready to engage with print on demand services, your wheels may already be spinning with ideas. What can you make next?
Before you dive in, think about the goals you have for this project. Let's take a look at the many ways you can use print on demand to benefit your business.
Grow Your Audience With Print on Demand
Print on demand allows you to create new products during a specific season or for a niche customer base. You can get the products out to them, practically overnight, and reach an audience you could have missed otherwise.
Use Print on Demand to Advertise Your Brand
Advertising your brand through merchandise can build a small income stream and support your overall marketing efforts by spreading the word about your brand. This is especially useful if your brand is connected with a local market or a specific audience that tends to gather at special events.
Print on Demand Could Increase Your Customer Base
Printing on demand often allows you to diversify your product offerings and reach more buyers. For example, if you offer one-offs or customized products, print on demand can let potential customers who aren't ready for a larger investment to connect with your brand at a lower price point.
Print on Demand May Level Up Your Image
Many print on demand services, like some discussed below, have been around for a while and built some street cred with buyers. Rather than taking a chance on printing items yourself, leaving customers to wonder about the quality, print on demand lets you engage with popular third-party companies that do the work for you — and make you look good by association.  
Get Immediate Feedback With Print on Demand
Not sure if your next big idea is going to hit it out of the park? Print on demand lets you test the idea among your customer base. In fact, you could create some products using print on demand and send the idea or sample products to your most loyal fans to get their feedback before you spend too much time on it.
Print on Demand Options for Businesses
The options for print on demand are almost as limitless as the ideas you can create for them. However, here's a short list just to get you started.
(These aren't in any particular order, and the list is certainly not exhaustive. If you have a favorite print on demand service we haven't shared, please comment with your recommendations.)
If you already have an e-commerce shop, such as a Shopify site, you may want to look for a print on demand app or integration with your e-commerce platform. This could make creating and listing a seamless experience.
Zazzle
One of the early players in this space, Zazzle has been around for a long time and has built a solid reputation. When you create on Zazzle, you can leverage their expansive marketplace and potentially build your audience there.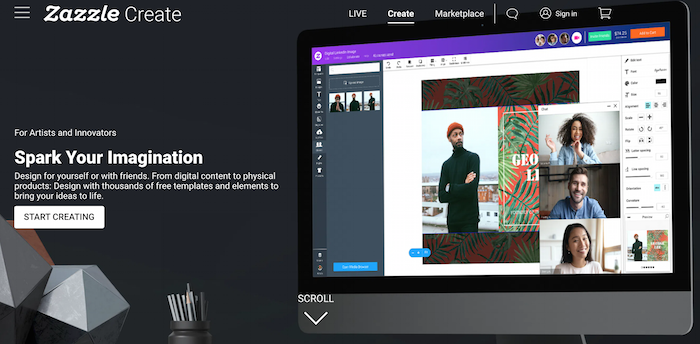 Printify
In addition to hundreds of product options, Printify provides state of the art features to make creating and selling more straightforward.
Their Mockup Generator lets you "see" your design on a product before you order a sample. They also have a wide range of integrations with e-commerce platforms.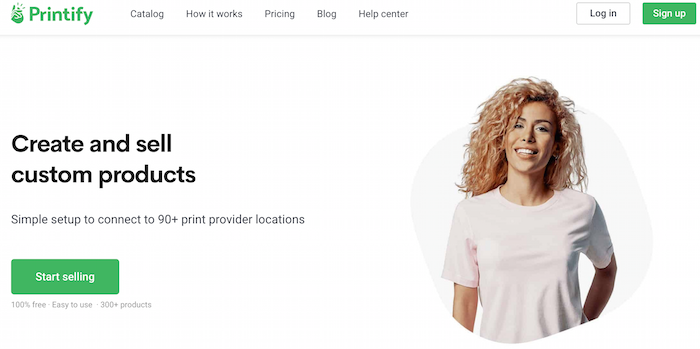 Lulu
Lulu is a self-publishing platform giving authors and similar types of artists a print on demand option for their creations.
For instance, rather than looking for a traditional publisher to take a chance on your book, you can get it out there immediately with Lulu's publishing options. You can also build an author platform on the Lulu website.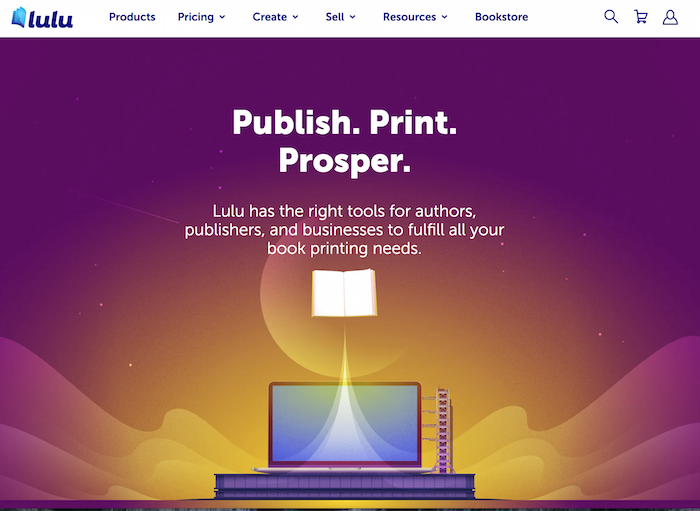 Society6
Catering to artists and designers, Society6 boasts a range of products from apparel to home decor. They focus on prints and canvases, making it appealing to artists who want to sell reproductions of their work.
Additionally, Society6 actively promotes its artists, highlighting top sellers with a strong aesthetic style.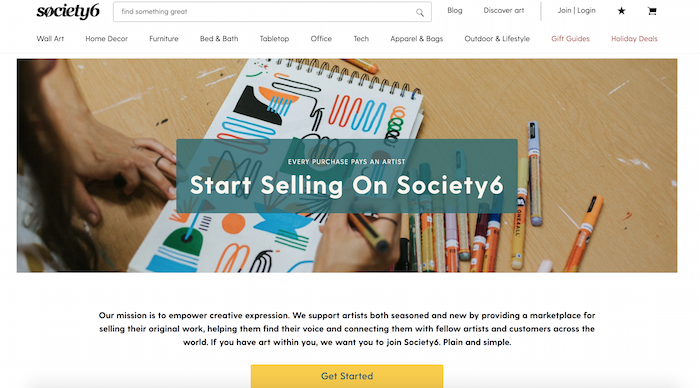 TeeSpring
TeeSpring encourages the success of its creators through incentives. Working a little differently from other print on demand services, TeeSpring offers you more products to design and sell as your monthly sales increase.
They also have a tiered system that charges less per product as your sales increase, giving you a higher profit margin if your creations succeed. Additionally, TeeSpring has Merch Shelf, a YouTube integration that can further market your products if you qualify for this option.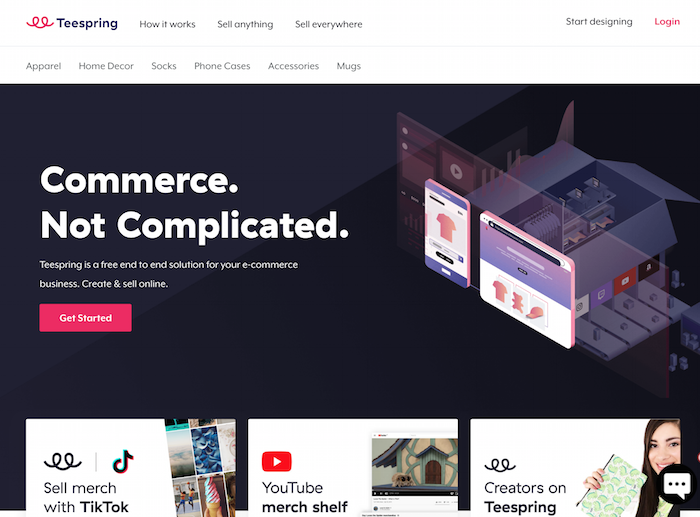 Conclusion
Print on demand can open several doors for your business and let you explore new ideas in a low-risk environment while reaching a larger niche customer base.
Whether you're looking for a way to explore a new design, develop a new income stream, build up your side hustle, or jump on a current trend, print on demand could be the answer.
What product are you ready to print on demand?
The post How to Use Print on Demand Services to Grow Your Business appeared first on Neil Patel.