Disclosure: This content is reader-supported, which means if you click on some of our links that we may earn a commission.
Do you want to skip the read and get right to my top picks? The best cheap web hosting service for most people is Hostinger or Bluehost.
If you're launching a new website, there's no reason to pay a fortune for web hosting. There are plenty of cost-effective solutions available on the market for you to choose from.
Small websites, personal blogs, and other newer websites can definitely get away with a cheap web hosting plan.
But with thousands of web hosting providers to choose from, finding the best option for your site can feel like a tall task. 
Fortunately, you won't actually have to search through thousands of plans. There are really only one or two dozen reputable web hosts to consider. That list gets even smaller if you're looking for a cheap web hosting plan. For those of you on a tight budget, these are my top picks:
The Top 6 Options For Cheap Web Hosting
Hostinger — Best Web Hosting Plan Under $1
Bluehost — The Best Value in Web Hosting
A2 Hosting — The Best Customer Service
HostGator — The Best Cheap Cloud Hosting
iPage — Best Cheap Web Hosting Features
GoDaddy — The Best Cheap VPS Hosting
How to Choose the Best Cheap Web Hosting For You
Web hosting can be complicated, especially if this is your first time searching for a host. To ease the buying process, I've identified and explained the top factors to evaluate as you're shopping around.
Find the best cheap web hosting plan for your site by taking the following elements into consideration:
Contract Terms
Lots of web hosts might seem cheap at first glance, but you need to analyze your contract terms to truly get a sense of the cost. 
To lock in the lowest possible rate, you'll likely have to commit to a two, three, or even a four-year plan. These contracts are typically paid up-front and in-full. So a host advertising rates of $3 per month could actually cost you upwards of $100 today.
Some hosts offer low prices, but then charge you for extras that should be included for free (like SSL certificates).
Always check your renewal rates as well. It's common practice in the web hosting industry for hosting plans to skyrocket upon renewal.
Promotional pricing might cost $2.75 per month but automatically renew at something like $10.95 per month. So your rate could eventually triple or quadruple (which might not be so cheap anymore).
Performance
If you're looking for rock-bottom prices, you can't expect to have the best performing website in the world. In a sense, you get what you pay for.
But with that said, you should definitely take your website uptime rates and page loading speed into consideration. 
Weighing your site performance metrics against your budget can be tough. If it's a small personal website, micro blog, or just a fun side project, the performance won't matter that much.
However, if you're using the site for business purposes, it's worth paying a little bit extra to ensure the site performs well. Otherwise, poor performance could result in lost revenue.
You should still be able to find a cheap hosting plan that provides decent site performance. Just don't expect the best at such a low rate.
Traffic
Traffic and speed go hand in hand. If you're getting lots of traffic, it could impact the performance of your site on a cheap plan.
The cheapest web hosting plans will be shared (more on this shortly). With shared hosting, you'll be sharing server resources with other websites. If those sites get traffic spikes, it can impact your site's performance as well.
Any cheap plan should be able to accommodate up to 10,000 monthly visitors. There are even some options that handle 25,000+ visitors per month. But once you start to get into the ~50,000 range, it might be time to upgrade to a better plan (not in the "cheap" category).
Customer Service
The day is going to come where you need some assistance from your web host. Maybe your site went down, or maybe you need help with a migration. Whatever the reason might be, you want to make sure the host will be there to resolve your issues when this happens.
What will you do if your traffic starts increasing and you need to upgrade to a new plan? Will your host be there to walk you through this process and offer a seamless transition?
These are the questions you should be asking yourself. 
Included Features
What comes with your web hosting plan?
In most cases, plans should come with more than just hosting. Some providers will offer a free domain name, free SSL certificate, free migrations, one-click WordPress installations, unlimited subdomains, domain privacy & protection, free backups, and more.
You'll even find some hosts that offer perks like free marketing credits or free access to Microsoft Office 365. 
These extras shouldn't necessarily be a dealbreaker, especially if you're not going to use the features. But avoid hosts that don't include the basics and force you to pay extras for add-ons that should come standard. 
The Different Types of Cheap Web Hosting
The term "cheap" is obviously subjective. A college student starting a personal blog as a side project or a hobby will have a different definition of cheap than a small business owner trying to generate sales online. 
But with that said, cheap web hosting can be segmented into the following five categories. I'll give you some more information on each one below.
Shared Hosting
Shared web hosting will always be the cheapest option. These entry-level plans host multiple websites on a single server. 
You'll benefit from low rates, but your site won't have dedicated server resources. Other sites on your server could take up the server resources and cause your site to crash. Your host might even limit your bandwidth and slow down your site if you get traffic spikes.
While shared hosting isn't the top of the line, it's the best option for the vast majority of new websites. If you want something cheap, there's no reason to look beyond shared plans. 
VPS Hosting
VPS (virtual private server) hosting is a step above shared hosting.
It's a bit more expensive, but your site performance will improve dramatically. You'll still be sharing servers with other websites; however, your site will have its own dedicated resources on a virtual server. 
For those of you who are expecting tons of traffic out of the gate, you could consider jumping right into a VPS plan. Alternatively, cheap VPS hosting is ideal for websites that have outgrown a shared plan.
WordPress Hosting
WordPress hosting can come in all different shapes and sizes. There are shared WordPress hosting plans, WordPress VPS plans, fully managed WordPress hosting, and more.
As the name implies, this is obviously made for WordPress websites. 
If you want perks like one-click WordPress installations, automatic WordPress updates, free WordPress backups, and other similar features, this will be a top option to consider. The price can be pretty comparable to shared hosting or slightly higher (depending on the provider). 
Cloud Hosting
Cloud hosting is relatively new. But this type of web hosting has quickly gained popularity in the hosting world. It can best be described as a hybrid version of VPS hosting, but cheaper.
So if you're price-sensitive and evaluating VPS plans, cloud hosting will likely be more cost-effective. 
Cloud plans are great for those of you who want to scale your server resources on-demand. This will help you account for traffic spikes. 
Lots of cloud providers only charge you for the server resources that you're actually using. While this can be tough to budget for, it's a great way to save money and ensure you're not overpaying for resources that never get used. 
Dedicated Hosting
Dedicated servers are the top of the line in the world of web hosting. In short, they aren't cheap. 
You'll have your own server to do whatever you want with. It's made for developers and businesses that want to customize their hosting environment at the server level. Dedicated hosting provides your site with the best possible performance. 
But all of this comes at a price, so 99% of people reading this guide should stay away from dedicated servers. 
#1 – Hostinger Review — Best Web Hosting Plan Under $1
Hostinger is one of the most reputable names in the world of web hosting. Their hosting services are simple, straight forward, and best of all—cheap.
You can get plans for as low as $0.99 per month. 
If you're looking for the cheapest possible plan from a reputable provider, look no further than Hostinger. It's worth noting that you'll need to lock in a 48-month contract to get this rock-bottom rate. 
This plan is really only suitable for beginners and new websites. For those of you who want fewer restrictions, Hostinger has two other shared plans starting at $2.89 and $3.99, respectively—both still very affordable. 
Noteworthy highlights of Hostinger's web hosting plans include:
Easy to set up
Simple site migrations
Optimized for WordPress (with one-click installations)
Built to scale
User-friendly control panel
Cloudflare protected nameservers
Github integration
99.9% uptime guarantee
Unlimited bandwidth (with select plans)
Free domain name (with select plans)
All Hostinger web hosting plans are backed by a 30-day money-back guarantee. So if you're unhappy for any reason, just contact their support team for a full refund. 
#2 – Bluehost Review — The Best Value in Web Hosting
Bluehost is one of the most popular providers in the web hosting industry. They power 2+ million sites across the globe.
Shared hosting plans from Bluehost start at $3.95 per month. While this entry-level pricing is a bit higher compared to other options on our list, Bluehost is arguably the best host on the market today.
Personally, I'd rather pay a couple of extra dollars per month for quality. If you fall into that same category, Bluehost will be perfect for you.
This is also my top pick for anyone starting a new website from scratch. Bluehost makes it easy for you to bundle your web hosting with domain registration from a single provider. 
Other features and benefits of Bluehost include:
24/7 customer support
Free domain name for one year
Recommended by WordPress since 2005
Automatic WordPress installations and automatic WordPress updates
Free SSL certificate
Unmetered bandwidth
Bluehost is built to scale as well. As your site gains traffic and requires additional needs, this hosting provider makes it easy for you to grow. 
All Bluehost web hosting plans are backed by a 30-day money-back guarantee. So you can try Bluehost risk-free. 
#3 – A2 Hosting Review — The Best Customer Service
A2 Hosting is synonymous with speed. With turbo servers, more resources, and extra power, they boast some of the fastest page loading times in the hosting industry.
Shared plans from A2 start at $2.49 per month, but you'll need to upgrade to a higher tier if you want to take advantage of their fastest speeds.
While everyone talks about A2 Hosting's speed, it's their customer service and support that really stands out the most to me. All plans come with features and benefits like:
Free and simple site migrations
24/7/365 guru support
Free automatic backups
99.9% uptime guarantee
Optimized for WordPress, Joomla, Drupal, OpenCart, and Magento
Free SSL certificate
If you're starting a new site from scratch, A2 Hosting has site-building tools as well. For those of you who have an existing site hosted with another provider, A2's expert site migration team will handle the transfer for you.
Like most providers on our list, A2 Hosting also has a 30-day money-back guarantee.
#4 – HostGator Review — The Best Cheap Cloud Hosting
As previously mentioned, cloud hosting is a cost-effective alternative to VPS hosting. So if your site is getting too much traffic for a shared plan, but you don't want to spend a fortune upgrading to a VPS, HostGator has cheap cloud plans for you to choose from.
Starting at just $4.95 per month, you won't find a better deal from such a reputable provider.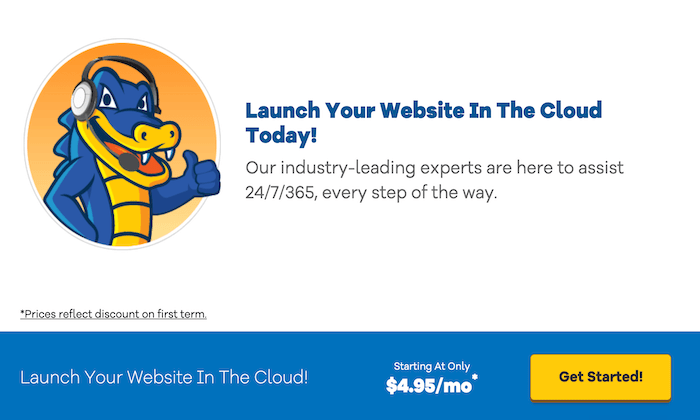 In addition to blazing fast load speeds, HostGator cloud hosting allows companies to increase their resources with the click of a button. Scale on-demand, with no data migrations or downtime necessary.
Some other noteworthy highlights of HostGator's cloud plans include:
Up to 2x faster and 4x more resources than shared plans
Free domain registration
Free SSL certificate
Easy to set up with a powerful dashboard to manage your site
Integrated caching
Data mirroring
Automated failover (to prevent downtime)
At such a low price, you could even consider getting a HostGator cloud plan if you're launching a new site from scratch. It's the perfect combination of performance and value.
#5 – iPage Review — Best Cheap Web Hosting Features
iPage is a web hosting provider and site builder bundled into a single package. If you're starting a new website from scratch and looking for a bargain, this will be a top choice to consider.
Hosting plans start at $1.99 per month with a 36-month contract.
Even at such a low introductory rate, the plan is packed with features. Here's a quick overview of what comes with your subscription:
Free domain registration
Free email address
Free SSL certificate
Free website builder
Free domain transfers
Free WordPress building tools
Free SiteLock security scans
$100 in Google Ads credits
$100 Bing ad credits
Unlimited domains
Thousands of free templates
24/7 phone and live chat support
iPage is even optimized for ecommerce sites, making it a popular choice for beginner online stores. Plans are backed by a 30-day money-back guarantee. So you'll have a month to try iPage risk-free.
#6 – GoDaddy Review — The Best Cheap VPS Hosting
Most people recognize GoDaddy for their domain registration services and provocative marketing campaigns. But they are also a big player in the web hosting space.
For those of you who have outgrown your shared plan, GoDaddy has cheap VPS hosting, starting at just $4.99 per month.
This rate is closer in price to most shared hosting plans, as opposed to comparable VPS plans from other providers. It's worth noting that the self-managed VPS plans from GoDaddy aren't really designed for beginners. These plans are built for developers, designers, and system administrators who want full control over their hosting environment. 
All VPS plans include:
Root access to configure your server needs at the operating system level
Monitoring and notification alerts for servers and performance (CPU, RAM, storage)
Advanced DDoS protection and free SSL certificate
Easy to scale and increase RAM, CPU, and storage
Ability to choose your data center
Automated weekly backups
Ability to create unlimited hosting accounts
Optional cPanel/WHM + installation
Unlimited traffic with a 99.9% uptime guarantee
Again, if you're a beginner starting a new site from scratch, look elsewhere. But tech-savvy individuals with hosting experience can definitely benefit from GoDaddy's cheap VPS plans. 
Summary
If you're looking for cheap web hosting, choosing a shared plan from one of the recommended providers on the list above will be your best option. These start as low as $0.99 per month.
Some of you might be looking for a bit more than an entry-level option. If you fall into this category, there are some cheap VPS plans and cloud plans to consider as well. 
As long as you follow the buying guide resources and tips I've outlined in this guide, you won't have a problem finding what you need.
The post Best Cheap Web Hosting appeared first on Neil Patel.