Disclosure: This content is reader-supported, which means if you click on some of our links that we may earn a commission.
You know the revenue is out there and you know an email campaign can help you get it. But how do you keep a strong handle on your campaign as it plays out over weeks and months?
Email autoresponders can save you a ton of time and deliver huge returns on campaign investment. Yet automation can be a double-edged sword.
The sad truth is that many thoughtful email campaigns become inbox wallpaper. It only takes a few mistimed or off-target emails before your audience starts to tune them out.
A good email autoresponder gives you the ability to connect with customers, at scale, without overwhelming them. 
Or your team, for that matter. These products eliminate many of the tedious and repetitive tasks that are so essential to building relationships at scale.
Delight your customers with content they're interested in. Get full visibility into your open and click-through rates and watch them climb.
Let's walk through the best email autoresponders, what they can do for you, and how to select the right one. 
The Top 5 Options for Email Autoresponders
Mailchimp – Best for beginners
MailerLite – Best free email autoresponder
Klaviyo – Best for ecommerce
GetResponse – Best for sales teams
Moosend – Best for simple marketing automation
How to Choose the Best Email Autoresponder for You
Email autoresponders can help your teams get more done in less time, without sacrificing the personal touch that drives clicks. However, not all email autoresponders are created equal. 
Some will work well for a brief series of 3-5 emails that welcome a new contact and warm them to your products—good for a simple customer journey.
Others help you set up complex automated workflows that respond to customer behavior, shopping tendencies, and other triggers you define.
The end goal is setting up something that automatically sends the right message, to the right customer, at the right time. 
Here are the major features of email autoresponders that are helping companies increase their chances of success:
Automation Capabilities
It's right there in the name—the big boon of autoresponders is automating menial, manual campaign tasks. 
However, the more robust tools tie into your customer databases or CRM, and let you define triggers based on a range of highly-personalized criteria.
Some of the popular automation capabilities you will see include:
Welcoming/Onboarding: Greet new users, customers, or employees
Web Trigger: Make contact when someone clicks on a link, fills out a form, updates a field, makes a purchase, or joins a group
Reminders: Send time-sensitive emails about deals or webinars
Celebrations: Send discounts for birthdays and anniversaries
VIP: Trigger discounts and promotions for loyal customers 
Abandoned cart: Contact a customer with the opportunity to buy items left in their cart
Follow up: Reach out after a purchase or interaction
A/B testing: Experiment with different versions of the same email to analyze performance and evolve your strategy
Branch flows: Create workflows that split customers based on conditional or logical triggers to direct them down the most appropriate path
A really good autoresponder lets you build out workflows within a visual editor, giving you a bird's eye view of each trigger and step of the process. 
Make sure you pick something with the capabilities you need to design each customer's entire journey.
Email Editor
Don't forget about crafting great emails. They have to be appealing from the subject line to the CTA, and every element must be optimized for web and mobile.
Good email autoresponders make these challenges much easier. My favorite products have intuitive visual email builders that help you make content that converts. 
Beyond designing beautiful emails quickly, you can add buttons, embed content, and preview exactly what your email is going to look like from a customer's point of view.
Find an autoresponder with an email editor that your employees enjoy using that also delivers predictable results. 
With it, you'll find that your teams will be able to quickly generate on-brand emails, consistently building out the perfect message for each step of a customer's journey.
Email Segmentation 
The contacts who make up your list are different people. That should go without saying. 
But, even today, many companies rely on email blasting their full list to get the word out.
Effective email campaigns are based on putting things in front of customers that they actually want. 
Email segmentation allows you to leverage customer data in service of better targeting, through which you can differentiate your contact list into groups based on:
Age
Average spend
Cart contents
Gender
Geolocation
Past purchases
Weather conditions
Website behavior
Companies like Starbucks are sending weather-appropriate discounts on drinks: it's no accident when their emails entice consumers to warm up on a rainy day or cool off when the temperature spikes.
This is a whole new way to approach customers where they are. 
Every company defines their important segments differently. The richer your customer data, the easier it will be to use email segmentation to increase your conversion rate.
Email Personalization
Automated, personalized emails go well beyond using a contact's name in the subject line. 
With Klaviyo, for example, you can automate the inclusion of product recommendations in the body of your email based on a contact's location, past purchases, current weather, and so on. 
Some autoresponders leverage machine learning to suggest products that other shoppers with similar tastes have ordered. 
The best tools help you nail the easy stuff—like greeting subscribers by name and remembering their birthdays—while helping you convert customer data into revenue.
Tip: the better your email segmentation strategy, the easier it will be to leverage personalization, especially at scale.
Campaign Management
As your contact list grows, it's going to include more diverse customers at different stages of their buying journey. 
You are going to want an email autoresponder that gives you the ability to manage this growing list and provides visibility into the ongoing performance of your campaign.
We all know about open rates and click-through rates. Those are important, but make sure you find something that lets you drill down into what matters at the end of the day, like sales per email, ROI per email, and total sales per email sent.
Staying effective in the long term means making adjustments. Campaign management tools help you figure out what's working and what to change.
Email and Subscriber Limitations
Typically, email autoresponder pricing is based on the number of subscribers you have and the number of emails you send each month.
This should be a pretty straightforward consideration. But if your goal is growth, factor in how many more you're looking to add to your list over the next month, quarter, or year.
If your email marketing strategy takes off and you need to bump up into a higher pricing tier, will that be a problem for your budget and ROI?
The Different Types of Email Autoresponders
Email autoresponders have been around for a long time. These days, virtually all of your best options are going to come as one component of a larger email marketing service.
That said, you can still find tools that will help you automate email marketing without requiring you to incorporate new services into your business processes.
The questions you need to answer are: Are you looking for basic email autoresponder features that help you automate specific workflows? Or are you looking to automate complex email workflows that dovetail into your larger marketing strategy?
If you answer yes to the first question, a dedicated email automation tool should be able to help you accomplish your goals. If you answered yes to the second question, you are going to want to skip ahead to the bundled products that will better meet your needs.
Dedicated Email Automation Tools
Exemplary products: MailerLite, Mailchimp (Free & Essentials), GetResponse (Basic), Moosend (Free)
Free email autoresponders and lower-tier plans allow you to build out simple workflows. This might be a welcome series, an automated response to a new customer or purchase, or a follow-up with someone who just reached out to customer service.
These dedicated email automation tools are great because they're so easy to use. Virtually any member of the team can put together workflows that save time each day. 
Of course, these options don't come with as many features to segment your list, personalize emails, or manage a campaign.
Another potential problem is that it's harder to assess your campaign performance and make adjustments without advanced tracking and reporting.
That said, dedicated email automation tools allow individuals to accomplish far more than they could ever do manually. 
If you already have a suite of online marketing tools that are working well and all you need is the email automation, these products can work wonders without a significant outlay.
Automation Bundled with Email Marketing Tools 
Exemplary products: Klaviyo, Mailchimp (Standard & Pro), Moosend (Pro & Custom)
To provide a more complete tool for the job, there are a range of autoresponders that offer automation bundled with email marketing tools.
These products make it easy to track customers, analyze behavior, and revise your campaign strategies accordingly. 
Tools like Klaviyo, for example, integrate directly with your customer data, giving you powerful segmentation and personalization capabilities with hardly any extra work.
They also let you build complex workflows that let you tailor your automation strategy to your specific needs. Often, they will include a visual builder that makes it much easier to design and manage flows.
With email marketing services, it's important to recognize that lower-tier plans are going to function more like simple automation tools, even if it's the same product. 
Mailchimp, for instance, lets you create multi-step journeys with their Essentials tier, but you can't include branching points unless you get their Standard plan. If you want to take advantage of all the segmentation features—which will make your multi-step journey more effective—then you will have to get their Premium plan.
#1 – Mailchimp — Best for Beginners
Mailchimp is a powerful product that hasn't lost its simple feel, though it has grown considerably since it first hit the market in 2001. 
Today, it functions as an integrated marketing platform, taking on way more responsibility than the email automation it became famous for.
Despite its depth, I like Mailchimp as an email autoresponder for beginners because it's constantly offering user recommendations based on intelligence from billions of email interactions. 
Subject Line Helper, for instance, offers data-driven insights about how to increase open and click rates. 
There are plenty of other excellent features, including:
Drag-and-drop email editor
Segmentation capabilities to target messaging and automate product recommendations
Send Time Optimization
Multi-branch customer journeys
Behavior-based automation
Lookalike audience finder
RSS to email 
Transactional Emails with Mailchimp API or SMTP
Mailchimp offers a free forever version that's limited to 2,000 contacts, but comes with features like a marketing CRM and landing pages that you won't get with other freemium email autoresponders.
To get the Customer Journey Builder, which lets you construct workflows in a visual editor, you will need one of the paid plans:
Essentials: starting at $9.99/month for 500 contacts
Standard: starting at $14.99/month for 500 contacts
Premium: starting at $299/month for 10,000 contacts
Some of the aforementioned features, like predicted demographics or the lookalike audience finder, are only included with Standard and Premium.
Millions of companies have seen Mailchimp increase their ROI. You can get started with the free version today, knowing that they also have tools to help you grow.
#2 – MailerLite — Best Free Email Autoresponder
MailerLite is used by more than one million companies, startups, and freelancers because it is an intuitive, budget-friendly platform that delivers results. 
Its free version lets you send 12 emails per month to 1,000 subscribers, which might be all some people need to get started.
For an email autoresponder that's easy to use, MailerLite comes packed with simple, yet powerful features that help you optimize your campaign. 
I like using A/B split testing to send two variations of an email and see which one performs better.
The clean MailerLite interface gives your teams the control they need to communicate effectively with your subscribers. 
Some of its best features include:
Automate RSS to email
Time-zone based email delivery
Auto resend unopened emails with alternative subjects or personal messages
Segment subscribers based on a varied criteria
Rich email personalization
Target specific interest groups by tagging subscribers or inviting them to self-select
Track email campaign activity with detailed reports
Click maps to analyze subscriber interaction with your emails
MailerLite also comes with features to customize your website experience, like pop-ups and embedded forms, as well as an amazing drag-and-drop editor to craft striking newsletters.
Better still, it's very affordable beyond the free version.
Free: Up to 1,000 subscribers, 12,000 monthly email limit
$10/month: Up to 1,000 subscribers, unlimited emails
$15/month: Up to 2,500 subscribers, unlimited emails
$30/month: Up to 5,000 subscribers, unlimited emails
$50/month: Up to 10,000 subscribers, unlimited emails
As a free email autoresponder, MailerLite is hard to beat for any small business. You get a free website with five landing pages, a drag-and-drop visual email editor, and advanced segmentation features.
It's almost unreasonably generous.
For organizations that need the paid plans, the price is still very competitive and the premium features will pay for themselves many times over.
#3 – Klaviyo — Best for Ecommerce
Klaviyo ties into a CRM or ecommerce platform and makes it easy to deliver ultra-personalized content via email. 
No more unfocused email blasts to the public. Instead, Klaviyo allows users to build out unique customer journeys for long-time fans and first-time window shoppers. 
Because it has native integration with customer data sources, you can get pretty fine-grained with the segmentation. 
And, with the simple user interface, anyone on your team can start maximizing the relevant content every visitor sees.
Klaviyo iworks across many channels, allowing you to expand your subscriber base via Facebook, for example.
Nurture individual leads from a 10,000-foot view by using the features in Klaviyo's extensive toolkit:
Prebuilt autoresponders
Email personalization for first-time buyers, regulars, VIPs, and more
A/B split testing
Drag-and-drop, WYSIWYG email editor
Responsive templates optimized for web and mobile
Shoppable product recommendations in email
Rich selection of behavior-based triggers 
Comprehensive segmentation options
The free plan for Klaviyo maxes out at 250 contacts and 500 emails, after which you will be asked to upgrade. Paid plans start at $20/month for up to 500 contacts and unlimited email sends, climbing higher depending on the size of your contact list.
#4 – GetResponse — Best for Sales Teams
GetResponse has provided one of the simplest, most effective email autoresponders for more than 20 years. Over that time, they've added features and evolved the UI to keep it one of the most useful products on the market.
Their experience shows. They know what works, why, and how to help you get set up. 
For one, GetResponse offers hundreds of professionally designed templates to communicate with customers at every step of their journey.
The built-in sales features are also really nice, and really set GetResponse apart from the other easy-to-use autoresponders. Even their Basic plan comes with a sales funnel, unlimited lead funnels, and unlimited landing pages.
With other email autoresponders, you're going to have to integrate your pipeline. With GetResponse, you can keep daily operations under one roof.
Along with a flexible email autoresponder, GetResponse has a number of other useful features to help you connect with customers:
Unlimited email sends
Transactional and time-sensitive emails
Drag-and-drop email editor with mobile and inbox preview
Add content blocks, videos, buttons, and social media icons to emails
A/B testing
List and calendar views for email scheduling
RSS-email templates
GetResponse doesn't have a free forever plan, though they do offer a free trial. Pricing starts at $15/month for 1,000 contacts with their Basic plan, which comes with all the features listed above. 
And much more. Honestly, the Basic plan is far from basic.
At the Plus and Professional pricing tiers, you have more features like webinars, as well as greater degrees of customization. 
Their top tier plan, Max, comes with a dedicated IP address, SSO, and other features designed to secure and streamline enterprise email marketing and sales.
#5 – Moosend — Best for Simple Marketing Automation
Moosend is an affordable email automation tool with an almost nonexistent learning curve. Yet for how easy it is to get started, Moosend users wind up automating their email marketing in really impactful ways.
It's sad to think, but some companies spend thousands of dollars a month on ultra-powerful marketing automation software that they don't really need. Plus, that stuff can be really hard to use.
With Moosend, you get a lot of freedom to customize your email marketing automation. There's a rich set of triggers and actions all managed in a drag-and-drop interface. Workflows can be shared among team members, who can leave notes.
The Moosend interface itself is great at educating users how to automate and fine-tune customer journeys. With templates, preset workflows, and rich tracking capabilities, Moosend makes it simple to find what works for your unique subscriber base.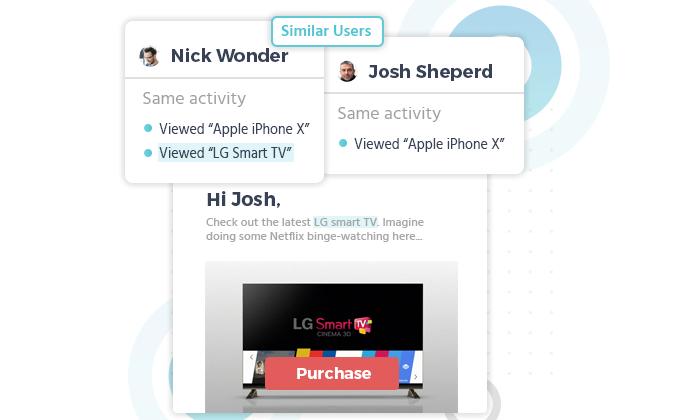 Leverage the AI to hyper-personalize your emails based on similar consumer preferences and other behavioral analytics.
They've recently added "And/Or" expressions to custom fields. This allows for a lot more customization in terms of defining triggers. Custom fields don't have to be just one thing any more!
Without writing a single line of code, you can gain quick mastery of a deep set of email automation features that include:
Rich tracking, reporting, and analytics
Click heatmaps
Five types of subscription forms
Direct SMTP service
Cart abandonment 
Embed product blocks in newsletters for shoppable emails
Mobile responsiveness
GDPR compliance
Native integrations with WooCommerce, Salesforce, WordPress and dozens more top products
Moosend has a free forever plan, which is capped at 1,000 subscribers, and comes with many of the best features. For additional subscribers, you'll need a Pro plan, which starts at $8/month.
The exact price will depend on the number of subscribers you need to accommodate. For example, 25,000 subscribers is $100/month. The Pro plan maxes out at 200,000 subscribers ($608/month), with custom plans available to reach an audience of any size.
Compared to other, more expensive options, Moosend tends to be much easier to use even with many of the same essential features.
Summary
Many people begin the search for an email autoresponder only to discover that what they actually need is an email marketing platform. 
The closest option on this list to a dedicated email autoresponder is MailerLite, which still comes with way more than simple email automation capabilities. It's a really good option (and price) for companies that already have great CRM software and really just need the email autoresponder capabilities.
Mailchimp and Moosend are more feature-rich than MailerLite, but both remain incredibly easy to use for non-specialists.
GetResponse works well for sales teams because you've got conversion funnels and the ability to host webinars is baked in. 
Klaviyo is probably the most comprehensive tool on this list, and it works incredibly well at automating the processes necessary to run a successful email ecommerce campaign.
I like all of these email autoresponders because they help you benefit from the unavoidable trial-and-error associated with email marketing. 
No campaign is ever going to be perfect, but the right tools will help you continually evolve your strategy to meet your customers where they are.
The post Best Email Autoresponder appeared first on Neil Patel.