Disclosure: This content is reader-supported, which means if you click on some of our links that we may earn a commission.
Do you want to build a website? Luckily for you and the tens of thousands of online businesses out there, a digital website builder makes it easy to create professional sites that function beautifully in no time. 
The best part? There are many free website builder options. 
Website builders make it possible to create a responsive site optimized for SEO without having to invest a ton of money or time, which is perfect for small businesses. 
But you have to learn what features to look for first.
In this guide, I'll walk you through the best free website builders on the market today, as well as which one can build the best site in your niche—whether you're selling painted rocks, are a freelance writer, or want to bootstrap a dropshipping business.
The Top 4 Options For The Best Free Website Builders:
Wix – The best for e-commerce sites
Weebly – The best for general sites
WordPress – The best for blogging and content creation
Site123– The best for quick and easy landing pages
How to Choose The Best Free Website Builder For You
What is your site's end goal? That's the first and most important question you want to ask yourself when choosing a site builder.
Do you want to start a blog to share your extensive knowledge and thought leadership with the world?
Do you have a graphic design portfolio you want to show off to gain more freelance clients? Are you a non-profit that needs to display annual achievements and your mission statement? 
When creating your site with a free website builder, your end goal will determine what capabilities you need. Once you have your site's end goal in mind, here are additional criteria to narrow down your choices.
Design Capabilities
If you're a freelancer, a designer, or a photographer wanting to create an online portfolio, consider the design capabilities of each builder. 
Customization: How deep do their personalization and customization features go?
Templates: Do they provide eye-catching site templates you can use, so you don't have to start from scratch?
Media storage: Does your site builder give you a lot of image storage space? Depending on how big your site will be, this is a key question if you want to keep things free. 
When thinking about how to present your portfolio or brand, this is the site builder criteria you most want to pay attention to. 
Learning Curve
How fast do you need your website built? This determines how much time you're willing to spend learning the ins and outs of your website builder. 
Intuitive design: Some builders are pretty intuitive to learn, while others might have a larger learning curve.
Ease of use: Do you want a drag and drop builder to make building and configuring your site easier? Or do you prefer writing in HTML and coding the site yourself?
Tutorials and technical support: Do they have a robust support options where you can find answers or get a timely response from the company?
If you're pressed for time and want something built fast, you might not want to pick a hefty builder with lots of capabilities to learn. A more straightforward drag-and-drop builder can get the job done faster and easier. 
Long-Term Options
As your business grows, your website will inevitably need to grow with it. Your site needs are going to change over time. When choosing your site builder, it's a good idea to look into what their paid features include and if they fit the bill in terms of what your site might need as it grows. 
These can be things like:
Additional hosting capacity: Once traffic to your site hits a certain threshold, you'll likely need to purchase additional hosting to sustain your traffic growth. 
Additional plugins and design features: If there is ever a need for additional plugins and features, does the free builder provide that?
Personalized support: Once you hit a wall creating your own site, do they have sufficient support to help you take things to the next level with CSS and HTML modifications?
Type of Website
What type of website do you need to build? As mentioned, determining your site's end goal and working backward can help you answer that.
To give you a better idea, the internet is generally made up of five kinds of websites:
Blog: Are you going to continually publish content that informs, entertains, or inspires a particular audience?
Portfolio: Are you showcasing your work to sell your services to potential clients?
E-commerce site: Are you selling products or services with an online storefront?
Small business/organization site: Are you rounding out your brand with a public mission statement or publishing general public business information for the world to access?
Online application: While this is technically a website with more complexity, it's beyond a free builder's scope since it would need serious developer chops to build well. 
For most businesses, the type of site you need is a pretty basic question. But an important one to answer.
For example, most site builders have blogging capabilities, but this shouldn't be the only thing you base your decision on. Once you've figured out which type of website you need to build, then we can move on to learning about the different kinds of site builders on the market. 
The Different Types of  Free Website Builders
Now, there's a slew of free site builders out there, and they tend to fall into three general groups. 
Basic Website Builders
I've yet to come across one good reason not to build a website for your business. Non-profit organizations, informational sites, and even public speakers with a personal brand can all benefit from creating a professional website found by anyone online.
Basic web builders tend to have multiple functionalities. They don't cater to one specific category. For example, suppose you're looking to set up a portfolio site that's low maintenance and simple, with a general contact form, a home page, a portfolio page, and an about page. In that case, a general website builder can be a great option. 
E-commerce Platforms
Are you currently selling products in a physical location? You'll want to go with a website builder specifically made for e-commerce. Today, it isn't enough to display your goods on a physical storefront. You need a digital storefront, too. Or maybe you want to open an e-commerce site without a physical storefront. E-commerce website builders make it easy to do that.
As an e-commerce business, you want capabilities that let you list products, accept multiple types of payments, categorize goods, and allow you to track backend inventory in real-time. 
Blogging and Content Creation
The web isn't much without content. And if you want your site found by your audience, you want to make sure to use a website builder made to enable that end goal.
If you're a thought leader, want to build your online brand, be an aspiring blogger, or create a community around a service or product, then a website builder geared for content generation is your best bet. 
You'll be better off in the long-term as your business grows, and you won't run into the problems you'd have if you choose a web builder meant for e-commerce. 
#1 – Wix — The Best For E-commerce Sites
If you're looking for a free website builder that does everything a real-life store manager would do and then some, Wix makes that a reality.  
The thought of building an online store can be paralyzing. But once you create a Wix e-commerce site, you have access to perks like real-time tax calculations and adding several payment channels that you wouldn't have with a builder geared toward content or portfolios. 
As a product seller, Wix helps you create beautifully designed storefronts with a selection of over 800 pre-built themes and templates ready to personalize at the click of a mouse. 
There's no doubt e-commerce businesses are in good hands with Wix. It is a builder that goes out of its way to advertise themselves as such, instead of being a jack-of-all-trades. Still, as with every site builder, there can be some drawbacks. For example, if you ever want to move your site to another provider, you can't do that with Wix's builder because of how it's configured. You'll have to completely recreate it on a new platform.
Some of their e-commerce features designed to drive sales are:
Sales and customer behavior analytics
Displaying prices in international currencies
Easily creating subscriptions and discount coupons for customers
Integration with all social channels for greater visibility
Automated email marketing and abandoned cart recovery
To get started with Wix, visit their site and sign up.
#2 – Weebly — The Best For General Sites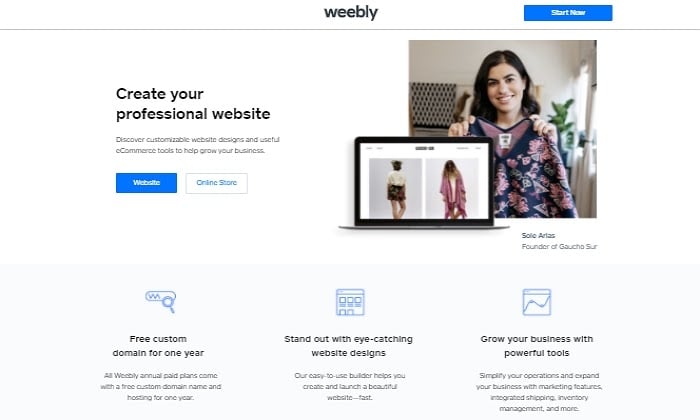 Let's face it. You might not need a free site builder with all the bells and whistles. And that's okay. That's why Weebly exists. It's the best site builder for general sites that need to do their job well.
It's perfect for information businesses, non-profits, small portfolios, mission statements, or landing pages. This is because they make it easy to bring your site together with a no-nonsense dashboard and with options like built-in image editors and professional design options that let you create video backgrounds.
As a general site, you don't want to deal with the technical stuff like SSL certification, encryption, and often costly third-party domain shopping. Weebly integrates takes care of all that for you right on their platform. 
One of their best features as a site builder is that you have the option to fully customize their HTML and CSS if you choose to do so. While it might not be something you need right away, it's nice to know you have that capability as a future option. Weebly is built for site design with a more structured approach. If you're looking for a builder with a bit more design flexibility and freedom, this might be a downside. 
Their best site builder features include:
Easy-to-use dashboard
Drag-and-drop site builder
Additional integrations like payments and product search with upgrade
Integrated analytics that kills the need for additional plugin installation
Mobile app to manage your site from your phone 
You can sign up with Weebly here.
#3 – WordPress — The Best For Blogging And Content Creation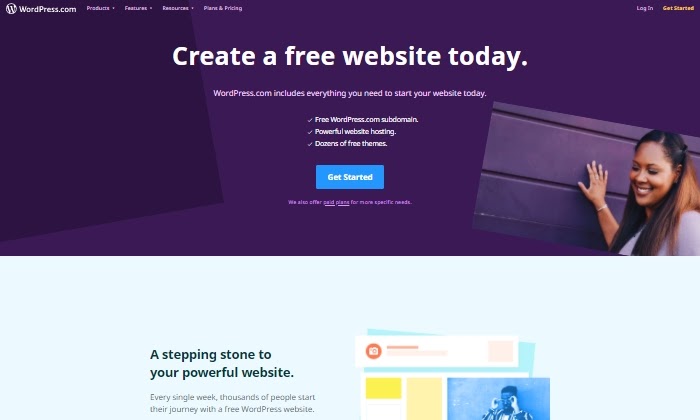 If I had to introduce WordPress to you, I'd say that it's the top contender for blogging and content creation. 
Thankfully they provide a free site builder to get you started (in addition to paid options). 
For years, bloggers and companies like Disney, Dropbox, Spotify, and NBC have leveraged WordPress.com's powerful site-building features to build audiences, expand their brand, and drive sales worldwide.
If you're looking to blog, share your knowledge with the world, or create loads of content around your business, you'll want to start with their free site builder. It's designed to be straightforward and easy to use without any confusing and unnecessary features. This way, you can get started creating and publishing your content in record time. To help you if you get stuck, they provide free webinars that walk you through creating your site step by step. 
Their free site builder's biggest downside is that you might grow out of its limited blogging toolbox. But if you want paid access to fully customize your site in the future, WordPress makes it easy to upgrade without the technical hassle. 
Some of the WordPress site builder's best content creation features include: 
Optimized for search engine results
24/7 live chat and support
Free subdomain that you can upgrade later to a custom domain
Free hosting without having to use a third party
Large selection of free themes to choose from and customize designed for sharing and creating content
Sign up with WordPress and start building your website for free. 
#4 – Site123 — The Best For Quick And Easy Landing Pages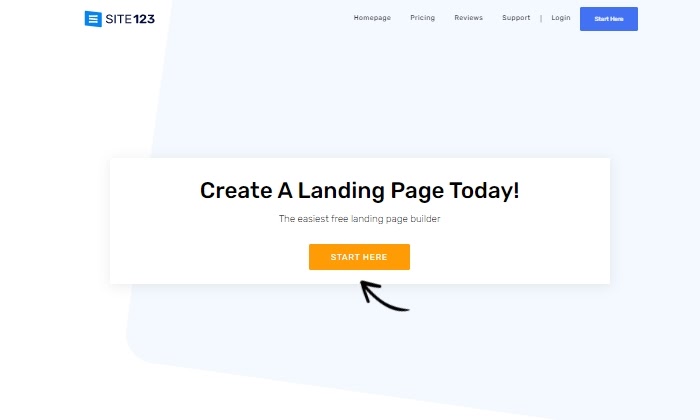 Easy and quick are the two best words to describe Site123. With its no-brainer features, it's the best site builder for simple sites that don't need many internal pages. 
In other words, it's great for landing pages. 
Your business might not need a blog, robust e-commerce features, or top-notch design capabilities, but it's still in need of a place online it can call home. 
Site123 helps you check that off your list by being the most no-nonsense site builder possible. You can avoid frustration and a big learning curve with Site123's optimally designed web building process, especially if it's your first time building a site. 
Their best landing page buildeing features include:
Free speedy hosting
Built-in media gallery with free professional icons and video
Compatible with third-party plugins
Beautiful pre-made landing page templates so you don't start from scratch
500 MB of storage
You can start creating your online presence with Site123 here. 
What is your site's end goal?
That's the perfect question to start and end with because it's the best way to determine which free website builder you'll want to use. 
There's no shortage of site builders in the market. What sets them apart is what they're designed for and how you can use that to reach your goals.
Remember that many of them are geared for where you are now, but that can change when you think about how you plan to expand in the future. 
Still, a detailed overview of each builder and what they offer will point you in the right direction.
After you determine your site's end goal, pick the right free builder to start creating your masterpiece from one of the options on this list. 
The post Best Free Website Builders appeared first on Neil Patel.