Disclosure: This content is reader-supported, which means if you click on some of our links that we may earn a commission.
There is a tool that helps you create a repeatable and seamless workflow. A system that lets you look at the bigger picture of any given work process and its current status. A place where you can make sure your whole team is on the same page, so your boss doesn't scream at you. 
It's called workflow management software, and it makes your work life at least ten times easier. 
Workflow management software takes chaos and organizes it into a clear roadmap that helps you achieve your work goals in less time and with better results. The trick is finding the one that fits perfectly with the way you do business.
To help you with that, I'm taking a look at the top workflow management tools in detail below so you can choose which one can work best for your team. 
The Top 5 Options For Workflow Management Software
ClickUp – Best for versatile workflow management
Monday.com – Best for remote teams
Wrike – Best for creative teams
Trello – Best free workflow management tool 
Smartsheet – Best for IT and operations
How to Choose The Best Workflow Management Software For You
The more complex your process to finish work and reach deadlines becomes, the more likely you are to need efficient workflow software to help you get the job done. First, you always want to take stock of your current workflow system regarding what it's lacking and what is already working well. This way, you can choose a workflow solution that'll integrate with your work style and more accurately solve your issues. 
To start, ask yourself a few simple questions:
Is your team scrambling to know what work was assigned to who at the last minute? 
Did your Excel spreadsheet get too complex to automate your work processes efficiently?
Is there repeatable work that could be streamlined more effectively to save you time and resources?
Is your team too overwhelmed to turn in great work because there isn't a supportive framework to help them through their work process?
Are there current limits that could be removed for more efficient work delivery or completion?
Workflow management and project management systems are often confused as the same thing because they share a lot of the same tools and processes. However, there is a difference. 
Workflow management systems exist to manage and maintain ongoing work processes within a business. In contrast, project management systems are used to start and finish individual business projects as efficiently as possible. 
So, a project management system can exist within a workflow management system while the workflow management system takes care of the bigger picture and recurring work processes in your overall business. A bit of a mouthful, but it becomes more understandable once you dive into the world of workflow management software and what it has to offer. 
Once you know the distinction and made sure a workflow management system is what you're looking for, here are additional specifications to think about when choosing a workflow system that makes the most sense for your business. 
Team Structure
Your team's size and planning for growth matter when you're trying to choose a workflow tool. Why? Workflow management tools tend to charge by user. This can be a deciding factor in which system you select due to budgeting constraints. The more users you add to a system, the more you'll be paying per month.  
To add, if you don't have to deal with a complex team structure, you might not need workflow software with all the bells and whistles that a larger business might find more useful. Sometimes, more functionality doesn't mean it's better for your needs. 
Think about a few things as you move forward: Are there different departments that'll need to communicate with each other frequently to greenlight work processes and projects? Are your teams adaptable to new software, or are there new API integrations you'll need to make? 
The simpler your team structures, the simpler your workflow system can be. This also often means less of a learning curve. 
Tasks and Workflow Complexity
What tasks need the most comprehensive management? This can differ by niche, meaning you might need some features specifically designed for your industry and the value you create. 
Some workflow systems are more equipped to deliver specific tasks than others. This can be done with anything ranging from:
Dashboard reporting
Gantt charts
Document sharing and collaboration
Scheduling software
Task assignments and sign-offs
Work status reports
Integrations with third-party software
Kanban boards
Advanced data analysis
Scrum work management boards
Communication Style
Communicating effectively with the appropriate workflow system will eliminate possible bottlenecks that slow down your growth.
With open API and integration features, your workflow system can be a seamless communication tool amongst each team member. This way, you can quickly review and respond to related emails, review project feedback, make corrections and comments, use team chat or message boards, and make sure changes to scheduling or project direction are accessible to each team member as part of your daily workflow. 
If tons of communication isn't how you handle business, and you have a more straightforward workflow management approach, you can always adjust your processes with a more customizable system. 
Workflow Views
An additional factor to think about is workflow views and how you choose to organize the information, processes, and tasks you input. Effective workflow management software gives you different ways of managing and viewing tasks and workflows. 
To illustrate, a Gantt chart view, a graphical organization of a project or process, can help you simplify complex workflows. Kanban boards make viewing workflows easier and more manageable as you move cards from one chronological board to another. 
A scrum board breaks down work processes into sprints and can be ordered into horizontal and vertical lanes. Looking for a workflow management system with the flexibility in preferred style makes your team's life easier and may make your work processes faster. 
The Different Types of  Workflow Management Software
There are two main categories of workflow management software. Here I take a look at each.
Highly Customizable vs. Niche-Specific 
With workflow management software, you can either choose a highly customizable system that fits just about any niche or go with software that caters to a set of specific ones. The choice is ultimately up to you after you audit what tools your teams need to create a better workflow process.
For instance, software like ClickUp is highly adaptable to just about any industry that wants to use it to manage their ongoing work operations. On the other hand, Wrike provides tools that are specifically adaptable to creative industries. 
Cloud-Based vs. Local
Most software on this list is cloud-based, meaning you can access them from anywhere at any time. You can choose to go with software that lives on your local servers and computers, too, though keep in mind that brings its own set of pros and cons. 
With a cloud-based solution, your team will be able to access the software from anywhere from multiple devices to stay accessible and updated. 
#1 – ClickUp — The Best For Versatile Workflow Management
ClickUp is a powerful workflow management system that makes sure every part of your workflow can be streamlined and optimized for efficiency and speed. 
That's why it's my top recommendation for almost everyone. 
Companies like Google, Airbnb, Uber, and Nike are all optimized for a seamless work process with the ability to plug into over 1,000 integrations. With ClickUp, you won't only manage your workflow. It's customizable enough to also manage your projects all from one place with tools like:
Resource management
Goal tracking and reminders
Email and chat features
Complex or simple spreadsheets
Third-party app integration
Strategy management
With the ability to create chat views, table views, timeline views, or mind maps, you can always be sure your team is staying on top of each work task and their progress in a way that makes work easier for them. 
Because of its setup, ClickUp allows you to save a lot of time by linking all project tasks, email, comments, or wikis together and allowing you to view your projects however you want and automating recurring work tasks. The tool is equipped for bigger and more complex workflow management, as well as for small businesses that want to get a handle on their growing workflow systems.  
If you're switching to ClickUp from another workflow management system, it is super easy to automatically import all your work and project information with the import feature. 
One of the best parts of using such a versatile workflow manager is their price point. You can start using the system in a matter of seconds by signing up for a free account. You'll immediately get 100 MB of space with unlimited members and unlimited tasks. 
The paid plan is only $5 per user, and you get access to unlimited storage, integrations, calendar tools, guests, portfolios, boards, and custom fields. 
If you're managing a growing team, you have the option of negotiating a price point per user or team size once you fill out a quick form and send them a short proposal. All in all, ClickUp's versatility goes far. That's why more than 100,000 teams use it and why I'd recommend it to just about everyone. 
Start your free account with ClickUp here and use it to optimize every aspect of your workflow. 
#2 – Monday.com — The Best For Remote Teams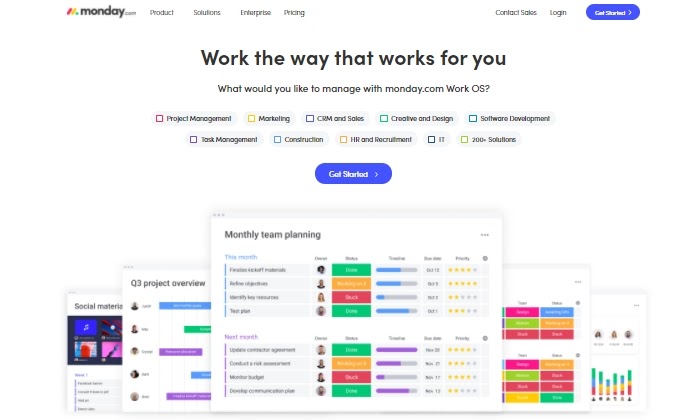 If you manage a growing remote team, Monday.com is the workflow solution that seamlessly brings everyone together. 
It's an excellent workflow system used by BBC Studios, NBC, Discovery Channel, Hulu, Cocacola, Deezer, and 100,000 other teams to ensure they're effectively managing every step of their workflow processes with onsite and offsite team members. 
With Monday.com, it's easy to collaborate with your team from anywhere in the world by aligning work progress, video chats, and plenty of synced calendars to make sure you're always meeting collaborative work deadlines. 
You can easily start organizing tasks and automating workflows with templated daily team tasks, knowledge libraries, remote team requests, employee statuses, and one-on-one meetings. Of course, if none of these templates will do it for you, you can start from scratch and build your own any time with their vast array of tools. 
Some Monday.com features that are great for remote workflow management are:
Weekly schedules
A meetings board with updates and recaps
Zoom integrations to record meetings
Local time zone tracking for each team member
Workload and work capacity maps for any given project
The ability to create contingency plans from project data
Monday.com charges per seat based on the tier you want access to, and each of them comes with an extensive list of features. The tiers start at three seats each, and you can save money if you choose to go with an annual plan. Here's a quick breakdown of each level:
Basic: $8 a user per month starting at three seats
Standard: $10 a user per month starting at three seats
Pro: $16 a user per month starting at three seats
Enterprise: Contact them for more information
If you'd like to test drive Monday.com first, you can get started with their free trial here. 
#3 – Wrike — The Best For Creative Teams
Wrike is a dynamic workflow management system built for creative teams. Repetitive admin tasks and reiterations can be the bane of any creative team trying to ship great work. Wrike makes it easy to streamline all your tasks in one place to ensure both productivity and speed.
With Wrike, you can manage incoming creative requests throughout their entire lifecycle with customizable forms, templates, briefs, and markup tools, so you always know the progress on each job.
For instance, Wrike's approval tool makes it easy for anyone to leave clear project feedback on deliverables with comments for specific images, videos, or documents. You can check who is working on any project whenever you need it and create a more streamlined intake system for work requests by creating one formal point of contact for each work project. 
This makes it easy to finish projects that require multiple reviews and revisions.
Some of their best features for creative workflow management are:
Project approval templates
Project scheduling
Task assignment
Daily marketing operations management
Drag-and-drop dashboards
Wrike is free for up to five users and includes 2 GBs of space, along with tools like spreadsheet view, task management, file sharing, and basic integrations. 
You can take advantage of a free trial and see how you like it. Once you're ready to choose a paid plan, the main plans are:
Free: Up to 5 users with a shared tasks list for small teams
Professional: Up to 15 users at $9.80 per user per month with full project planning and collaboration
Business: Up to 200 users at $24.80 per user per month with work management customization and reporting
Enterprise: Unlimited users, contact their team for custom pricing for the most comprehensive solution
Wrike also offers plans that cater specifically to marketing/creative teams and professional services teams. Both of these categories have a free trial and unlisted pricing.
While Wrike does get meticulous with their pricing and feature breakdown, it ensures that you get the best plan for your specific creative workflow needs. I recommend you check out their pricing page for a full list of features to get more familiar with what's included.
But first, you can try out Wrike free for 14 days here. 
#4 – Trello — The Best Free Workflow Management Software
If you're on a budget, Trello's workflow system can get you on the right track for free for up to 10 boards per team.
Millions of users are already using Trello and their organized dashboards to prioritize and automate daily tasks and projects. With it, you can create boards and name them, add your tasks and team, and then add specific details to each card like due dates, work briefs, checklists, attachments, and comments.
Trello works great as a simple workflow manager for smaller teams geared for growth and efficiency without shelling out a ton on work software expenses. It is a Kanban board style layout and is especially popular for people who like very visual task and workflow management. 
As mentioned, Trello is free for up to 10 boards per team, with unlimited cards and lists and a 10 MB per file attachment limit. If you love their free version so much that you want to go with a paid plan, you can choose from two options:
Business Class: $9.99 per user per month
Enterprise: $17.50 per user per month for 100 users (the more users you add, the less you pay per user)
Get started with Trello for free here and use their easy boards feature to begin organizing your workflow. 
#5 – Smartsheet — The Best For IT and Operations
Smartsheet makes for excellent workflow management software in IT and operations teams. Generally, the two things you need when working in IT management are consistency and speed. Smartsheets deliver on this by allowing you to quickly adapt and archive projects, coordinate data center migrations, and even set up automated alerts and approvals to save you time.
Smartsheets enables collaboration across teams and gives you control access to resources. They bring it all together on an easy-to-use dashboard with plenty of reporting capabilities. 
Smartsheets offers a free 30-day trial. For the paid plans, they break down their pricing tiers into four categories. These include individual, business, enterprise, or premier. To learn their prices, you'll have to contact them first. I recommend visiting their price page to get a feel for what features and capabilities you get with each tier from their exhaustive list of features. You can also watch a demo of the tool.
Try Smartsheet free for 30 days and start creating better workflows for your team today.  
Summary
Choosing the best workflow management software for you depends on a lot of variables. But you can easily start weeding out what won't work by outlining what your workflow needs are in terms of niche, workflow needs, and team size.
I'd recommend ClickUp and Monday.com for almost anyone. ClickUp is the most versatile system to work with. It has a stellar price point, can be easy to use once you get over a slight learning curve, and it's highly customizable for just about any workflow management need imaginable. Monday.com is ideal for remote teams and collaboration, which is needed now more than ever.
If you have more specific workflow needs for your given industry, use this guide to learn how to choose the right workflow management software for your company's needs.
The post Best Workflow Management Software appeared first on Neil Patel.