Data as a service (DaaS) is becoming increasingly popular. New advancements in cloud computing technology have made remote, cloud-based data storage and management easier to use and more accessible.
Businesses using DaaS platforms can see improvements in data collection, usage, and management. Additionally, offloading data management to DaaS companies means more internal capacity for business development.
Interested in getting started with a DaaS platform? Below, we'll outline the benefits, solutions, and tools you can use to improve your data management strategies.
What Is Data as a Service (DaaS)?
Data as a service uses a cloud computing strategy to make business data readily available to stakeholders and third parties.
DaaS functions similarly to software as a service (SaaS), which removes the need for managing and downloading software locally. Unlike SaaS, which has been popular for the last decade, DaaS has only recently seen widespread adoption, primarily due to advancements in cloud computing technology.
Now, with low-cost cloud storage and bandwidth and cloud-based platforms explicitly designed for DaaS available, more businesses are moving their data storage out of local servers and into the cloud.
With DaaS services, businesses are no longer tied to local servers and storage systems, allowing them to securely store and access data remotely, collaborate with global partners, and find important business insights to drive new growth.
To put it simply, by using DaaS, you can access critical business data from anywhere at any time.
On the Gartner Hype Cycle, data and analytics services have already reached the Plateau of Productivity, showing their staying power in the market.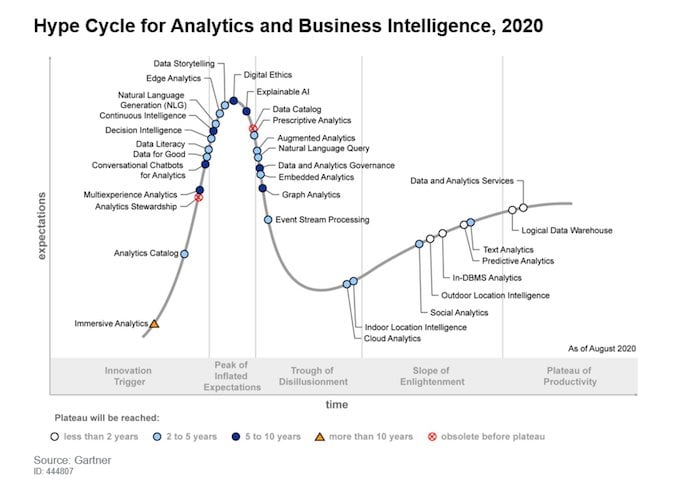 What Are the Benefits of Using Data as a Service Tools?
Businesses of all shapes and sizes can benefit from using data as a service tools.
Here are a few ways data as a service tools can improve your current data management processes:
Remote collaboration: DaaS allows partners in different locations to collaborate because employees can easily access the data from their devices regardless of location.
Seamless data access: Cloud storage also means team members don't need to go into the office to download a file or check their analytics, saving individual employees valuable time and energy.
Simple setup: Businesses that adopt these platforms can begin storing and processing their data immediately, with very little setup time.
Crash protection: Cloud infrastructure is less likely to crash than traditional storage methods. This makes working on a DaaS server more secure and less prone to complications.
Improved financial reporting: Data as a service also improves financial reporting as businesses can convert IT costs from capital expenditures into operational expenditures.
Cost-effective: DaaS solutions are more cost-effective, allowing businesses to direct money where it's most needed. Automated maintenance further alleviates internal management needs.
Insights and improvements: With features like data marketplaces, businesses can buy, sell, and trade data to drive new business growth. Each platform offers different insight and optimization methods to improve overall data management.
Who Benefits Most from DaaS Tools?
Data as a service is beneficial to any business model informed by data.
Whether you're a marketing company focused on improving consumer insights or a product-based company with a global distribution process, there are many ways to leverage these exciting cloud-based services.
For example, if a company regularly tracks, mines, stores, and implements data insights, they can benefit from DaaS.
Or, if the business's success is dependent on being aligned with customer needs and product offerings, data services can give important insights into improving this alignment.
Companies with remote teams can benefit from DaaS tools because they allow easy access to data from anywhere in the world.
DaaS also minimizes the need for in-house data management, which is a good strategy for companies looking to divert resources to other departments.
Additionally, companies that want access to data-backed analytics to improve internal processes or enhance customer relations can also benefit from this service.
Data collected by RocketSource has shown one of the greatest benefits of DaaS is improved customer experiences. This is due to the ability of these platforms to simplify data management both internally and externally.
For businesses, DaaS tools make it easy to understand and optimize decisions and campaigns. For customers, it can result in more tailored experiences overall.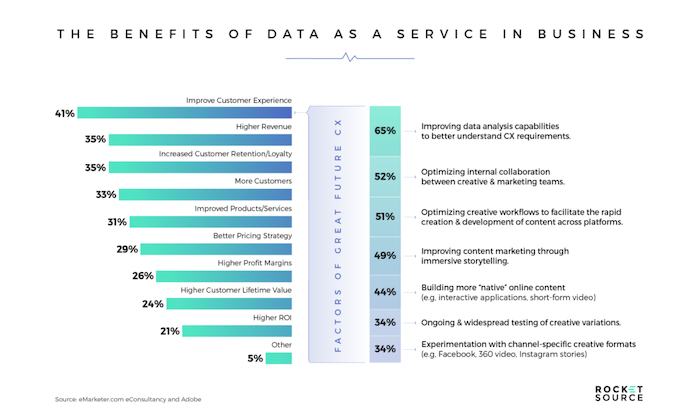 Using DaaS Tools in Your Marketing Analysis
Data as a service tools give businesses the ability to segment unique data sets generated from Big Data. This information can be collected from six specific categories:
web mining: data compiled by mining the open internet
search information: data compiled from browser activity and intent behavior
social media: data compiled from shares, comments, check-ins, and other actions taken on social media
crowdsourcing: data collected from the public through surveys, polls, forums, and so on
transactional: data created from financial, logistical, and other such business practices, including withdrawals, deposits, insurance claims, flight reservations, and more
mobile: data compiled from apps and services working in the background of mobile phones
The ability to collect, analyze, and store all of this user-specific data is a huge advantage to marketers, allowing for more cohesive and clear market research.
Here are a few ways you can use this data to improve your marketing tactics:
Benchmarking Reports
DaaS makes comparing your performance against competitors easy. With simple, global access to organizational data, marketers can create benchmarking reports to gather data on financials, turnover, and leadership efforts and back everything up with percentile breakdowns. Workday is one data as a service provider offering exceptional benchmarking tools.
Business Intelligence Sharing
Data as a Service tools make data standardization easy by bringing together data sources and analytics with unique data visualizations. Companies can then offer this data to internal users to help facilitate business intelligence processes.
Access to Data Marketplaces
DaaS tools can give businesses access to data marketplaces where users can buy and sell different data sets from multiple sources. This data can then be repurposed and monetized for future business growth.
Consumer Research
Many data as a service platforms offer consumer insights and research options. These insights can alleviate internal research for marketing teams and give more refined solutions to improving consumer relationships.
How to Pick the Right DaaS Tool for You
Getting set up with data as a service is relatively simple, as most setup and preparation work is done through the service rather than on-site.
Most DaaS providers offer technical support solutions that alleviate this management from the business side.
How to Pick a DaaS Tool
Consider your business needs. Depending on your size, growth goals, and team, you may need different features in a data as a service tool.
Points to consider when choosing a data as a service tool are:
price
scalability
reliability
flexibility
infrastructure integrations
team access requirements
existing workflows and needs
Once you have these points laid out, it's time to choose a data as a service tool and get your business signed up.
7 Great Data as a Service Tools
1. Snowflake
Snowflake offers data engineering, data lakes, data applications, data warehouses, and data sharing. Some of their biggest value propositions include unlimited scale, seamless access across clouds, and near-zero maintenance. Snowflake is a good choice for large, international businesses needing scalability and high-security features.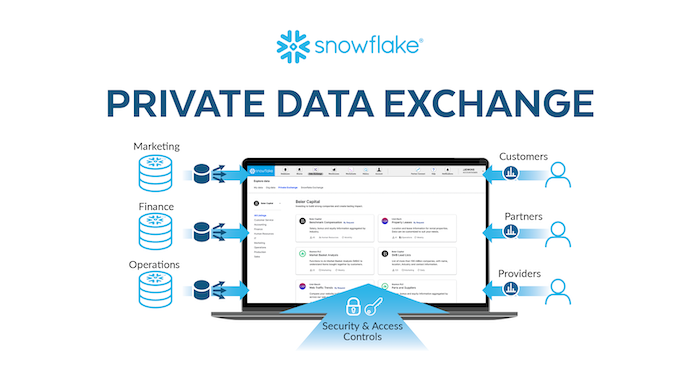 2. SAP HANA Cloud
SAP HANA Cloud is the cloud-based data foundation for SAP Business Technology Platform. It integrates data from across its enterprise system, creating live data solutions. This DaaS platform offers a low total cost of ownership and high processing performance through hybrid multimodal transactions. Real-time analytic processing allows for quick, data-backed decisions. SAP HANA is best for businesses already working in the AP Business Technology Platform.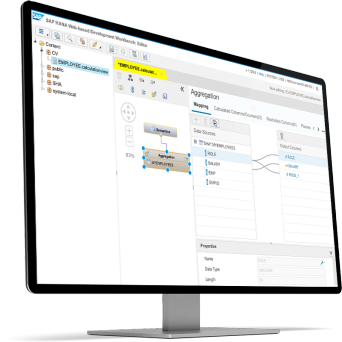 3. Oracle
Oracle is the world's leading converged, multi-model database management system. It offers NoSQL and MySQL databases, simplifies recreational database access, and reduces internal management workloads. Oracle boasts high-level performance, scalability, and availability for its clients. This DaaS tool is optimal for businesses looking for a hands-off approach to data management.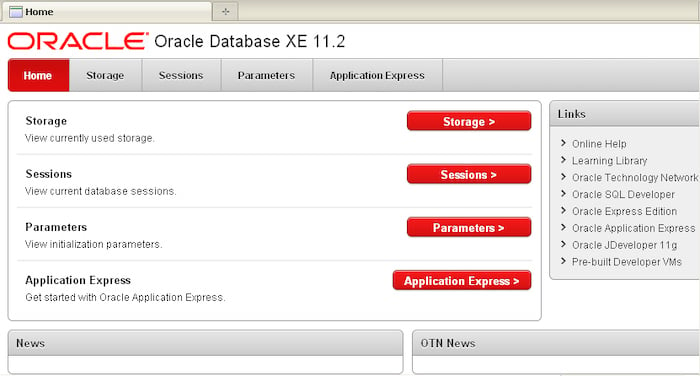 4. Kantar Marketplace
Kantar Marketplace is a data as a service platform designed to deliver market research insights to marketers and agencies. Their platform includes insights into ad testing and development, consumer and retail trends, product development, media planning and effectiveness, and provides custom survey options.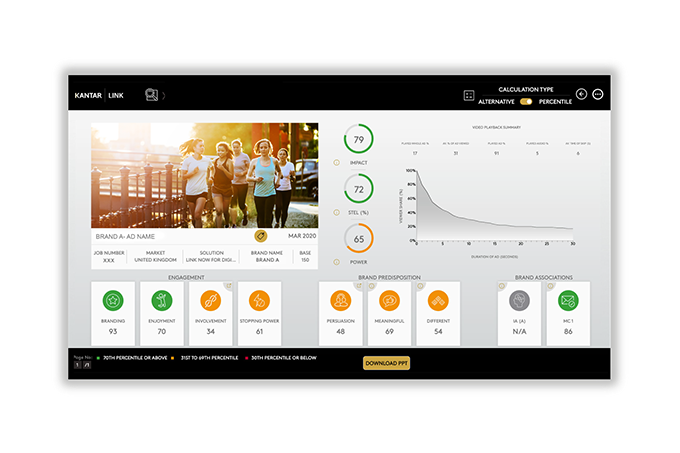 5. D&B M-DaaS
The dun & bradstreet M-DaaS: Master Data as a Service platform allows companies to integrate master data into native workflows seamlessly. Pre-mastered commercial content is delivered through a consistent and dependable platform, allowing brands to improve their master data management programs. This tool is a good choice for large or legacy companies with complex, large data sets to manage.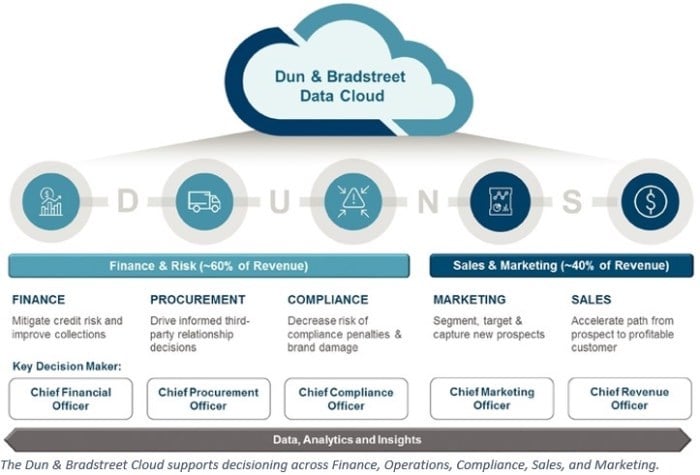 6. Refinitiv
Refinitiv is a data as a service platform providing risk intelligence data for financial institutions. They offer a centralized view of the legal entity of a company, supplier, or issuer so entity relationships and risks can be easily identified and managed. Regulatory compliance and requirements are the backbones of this service. Refinitiv is an excellent choice for businesses with high compliance requirements and diverse entity partnerships.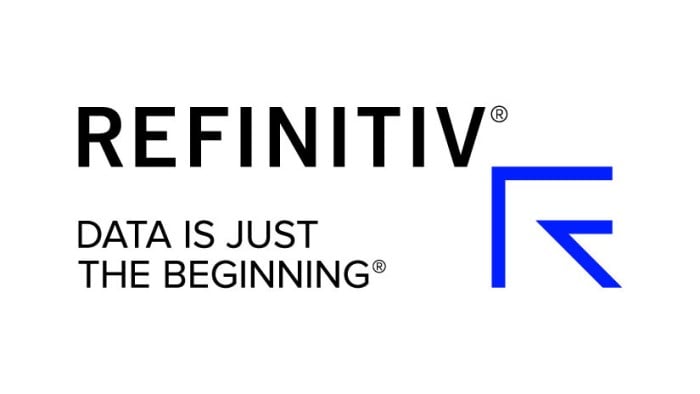 7. Dynata
Dynata is the world's largest first-party data and insights platform, reaching over 62 million consumers and business professionals worldwide. Their service offers real-time feedback loops so marketers can understand what's working and what's not. Dynata is driven to maximize ROI at every stage of a campaign for continuous optimization.
How to Use DaaS Tools in Your Marketing Analysis
In Your Competitor Benchmarking Reports:

You can use DaaS tools to gather benchmarking data based on competitors.

In Your Business Intelligence Sharing:

You can use DaaS tools to get images of your brand's performance across data points.

In Data Marketplaces:

DaaS tools buy and sell audience data from multiple marketplaces.

In Consumer Research:

DaaS tools can offer consumer insights.
Conclusion
Data as a service platforms allow for cohesive and accurate data management that can be accessed anywhere, anytime.
DaaS can also alleviate some internal management and IT needs, allowing businesses to move budgets towards more profitable markets and employees to focus on big picture issues.
Internal platform insights from DaaS platforms can be beneficial to marketers looking to improve consumer research and optimize existing data sets.
With improved data visualization, storage, access, and consumer data insights, data as a service offers growth and ease to partners and affiliates alike.
Once you have a DaaS system in place, you can start levering the data and investing in your marketing strategy. Let us know if we can help you reach your audience!
What excites you about data as a service?