Imagine being the next Seth Godin, Gary Vaynerchuk, or Tim Ferriss.
Just like these notable figures, a big reputation can attract profitable clients, opportunities to speak in conferences, and success in current business ventures. Thought leadership marketing is a powerful thing.
Now, how do you transition from being a nobody to becoming a reliable thought leader? How do you build your reputation and become recognized in your niche?
Let's learn more about how you can use paid ads to build your personal brand as a thought leader.
What Is Thought Leadership Marketing?
Thought leadership marketing is the practice of increasing your brand's visibility by establishing yourself as an expert source of information. It helps establish CEOs, executives, or individuals as reputable experts in their niche. 
A marketing executive may want to become a thought leader to attract more clients to their agency. Likewise, other CEOs want to build a following to put their organization's products and services in the limelight. 
Becoming a thought leader seems to be an intimidating endeavor, but it's possible with the right strategy. 
A thought leader could work with a marketing team to churn out high-quality blog posts, educational videos, and social media content. As the fame of thought leaders grows, they could build a following and become experts in their field. 
Why Should You Use Thought Leadership Marketing in Your Paid Ads?
What are the benefits of using thought leadership in paid marketing campaigns? Here are some of the top benefits you need to know. 
1. Improve Brand Awareness and Exposure
Imagine a paid ad with insightful advice from a featured thought leader. With thought leadership marketing, the featured professional or executive immediately seems credible and authoritative. 
More interaction with paid ads also means more exposure to your business. 
Even if customers don't click the ad immediately, repeated exposure to your paid ads will incite their curiosity and lead them to your website. When this happens, they already have a positive perception of your brand (if you have created compelling ad content). 
Thought leadership content is also a great way to attract decision-makers. 
In a survey of decision-makers by LinkedIn, 58 percent of respondents read one or more hours of thought leadership per week. This means investing in paid ads with thought leadership content could get your business introduced to the decision-makers of big companies. 
2. Thought Leadership Marketing Attracts Business Opportunities 
As more people discover your brand through paid ads, you could attract more business opportunities over time. 
Getting opportunities through your thought leadership content is ideal because clients already perceive you as credible.
Check out these statistics that prove thought leadership can boost business:
Nearly half of C-suite executives share their contact information upon reading thought leadership. 
Fifty-eight percent of decision-makers say they select companies based on their thought leadership content.
Sixty-one percent of decision-makers are fine with paying premium prices to collaborate with a brand that leverages thought leadership.
These statistics prove that investing in thought leadership could lead to a great return on investment. In contrast, if you seek out opportunities yourself, you must still convince prospects to trust your business or make an effort to convert them. 
3. Attract Public Speaking Opportunities with Thought Leadership Marketing  
Having a strong reputation means more people are willing to listen to the insights and advice you offer. 
As you build brand awareness through paid ads, you could also attract opportunities to speak in conferences and events with your desired target audience.
When organizations advertise their conferences and events, they may also include your face, name, and credentials in their promotional content. Of course, this also means more publicity for your personal brand. 
Consider this ad by the Data Protection World Forum, which includes a headshot and the credentials of its speaker. Even if it seems like a minor promo, more publicity is always good publicity when it comes to establishing yourself as a thought leader.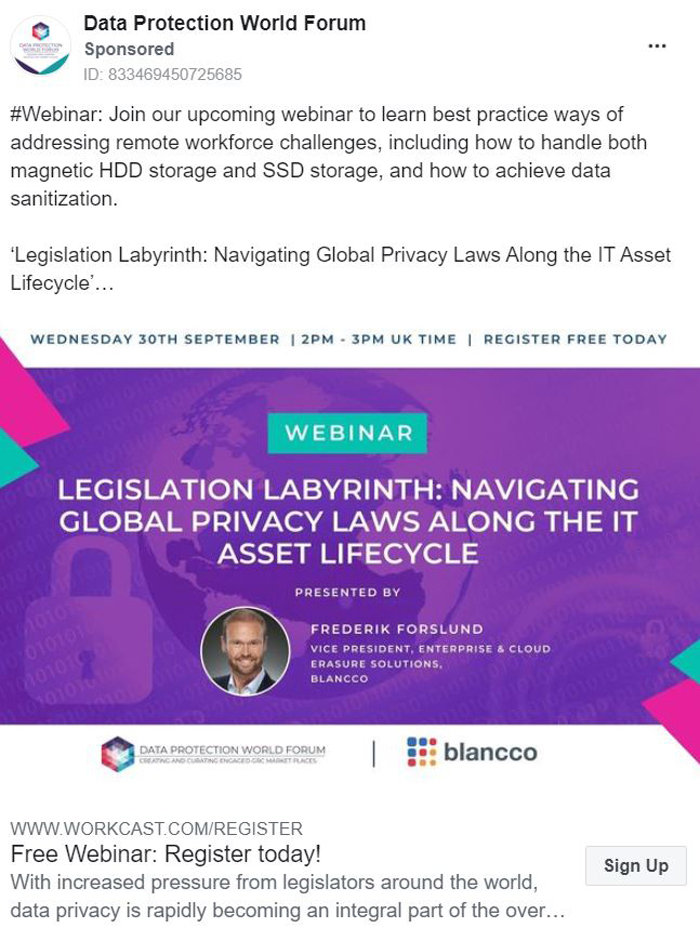 How to Use Thought Leadership Marketing in Your Paid Ads
How do you create thought leadership ads to attract people's attention? Here are some tips you need to know:
1. Understand Your Audience
Understanding your audience is crucial to the success of a paid ad campaign. Just like every marketing campaign, begin by crafting a buyer persona. 
Here are some questions to consider:
What does your target audience need?
What do they think?
Why would they want to subscribe to your brand? 
How will your ads inspire or motivate viewers to check out your website?
A good tip is to create surveys or leverage social listening tools to get the answers. If you have social media pages in place, look at the comments or messages of your audience. You could also launch a survey to determine the expectations of your target audience. 
With this information, you can create thought leadership ads that resonate with your buyer personas. As your business grows, reevaluate your buyer personas so they align with customer needs.
2. Include a Professional Photo 
Just like your logo, the paid ad may be the first brand-related content decision-makers and consumers see. 
My suggestion is to use a professional photo to make a good first impression. 
Dress up based on how you want to represent your personal brand. If your target base is B2B professionals or CEOs, a suit and tie might do the trick. Those who want to attract the general public can use a casual outfit to seem more relatable. 
Tim Ferriss, author of the book "The 4-Hour Workweek," encourages viewers to read his content such as books, gadgets, albums, and articles. He also seems relaxed and dressed in a casual shirt. The photo in the paid ad may seem simple, but it actually represents the life his audience could lead by following his teachings to work less and earn more.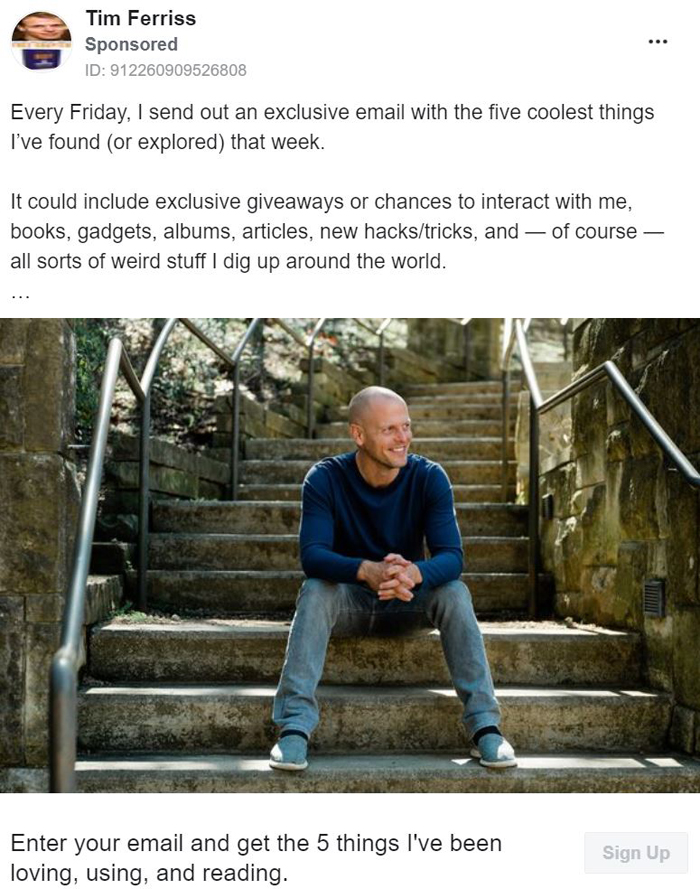 3. Offer Information on Products and Services
Thought leadership marketing ads should provide insights into the products and services you offer. 
This guarantees customers know what to expect upon clicking the ad. Being unclear about your products and services could make you lose out on potential customers. 
For example, Dave Ramsey's ad for his live webinar features the benefits customers will get upon subscribing to his master training for aspiring financial coaches.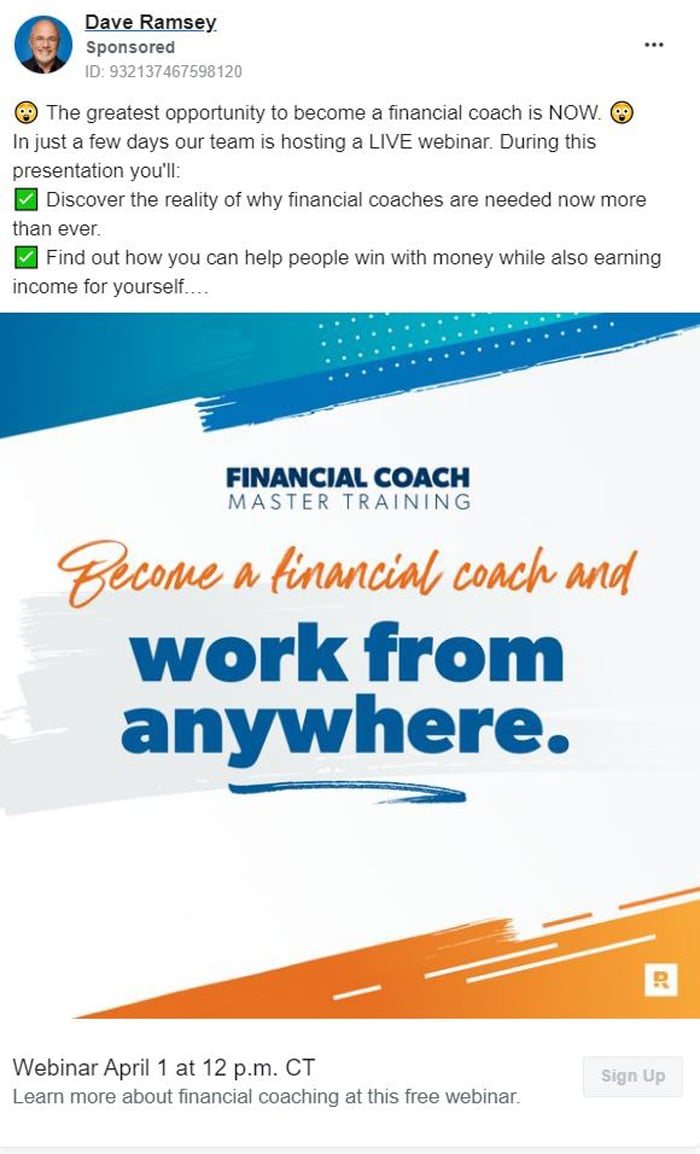 4. Monitor Paid Ads of Competitors 
Take a look at what your competitors are doing. 
Which marketing channels do they use to launch their paid ads? How often do they run those ads? What do they write about? Monitoring and analyzing the ads of competitors can help you uncover opportunities for your own paid ads. 
How do you find ads of competitors? On Facebook, you can head to the Ads Library to find active and inactive ads of other thought leaders in your industry.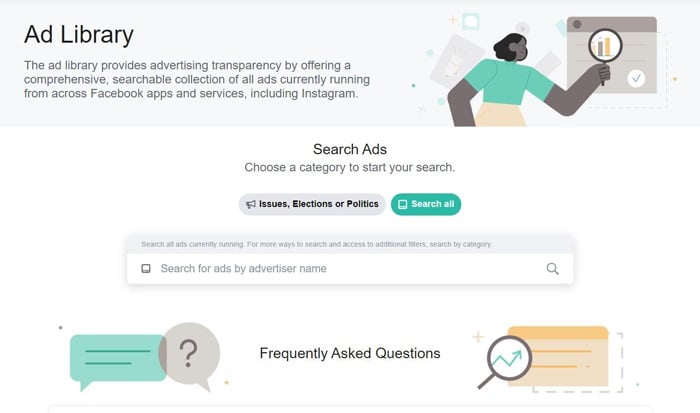 5. Offer Valuable Content 
Even with a compelling paid ad, customers may not click or purchase your products and services immediately. 
This is perfectly okay; paid ads don't exist to exclusively sell your products and services.
An alternative option is to use paid ads to share links to valuable content such as educational videos or blog posts. Sharing valuable content can help you effectively introduce your brand and establish yourself as a trusted expert. 
6. Be Genuine 
Asking people to buy immediately might not lead to the best results. 
A good tip is to remain authentic or boost engagement. Give a behind-the-scenes look at your brand. You can share interesting insights about your business and how you've helped your customers and clients. 
Author Malcolm Gladwell's paid ad has a sponsored video that gives humorous behind-the-scenes insights for his upcoming audiobook. While he may not be selling a new audiobook (yet), it may generate hype for his upcoming work or encourage viewers to revisit his past bestselling works.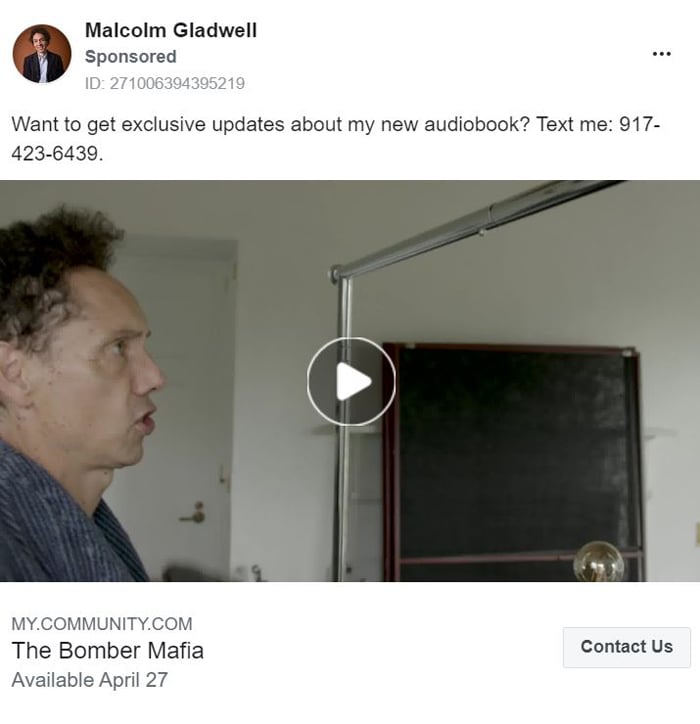 Another option is to share facts and research-backed insights or facts to prove your point. Add a link to an ebook, whitepaper, or case study with numbers and figures. This is a lot more compelling than asking people to buy, buy, and buy. 
Examples of Successful Thought Leadership Marketing Paid Ads
Still not sure how to leverage thought leadership marketing with paid ads? Here are a few successful paid ads that could inspire your own:
1. Simon Sinek 
Simon Sinek is an inspirational speaker who covers topics like leadership and organizational structure. He regularly hosts online classes and workshops to help people feel safe, inspired, and fulfilled. 
To encourage more viewers to check out his classes, he shares a thought-provoking clip from a previous lecture. The life lesson from the short clip may encourage people to visit his website, check out his content, and eventually become a paying customer.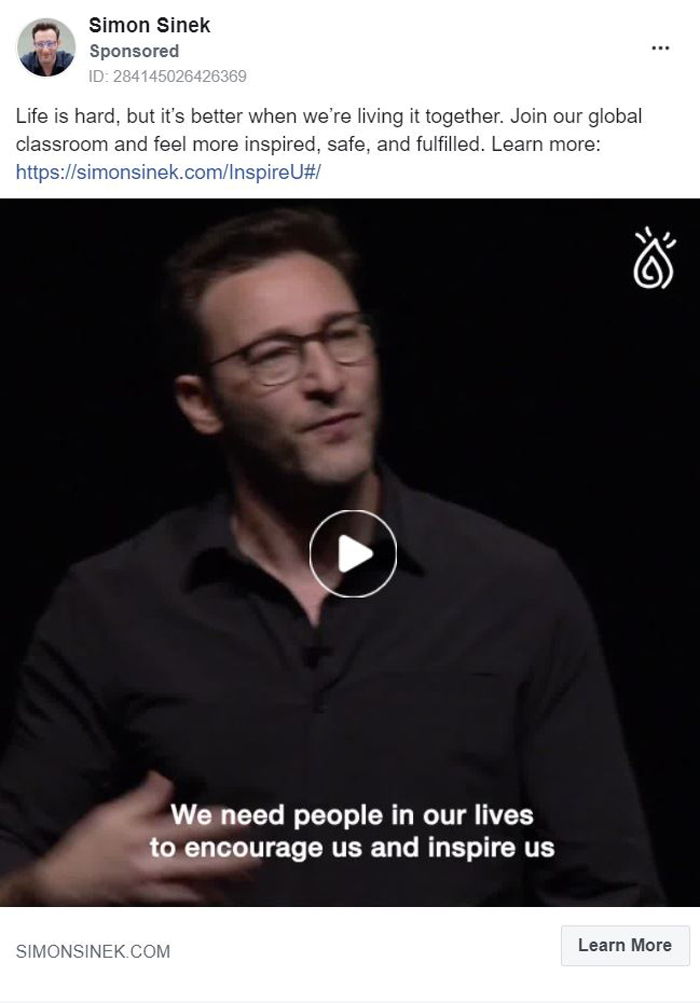 2. Bill Gates
Bill Gates needs no introduction. Though he has established one of the biggest tech companies in the world, his recent passion is fighting climate change and infectious diseases. 
For his live chat with Trevor Noah, he created a paid ad promoting his book.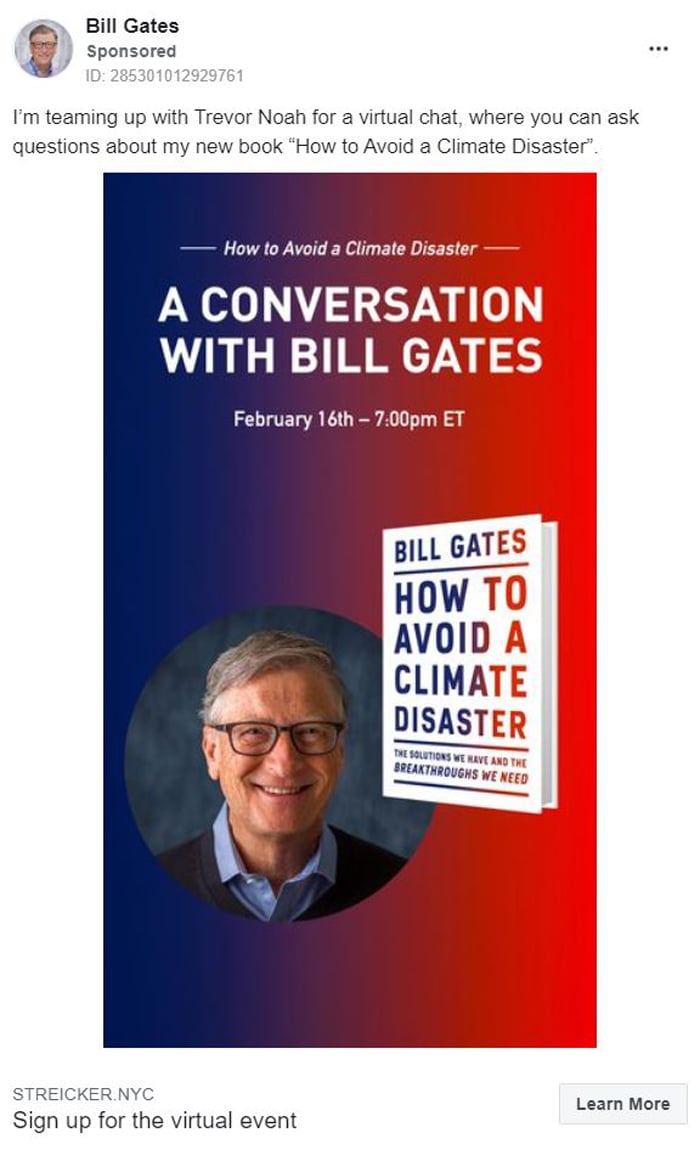 This ad works because it features his professional photo, book cover, and date and time of the event. Even with a simple image, he is able to share all the relevant information viewers need to know. 
3. Grant Cardone
Grant Cardone specializes in the world of business, which is precisely why he has an impressive paid ad that perfectly aligns with the products and services he offers. 
His short clip gives an overview of what students can expect from his boot camp. Plus, he has a compelling and informative CTA (Get Access To For Only $97!) to incite viewers to act.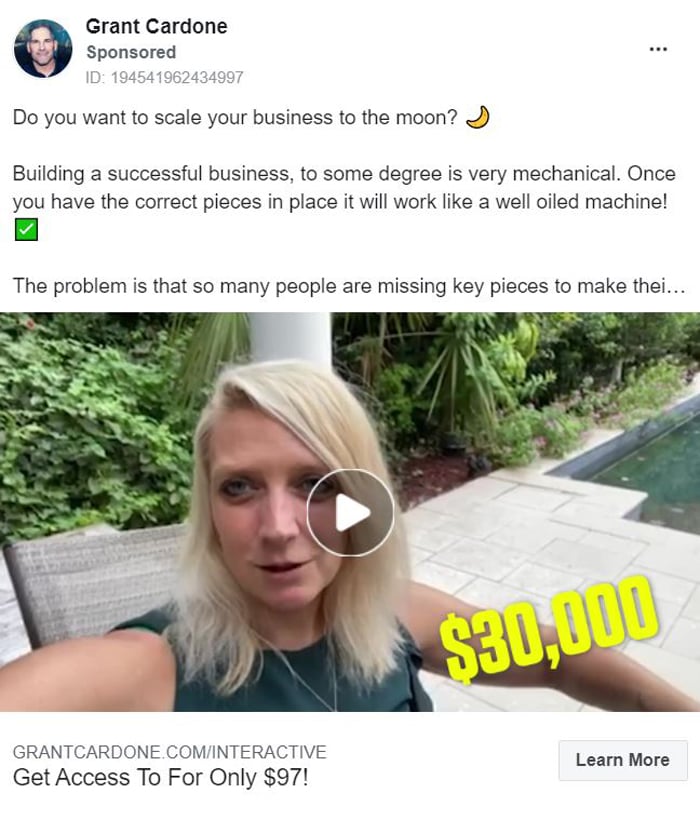 4. Tai Lopez
Tai Lopez is an investor and entrepreneur specializing in motivational and self-help content. They say great brands have compelling stories, and the same is true for his business. 
The full version of his paid ad includes a story about his struggle with poverty and starting out in his career. Eventually, he was able to seek mentorship and change his life for the better. 
Unlike most paid ads, his ad copy is quite long. Yet with an irresistible story, he is able to keep readers interested until the last word.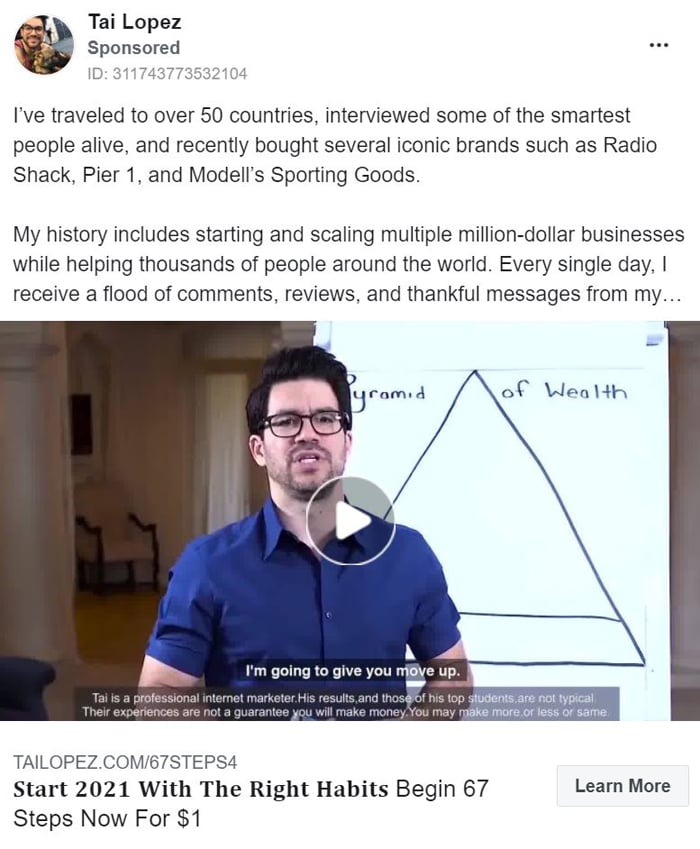 5. Tony Robbins
Tony Robbins is a top business strategist, coach, and speaker. His impressive paid ad campaign encourages people to build their own business with a course priced at $395.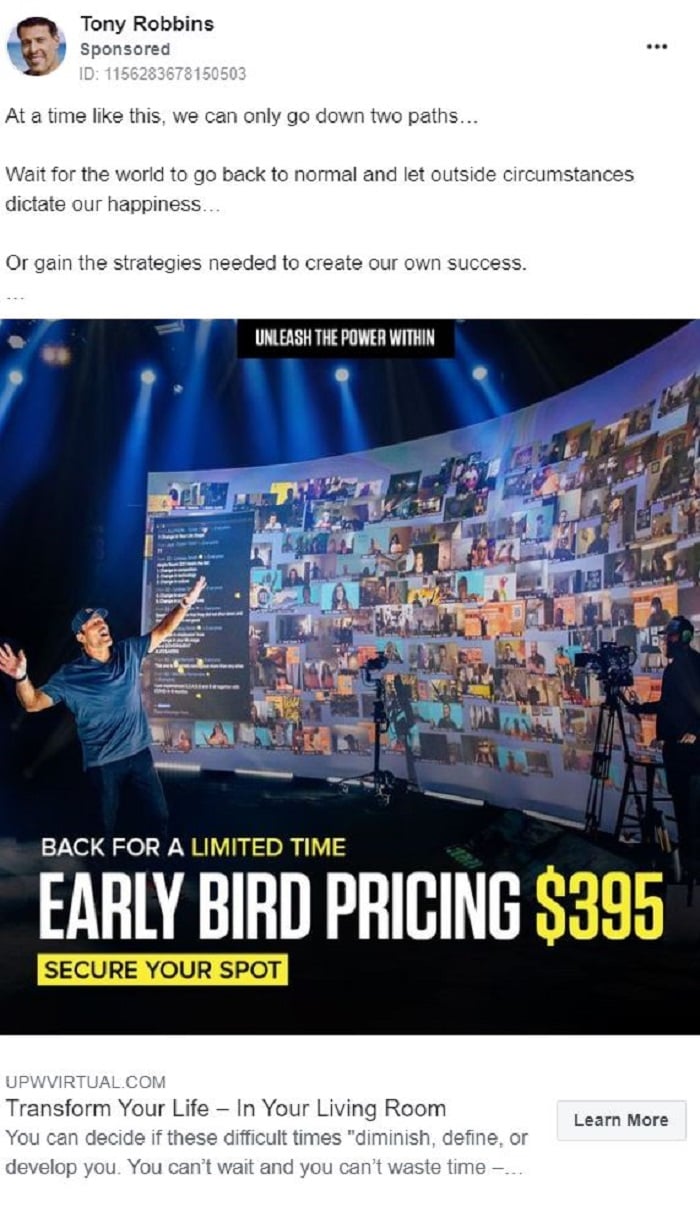 This type of copy may be effective for followers who are already familiar with your brand. If your product is at a discounted price, customers aware of original prices may be compelled to opt in and try it out for themselves. 
Conclusion
If you want to be a renowned thought leader, paid ad campaigns provide you with an avenue to boost brand awareness and attract more like-minded individuals. 
For the best results, use a professional photo and compelling copy (or video) to give viewers an in-depth look at your products and services. Along the way, don't forget to understand your target audience's needs and share solutions that address their plight. 
As you attract more people to your personal brand, you can also acquire lucrative business opportunities and get invited as a speaker in conferences. Hopefully, these tips inspire you to incorporate thought leadership with your paid ads. 
How will you use thought leadership marketing in your paid ads?