More people are interested in starting online businesses than ever before, and for budding business owners, ecommerce is one of the most obvious options. 
But if you're considering setting up an online store, or changing your focus in response to the current climate, you might be wondering what you should sell.
In this article, we'll look at the recent changes to the ecommerce landscape and what they mean for you as you start your online business journey or pivot into a new niche. I'll start by providing you with a snapshot of the ecommerce sector.
The State of Ecommerce in 2021
The COVID-19 pandemic has had an enormous impact on the ways we live, work, socialize, and shop. If you're anything like me, you've probably been avoiding going to the store in person as much as possible over the last few months.
Few industries have been entirely spared from the impact of the pandemic. Large-scale unemployment means many people are cutting back on their spending, and as such, some industries have seen a sharp downturn in sales. Sectors such as travel and hospitality have been particularly impacted.
However, the new normal we're all living in also represents an opportunity for ecommerce. More people are buying online than ever before. Because of that, industries that have traditionally struggled to break into ecommerce are seeing unprecedented growth. And this trend is set to continue, with ecommerce penetration rates set to rise from 15% to 25% by 2025.
The writing on the wall is clear: ecommerce is the future. But before you get started, you need to decide what you're going to sell. In other words, you need to define your niche.
Some ecommerce niche examples include eco-friendly personal care products, hiking gear made out of recycled yarn, CBD pet food, organic skincare supplements for women, handmade jewelry, sustainable-made homewares, and more. 
Profitable ecommerce niches are highly specific and should ideally have a differentiator that's inherent to the product. Selling hiking gear isn't unique, but if the product is made out of recycled yarn, you're appealing to eco-conscious hikers, a highly specific group. 
Why choose a niche for your ecommerce business?
There are more than 24 million ecommerce stores in the world, according to Kommando Tech. The competition has never been fiercer. 
Most companies do not have the resources to fight for a market share in numerous different spaces. Therefore, choosing a niche means you can focus on a specific market group with less competition. 
Counterintuitive though it may seem, this can actually lead to higher revenue than trying to do too many things all at once.
Focusing on a niche market also gives you the opportunity to get to know your customer base on a deeper level. Knowing your target market inside and out is one of the most critical keys to ecommerce success.
Benefits of Finding a Niche for Your Ecommerce Business
Online retail giants such as Amazon and Walmart sell everything from books to diapers. Seeing their success, it's difficult to imagine how specializing in one category can make your online business more profitable. 
Amazon and Walmart are successful because they have millions of dollars in resources. From staffing to warehousing, they have the bandwidth to efficiently manage a large inventory. 
When you only sell one product, you're cutting operational costs significantly while building a highly unique brand. Below, we'll take a look at the benefits of finding a niche — with real-life examples to prove it. 
1. You'll pay less for marketing and advertising. 
Targeting a highly specific audience will result in lower ad spend and allow for a much tighter marketing budget. Why? The smaller the audience, the less you'll spend. 
When you're creating a Google Ads campaign, for example, you can bid on either expensive, highly-searched keywords, or cheaper, more specific long-tail keywords. 
Let's say that you specialize in women's hiking shoes. Examples of broad search terms would be "shoes" (1.1M global monthly searches) and "women's shoes" (25K global monthly searches). These aren't great choices because someone who's searching for "shoes" might not be looking for a hiking boot. 
A good long-tail keyword, on the other hand, would be "women's waterproof hiking boots" (450 global searches). With this strategy, you can guarantee that searchers are specifically interested in your product, which makes it more likely they'll turn into a lead. Plus, it's much cheaper to target these keywords in your campaign. 
2. You'll compete with fewer brands.
Another great benefit of being in a niche? There are fewer brands in your space. That means more people will have their eyes on you instead of your competitor. 
Consider, for example, the hair accessory niche. Hair accessories are a relatively specific type of product, but wooden hair forks is a particularly niche marketplace. The hair fork brand Saya Designs, while relatively small, performs well on SERPs for hair fork-related keywords.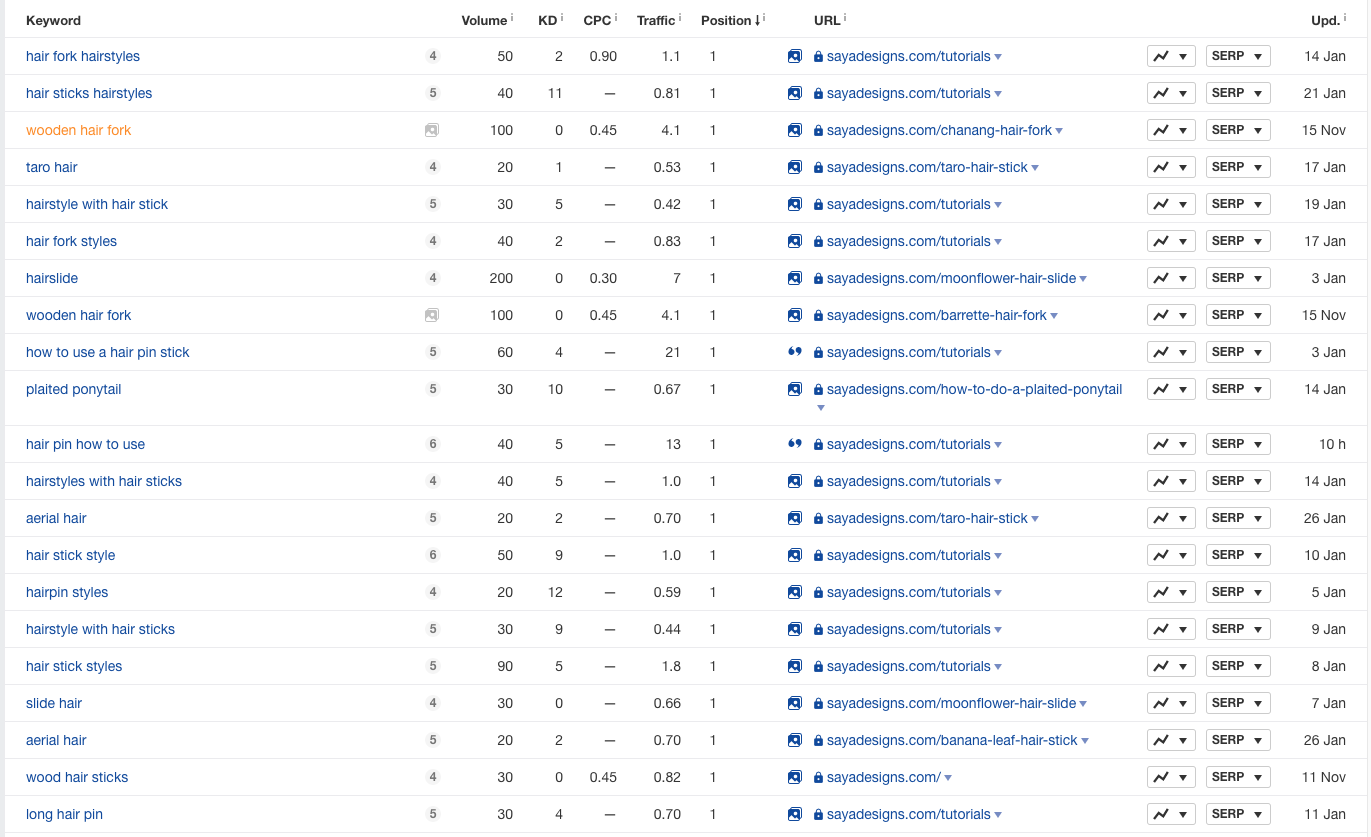 Image Source
Why? There's little to no competition in the hair fork niche. 
Your niche doesn't have to be as specialized. Even if you're selling something relatively common such as workout gear, you can rank well in SERPs with a solid SEO strategy.
3. Your customers will be more loyal to you. 
If you're in a niche, you can inspire brand loyalty with little effort. 
You're solving specifically for your customers' needs with your product, meaning they will automatically feel loyal to your brand. Rather than appealing to a mass audience, you're appealing to that specific buyer. And if your product is the only one of its kind, your buyers will continuously look to you as a supplier. 
Consider large online retailers such as Amazon, Walmart, or Target. It's common to switch from one to the other depending on what's most convenient. We don't often buy exclusively from one, meaning we're not loyal to them. 
This wouldn't be the case if you find a niche for your online business. Because your value proposition is unique to your brand and product, customers are likely to come back to you, not to your competitor. 
4. You can charge more for your products. 
Being in a niche means that your product is unique and solves a highly specific problem experienced by your buyer. This means you can charge more for it — especially if it's produced in small batches, by hand, or in a sustainable manner. 
The price doesn't fully come down to production quality, however. Availability is another factor. As an owner of a niche ecommerce business, you're likely one of a handful of brands offering that product. Scarcity will give you the leeway to charge more. 
To continue the example of the hair fork niche: Saya Designs charges from $28 to $60 for its products. On Amazon, you can find similar hair forks for $12, but many are made out of plastic and metal. 
Because Saya Designs specifically offers wooden hair forks, not plastic or metal, and specifically ones in a traditional design, they can charge more, because there aren't many hair forks like theirs in the marketplace. 
5. You can run your business with lean resources and a small staff. 
The best part about running a niche ecommerce brand? You can do it on your own or with limited staff. 
With a smaller inventory, you'll be saving in storage and operational costs. You won't need stocking staff or a large marketing team, since marketing in a niche space is a little easier and more cost-effective. You can also usually send off your own packages via mail. 
Building an ecommerce site, creating or sourcing your product, and buying ads can be done on your own in a few months. You'll also see results sooner, because a niche segment is smaller and you'll be competing with fewer brands. 
Now that you know why you should find a niche, it's time to go over the most profitable ones for 2021. 
Best Ecommerce Niches
Choosing and understanding your niche is essential if you want to attract the right customers to your ecommerce store.
When you're choosing your niche, start by considering what you care about. You can't sell a product you don't believe in, so starting with your passions and interests is paramount. From there, consider market demand, potential profitability, availability of products, and your competition.
With all of this in mind, let's have a look at some of the most lucrative niches for ecommerce store owners and aspiring online retailers in 2021.
1. Technology and Home Office Equipment
The last two decades saw a growing trend in working from home across many sectors of the economy. Yet this trend only impacted a fraction of the population. COVID-19 and accompanying stay-at-home orders have resulted in a huge shift in the way we work.
According to data released by Upwork, 41% of people in the US work from home full-time, and nearly six out of ten teams are doing so part-time. This figure is reflective of the shift in work culture many of us have experienced.
Image Source
Remote work doesn't seem to be going anywhere any time soon. A recent survey by Gartner found that around 74% of companies intend to keep at least some of their workforce remote after the pandemic is over.
This is a great time to get into the home office equipment niche. You might choose to focus on technology such as laptops, keyboards, mice, and monitors. Another possibility is to concentrate on non-technological home office necessities such as ergonomic office chairs and standing desks.
2. Home Gym and Fitness Gear
Gyms are beginning to reopen in some cities across the United States and the world. But many remain closed, and some fitness enthusiasts still feel that attending the gym in person is too significant a health risk. Others are realizing that they do not need their expensive monthly gym membership to keep fit. With all of this in mind, working out at home has never been more popular.
Fitness is an evergreen ecommerce niche. If you're passionate about health and exercise, focusing on the lucrative at-home fitness market could be the perfect way to start an online business.
You might focus on home gym equipment such as treadmills and ellipticals, on space-saving gear such as dumbbells, resistance bands, or pull-up bars, or even on nutritional supplements for those wanting to take their workout to the next level.
Image Source
It's also worth considering where fitness is heading. Mirror, a company that sells a large LCD that looks like a mirror that people can use for training, is heading for a billion-dollar valuation. Fitness technology is going to be a booming niche for this century, and being ahead of the curve on what will trend will allow you to grab a slice of the pie.
3. Entertainment
Entertainment is a large industry covering a number of different niches. As COVID-19 shutdowns keep people in their homes, and live events from concerts to sporting fixtures are canceled, people are looking for ways to use their increased free time and keep themselves entertained.
According to Statista, 26% of American consumers reported spending more on home entertainment due to the pandemic.
Spending on video games and associated hardware in the US also hit a record high. But some people prefer more old-fashioned forms of entertainment. Board games have exploded in popularity in the last few years, and COVID-19 quarantines have boosted sales in this niche even more. In the UK alone, sales of popular games such as Monopoly and Cluedo soared by 240%.
As BazaarVoice reported, the toys and games niche saw a 79% increase in order count. As schools and extracurricular activities closed and parents sought to keep their children entertained at home, sales of toys, games, and activities for children have risen.
Jigsaw puzzles have proven popular, with manufacturer Ravensburger enjoying a 370% increase in sales year-over-year. Outdoor swings and play sets, building and construction toys such as Lego, and educational toys are also doing well.
Many people, adults and children alike, have been using the lockdown period to get creative. According to an NMPI Digital report, the Michaels Companies — North America's largest supplier of arts and crafts materials — saw an $8 million increase in revenue compared to the previous year.
Arts and crafts are not only popular pastimes but proven to aid in stress reduction. They are always popular and never more so than during the pandemic.
4. DIY and Home Improvement
At the end of June, Bank of America polled over 1,000 Americans and found that 70% of respondents had either started or planned home improvement projects during the COVID-19 shutdown, and that many planned to continue with these projects into 2021. The analysts predict a "multi-year tailwind" as younger buyers move out of cities, buying and renovating the older homes they can more readily afford.
Gardening is another pastime linked to home improvement that has steeply risen in popularity. US-based seed supplier W. Atlee Burpee & Co reported the highest sales in its 144-year history, while an ACI Worldwide analysis found that online sales of gardening essentials saw a 163% increase.
5. Food, Drink, and Cooking
Among many of the other changes it has wrought, the pandemic has changed the way many people eat. Restaurants and eateries around the world were closed for extended periods, many are yet to reopen, and some will sadly not survive the shutdown.
Similarly, mass remote working means that the days of grabbing a sandwich for lunch from the local deli are over. School closures mean that children are no longer enjoying school meals, leaving parents to arrange breakfast, lunch, and dinner seven days per week.
Image Source
As a result, our relationship to food has changed. Here are some of the lucrative ecommerce niches in the food and drink space:
Kitchen Equipment and Ingredients
Research by Bain & Company suggests that online grocery shopping in the US has risen from 3-4% to 10-15%.
Increased time at home, restaurant closures, and concerns over family budgets have led to a boom for home cooking. Whether you focus on specialist kitchen appliances such as pasta makers and bread machines, hard-to-find ingredients, store cupboard staples, or supplies for home bakers, your ecommerce business can benefit.
Meal Subscriptions
The increase in home cooking, coupled with many consumers' desire to avoid going to the grocery store as much as possible, has resulted in a surge in the popularity of meal kit delivery services. By 2027, revenue in this industry is forecasted to grow to nearly 20 billion USD.
There is tough competition in the meal delivery space, but if you have the food knowledge and the marketing know-how to succeed, there has never been a better time to launch this type of business. 
It is one way that restaurant owners and food production companies can pivot into the ecommerce space at a time when their businesses may be struggling.
Alcohol
With pubs and bars closed across the world, and many consumers feeling unsafe going to those that are open, consumption of alcohol at home has increased. Many pubs, bars, distilleries, and breweries have set up ecommerce brands for the first time during COVID-19, while sales of at-home cocktail making equipment and ingredients have boomed.
According to Drizly's consumer report, 30% of consumers have said they will continue to drink more at home in 2021. There's also room for growth, as Beverage Daily reports that alcohol accounts for less than 1% of online grocery spending (against 5-6% of in-store spending). 
Just make sure you obtain the correct licenses and abide by any alcohol retailing laws in your city, state, or country if you decide to move into the alcohol ecommerce space.
Choosing the Right Ecommerce Niche in 2021
No one knows what the new normal will look like when we emerge from the other side of the COVID-19 pandemic. Therefore, it is essential for retailers and business owners to be flexible, adaptable, and prepared to pivot as necessary to ensure their current and future success.
Despite worrying reports about unemployment levels and the challenges facing the retail sector, there are substantial opportunities in the ecommerce industry in 2021 and beyond.
This list is not intended to be exhaustive. However, I hope it gives you some inspiration as you launch your business or adapt to the changing realities of the world today. 
Whatever niche you ultimately choose, take your time to study the market and understand your target audience before you dive in.