Just as every craftsperson needs their toolkit, as do marketers. With the right templates and tools, you'll know how to perform each step of your marketing plan consistently.
Which marketing tools should you use for your business, and how do you use them?
We're here to provide everything you need to set up your own marketing toolkit. To help you make the most out of our templates, we'll also explain where each of them falls in each step of the marketing process. In addition to giving you the tools you need to succeed, we'll teach you how to use them to their fullest potential.
Keep in mind that you can use this marketing toolkit as an example for your very own in-house toolkit. Feel free to customize our templates and change up their order of use to fit your workflow and preferences.
[Tweet "How to build the best marketing toolkit using 37 helpful templates."]
Download Your Ultimate Marketing Toolkit With 37 Templates
For your convenience, we put together all of the templates mentioned in this blog post into a single .zip file. Download the kit, extract the files, and customize your templates as needed to set up your toolkit.
Best of all, everything's free to download.
[content_upgrade_shortcode]
Table of Contents
Marketing Planning Templates
Marketing Execution Tools
Marketing Measurement and Reporting Tools
Marketing Planning Templates and How to Use Them
The following templates will help you plan your marketing and understand your audience.
Marketing Strategy Template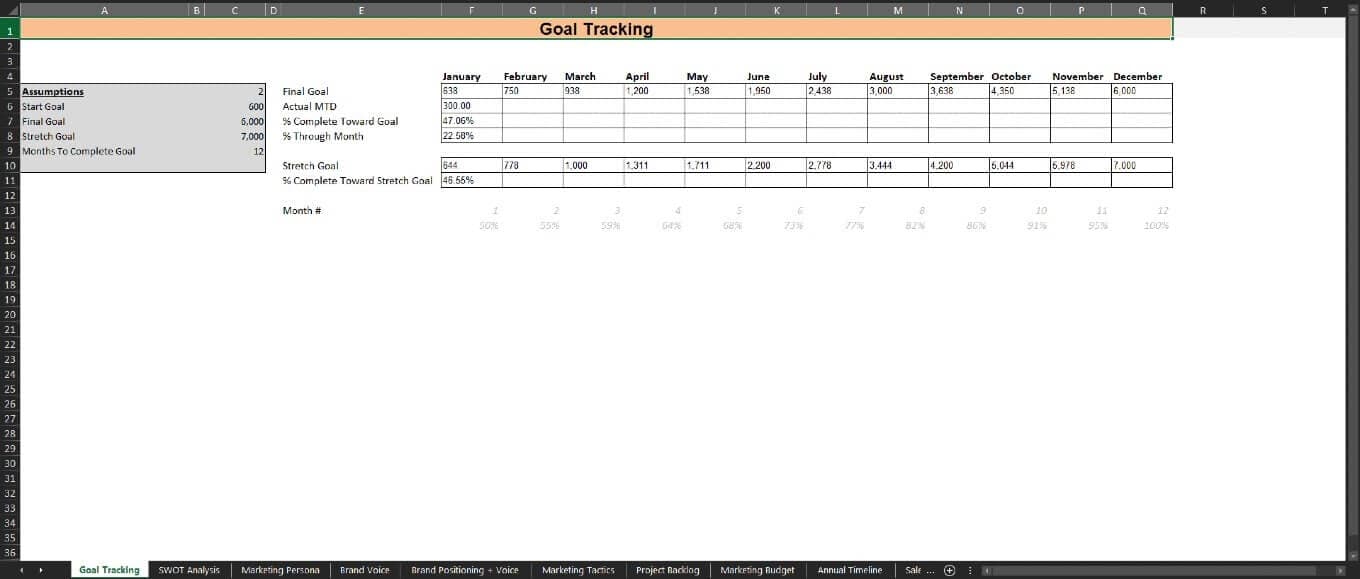 Our ultimate guide to making a marketing strategy includes a kit with the templates you need to develop and document your own strategy. This guide consists of multiple chapters — each with their own template — that will help you plan your entire strategy from start to finish. Discover how to use each one and visit the relevant links for relevant insights from our marketing strategy guide — plus additional links from our blog:
Marketing Strategy Guide Template

: Document your entire strategy effectively and efficiently.

Goal Tracking

:

 Set measurable, actionable goals and track their progress.

SWOT Analysis

:

 Define strengths, weaknesses, opportunities, and threats that could impact your marketing.

Marketing Persona

:

 Create a persona of your typical audience member to better understand to whom you are marketing.

Brand Voice

:

 Determine the personality and emotion that your marketing will invoke.

Brand Positioning and Voice

 (Blog Post):

 Find ways to make your brand relevant, unique, and credible.

Marketing Tactics

:

 Choose the marketing methods you'll use to achieve your marketing goals.

Project Backlog

:

 Write down possible project ideas and determine their value to your company.

Marketing Budget

:

 Automatically calculate your goal-driven annual budget while setting final goals and stretch goals.

Annual, Sales, Event, and Project Timelines

 (Blog Post)

:

 Plan marketing timelines by year, campaign, event, and project to anticipate projects as they come along.

Content and Promotion Checklist

 (Blog Post):

 Outline the pieces of content you'll make for your marketing project.

Sprint Backlog

:

 Divide your marketing timeline into phased development timelines, known as "sprints".

MROI

 (Blog Post):

 Calculate your marketing return on investment (MROI) — the net income you'll make on your marketing.
Depending on the methods you use in your marketing strategy, you might also benefit from these marketing strategy templates:
Content Marketing Strategy Template

:

 Create standards of performance for your content and evaluate your deliverables using those standards.

Social Media Marketing Strategy Template

:

 Define all aspects of your brand's social media strategy, including content format, posting schedule, and campaign goals.

Email Marketing Strategy Template

:

 Determine elements of your email marketing strategy such as your audience, email tools, and list segments.
Recommended Reading: Is Email Marketing Dead? Not if You Keep Up With These Best Practices
Audience Persona Template
Your audience persona will go hand-in-hand with your marketing strategy. Once you create a user persona that embodies your typical audience member, you can keep them in mind as you craft your marketing strategy.
Our audience persona template will give you a one-page overview of your persona's demographics, interests, and values.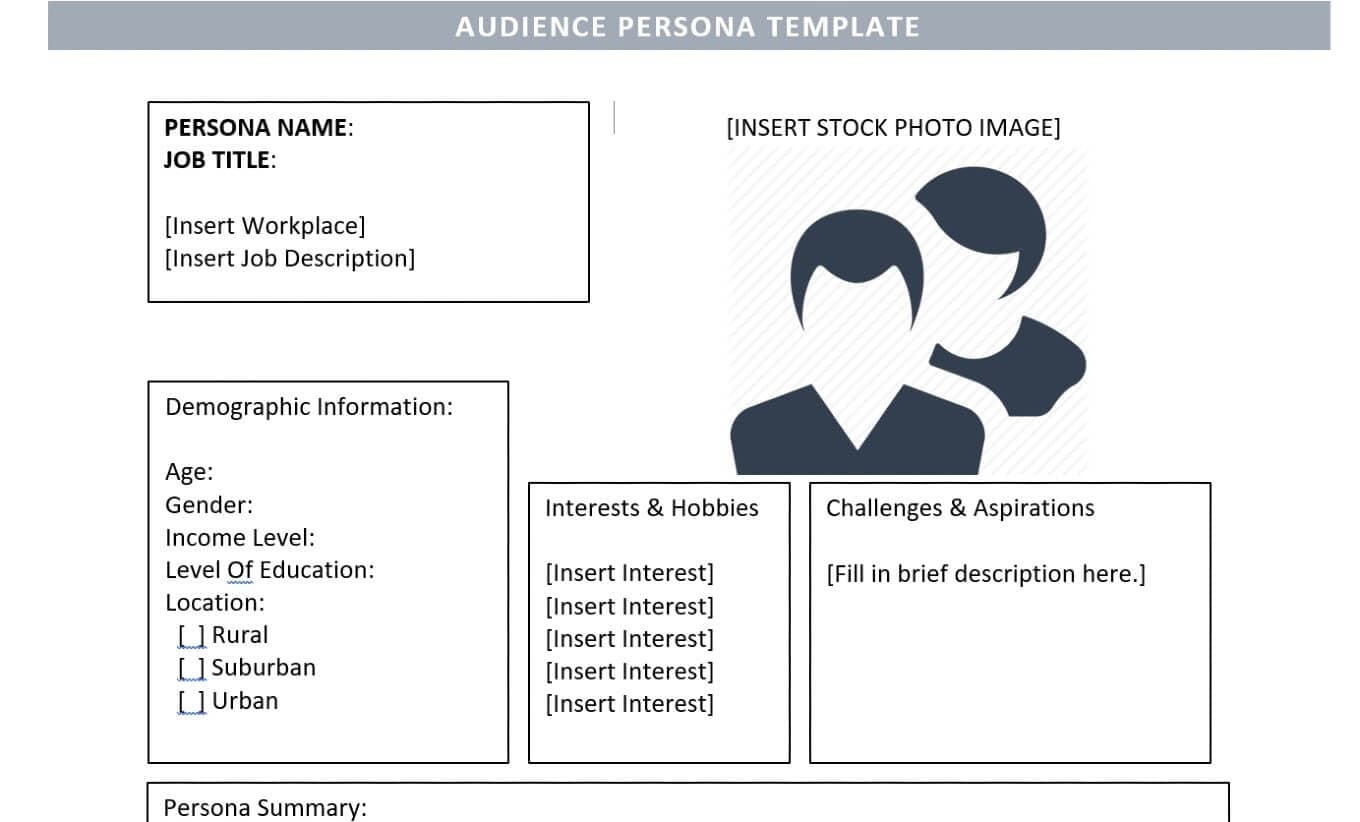 While looking at this template, you might wonder how to get such detailed information about your average customer. The CoSchedule blog post on the subject offers ideas, such as:
Google Analytics:

 You can

install Google Analytics

 on your site to get in-depth data on your visitors' demographics, interests, location, and behavior.

Customer surveys:

 Ask your customers about their backgrounds and interests using a tool, such as

SurveyMonkey

 or

Google Forms

.

Quora:

 Search for questions that you think your typical customer would ask on

Quora

 and see what answers they find the most valuable.
These are just the free and low-cost options — you'll find plenty more ways to learn about your customers in the blog post linked above. We also wrote another blog post with even more resources to use as you craft your customer persona.
Customer Journey Map Template
Customers go through many different thoughts and feelings as they decide to buy something. Understanding this evolution will give you a competitive edge in your market. Our customer journey map template will help you capture your customer's experience from consideration to ownership.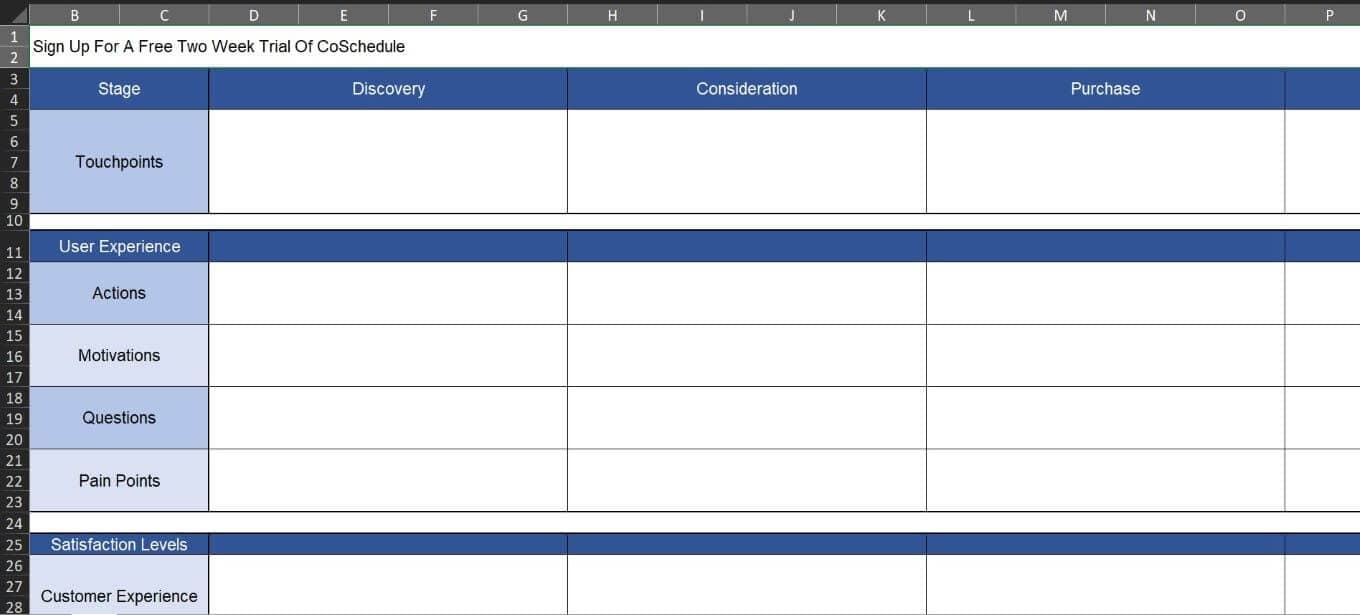 Like you would with our customer persona template, you get the information you need for this journey map through customer analytics and surveys. As you analyze your data, look for trends and overlapping patterns that suggest a timeline.
Content Audit Template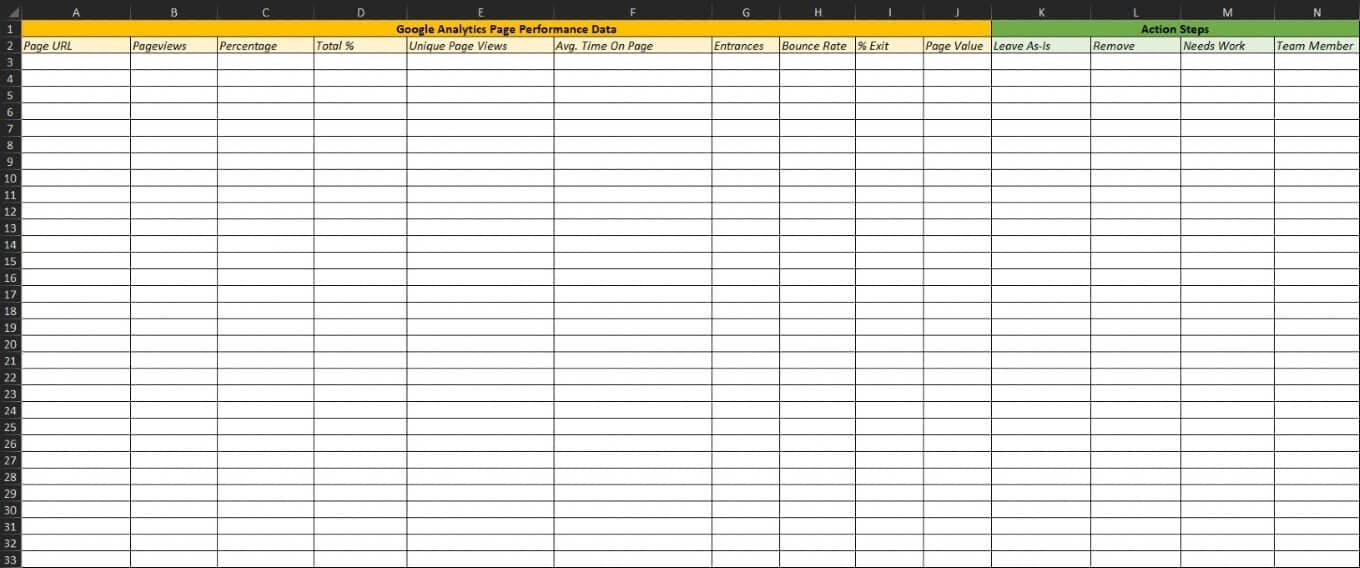 A good content marketing strategy builds on the strengths and weaknesses of previous content to power-up your campaigns. Our content audit template gives you the space to record a page's Google Analytics performance and note the next ideal step for its development.
Follow these steps to perform a content audit using this spreadsheet and Google's free tools:
List your content pages manually or using a free tool, like

Screaming Frog

.
Export

Google Analytics

 and

Google Search Console

 data and enter it into the sheet.
Review KPIs and errors in your page data.
When you use this template with Google data, a content audit won't cost you a dime. Small to medium-sized businesses, like yours, can analyze their content performance in-depth without worrying about their budgets.
[Tweet "Small to medium-sized businesses, like yours, can analyze their content performance in-depth without worrying about their budgets."]
Content Matrix Template
One way to establish your brand as a helpful authority is to identify your customer's pain points — the issues they want to solve with your product. In our blog post on pain points, we included a template for a content matrix that plots out relevant content.

This template breaks pain points down by their place in the customer's journey. First, you list out your customer's pain points, then you offer a solution. Afterwards, you need to create headlines, content formats, and calls-to-action that will provide a solution to your customer's pain points. In-depth audience research will help you create content tailored to your customer's needs using this matrix.
Marketing Calendar Templates
Calendars are the bread and butter of marketing roadmap creation. We kept our marketing calendar template straightforward, so you can see exactly what's coming up on your schedule and who will do each task.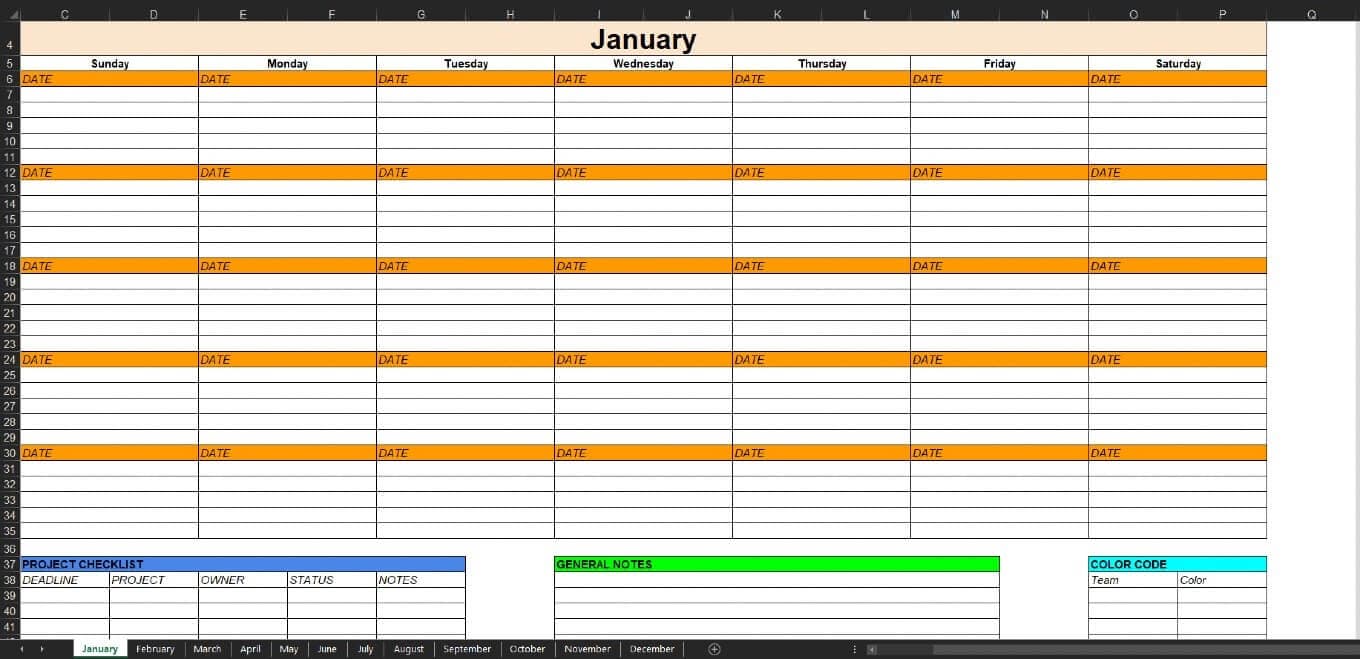 With this template, you can plan all of your projects and campaigns in one place. The lists below each calendar month give you a place to dig into the details of your projects and assignees.
Need to dive deeper? We also have these three types of marketing calendar templates to share:
Content Marketing Editorial Calendar Template

:

 Generate blog post ideas, assign posts, create a publishing schedule, and communicate with your blog team.

Social Media Marketing Calendar Template

:

 Create a day-by-day social media schedule organized by channel.

Email Marketing Calendar Template

:

 Strategize your email campaign and perform in-depth email content planning in a comprehensive spreadsheet.
Once you have these calendar templates down, you can also try CoSchedule's Marketing Calendar or Blog Calendar.
Recommended Reading: How To Make The Best Integrated Marketing Communications Campaign In The World With Multiple Teams
Back to the Top
Marketing Execution Tools and Their Uses
When it's time to execute your marketing plan, you can use these tools to create clean and consistent deliverables.
Creative Brief Template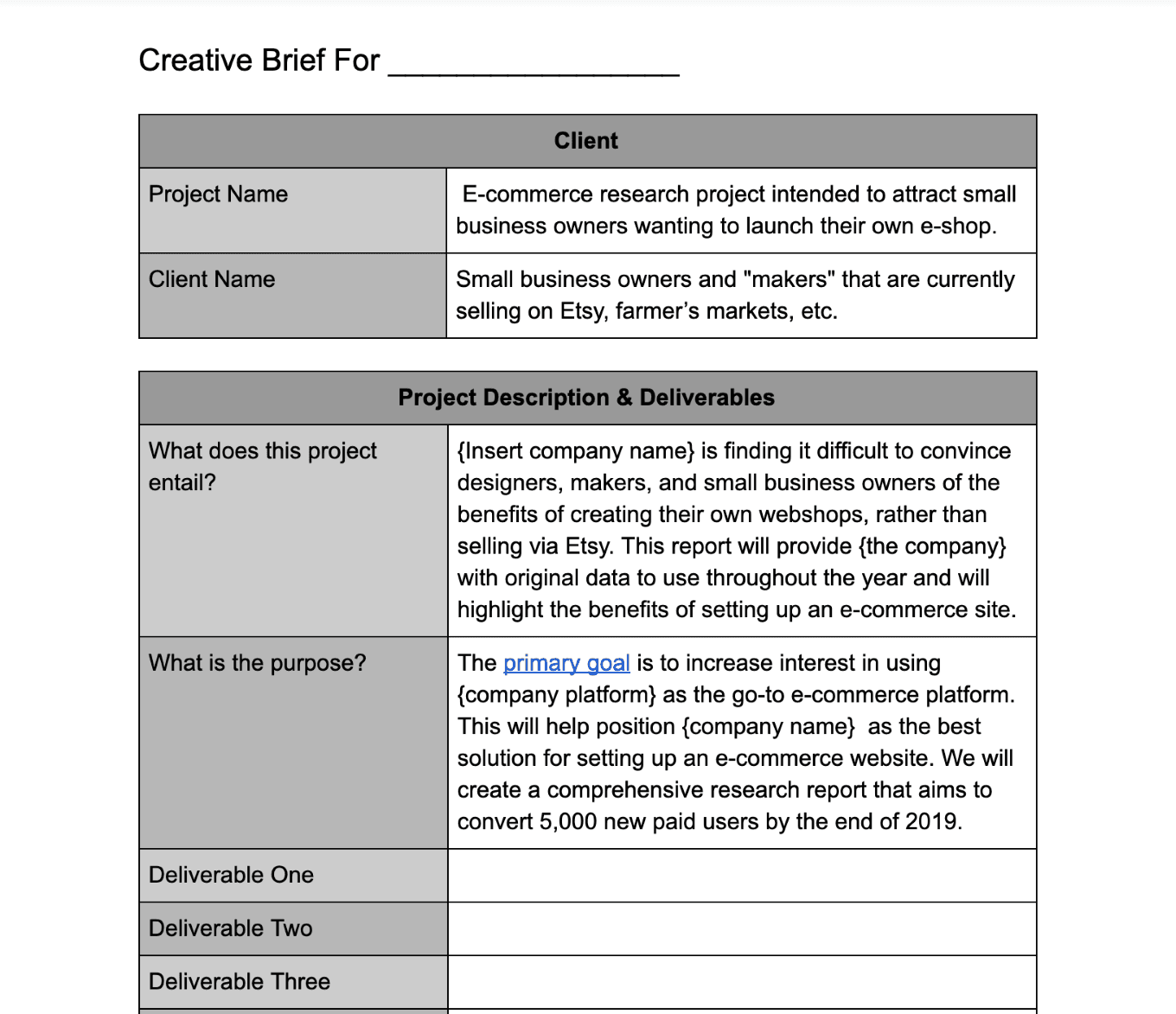 We recommend starting each of your projects with a creative brief that touches on all of the points you need to communicate to your team for efficient delivery. A good creative brief defines the project's scope, provides a timeline, and serves as a handy reference for everyone involved.
To make the creative brief drafting process simple, we made three templates that answer some of the most important questions about a marketing project. Choose from a Word document, Excel spreadsheet, or PowerPoint presentation for your creative brief format.
Which template format should you choose? The answer depends on your team's collaboration style and personal preferences. For example, if you plan on establishing project expectations in a meeting, you can use the PowerPoint template to present the brief and share the slides through email.
Editorial Style Guide Template
Whether you have one writer working on your content or a full team, a strong editorial style guide can help you create consistent content that meets your branding standards. We simplified the style guide writing process with our free template.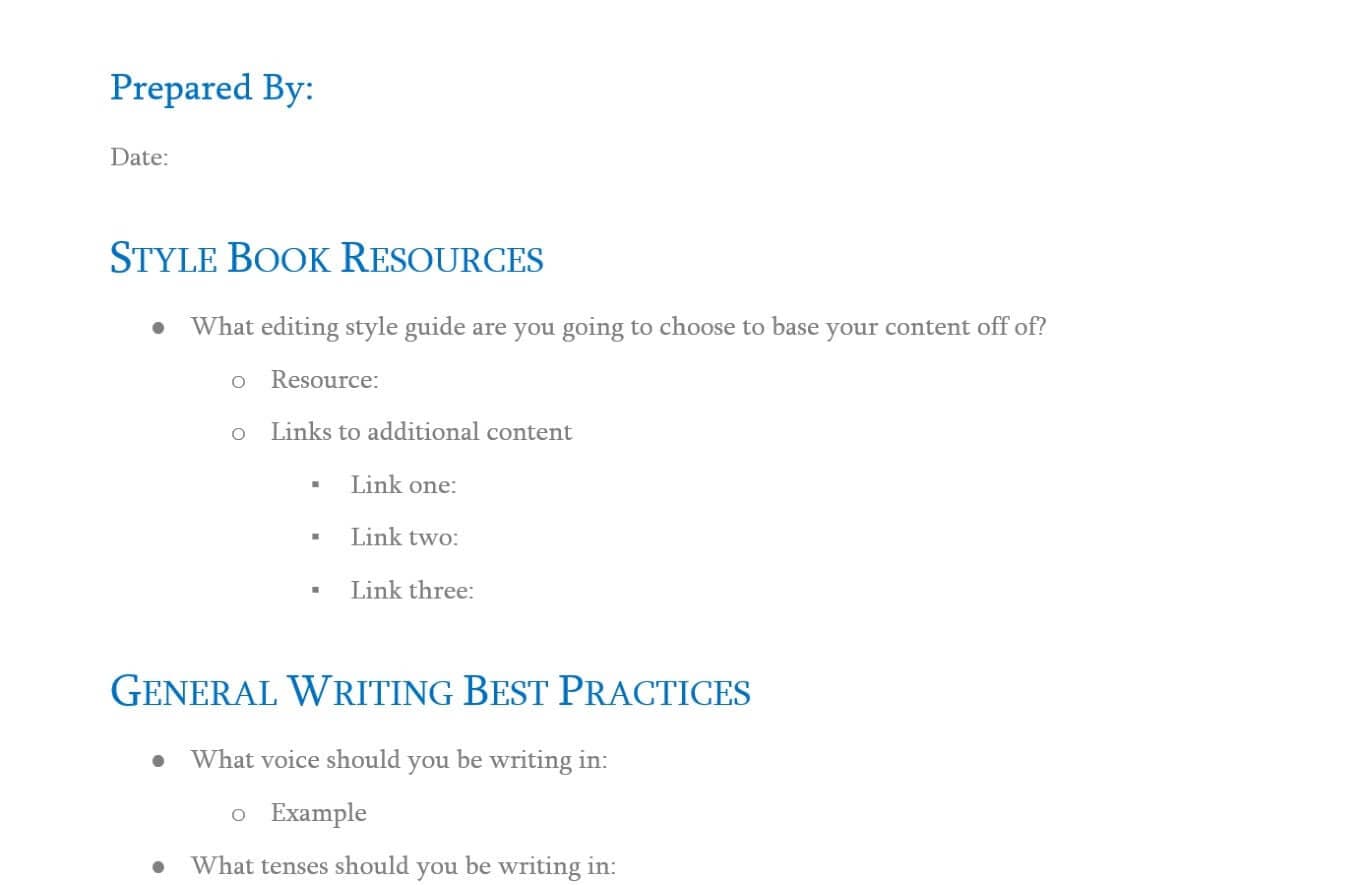 Our editorial style guide template will define these aspects of your creative style:
Base style guide (such as

the AP Style Guide

)
General best practices
Internal jargon/brand terminology and how to phrase it for your audience
Target audience personas
Voice, style, and tone
Content types and their specific standards of performance
Formatting guidelines
Image styles and design elements
Marketing Task Checklist Template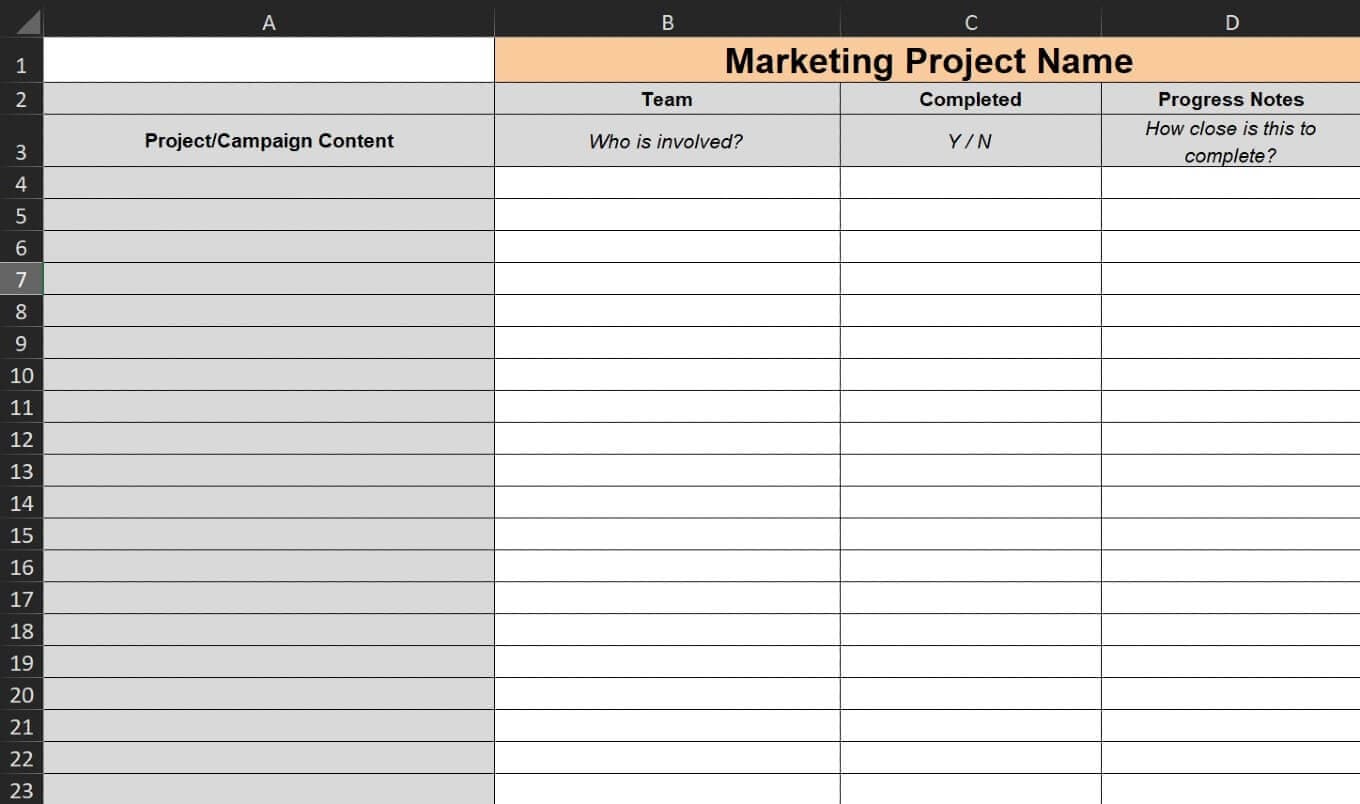 If you're looking for a way to prioritize and organize your marketing projects, have you tried using a checklist? Checklists are a straightforward format with practically endless customization options — making them easy to use and stick with. The checklist included in our toolkit monitors project assignments and progress.
While basic checklist management is simple, you can step up your organization game with careful planning and execution. We discussed this topic in-depth in our blog post about marketing checklists, which includes another marketing checklist you can try.
After you master your spreadsheet checklist, you can dive into CoSchedule's Task Templates and Team Performance Reports to define and track your task progress.
[Tweet "Dive into CoSchedule's Task Templates and Team Performance Reports to define and track your task progress."]
Content Creation Templates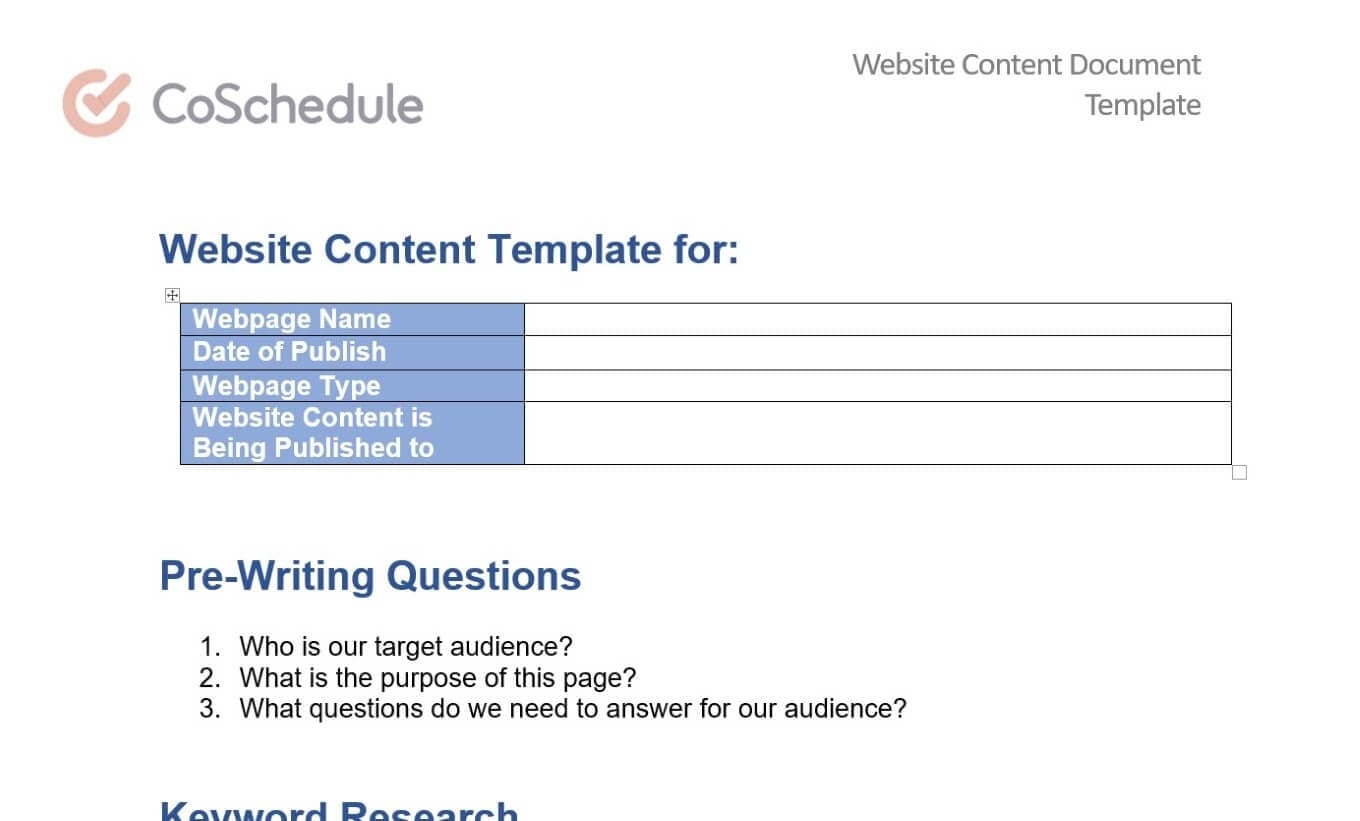 When your marketing project involves original content, it can seem intimidating to create work that meets industry standards. Fortunately, a lot of marketing content lends itself well to templates. We made these seven templates for your next marketing writing endeavor, no matter how big or small:
Press Release Template

:

 Create a detailed and appealing press release to spread the word about your company to journalists.

Case Study Template

:

 Tell a story about one of your customer's experiences with your company to show the results you can deliver.

White Paper Template

:

 Establish your topical authority by arguing a point or solving a problem with research-based evidence.

Website Content Template

:

 Cover every aspect of a web page's content — including the copy, images, and tags.

Email Newsletter Template

:

 Break down your email newsletter's content for developer placement or teammate review.

Outreach Email Template

:

 Craft the perfect pitch for your next guest blog post.

Video Script Template

:

 Plan out your next promotional video by scene and narration.
Back to the Top
Marketing Measurement and Reporting Tools and How to Use Them
The following templates make it simple to measure and report the results of your marketing to inform your future campaigns.
Marketing Report Template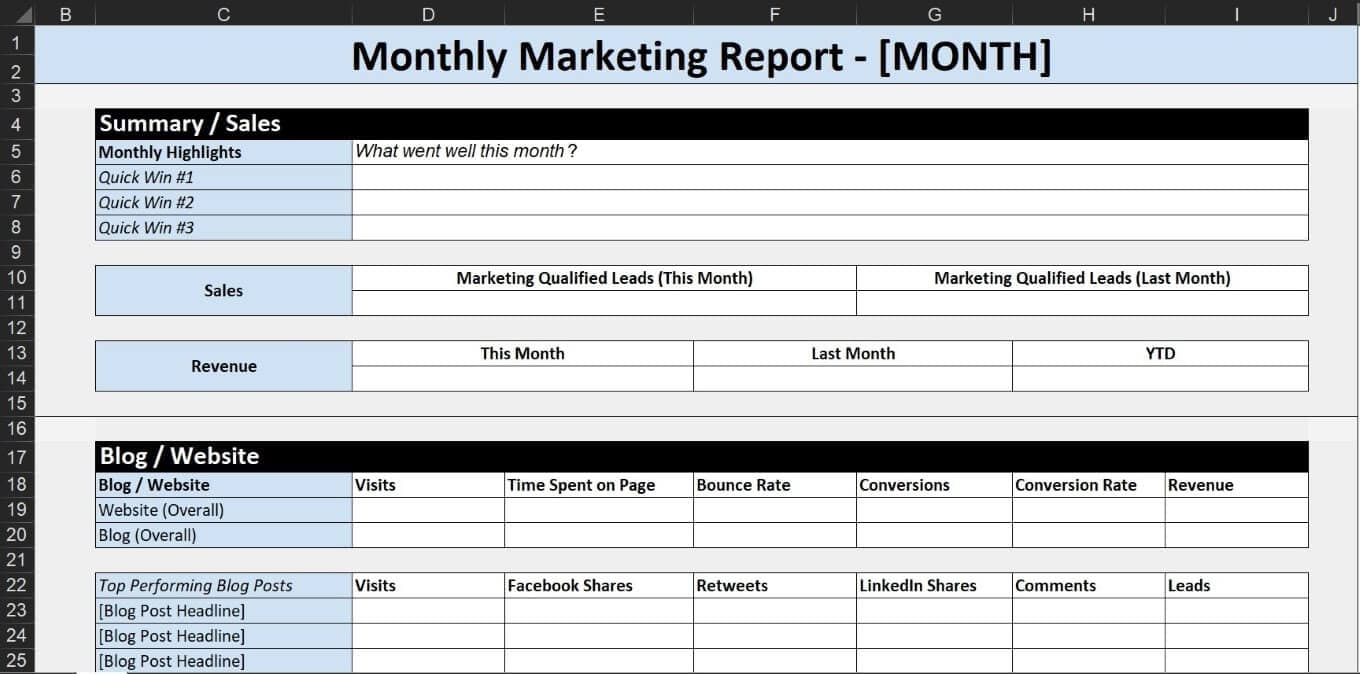 Many marketers face a conundrum when it comes to marketing reports — they need to measure and show their results, but they might not have the time to build a report from scratch. Try our marketing report template.
This template starts with an overview of your qualified leads and revenue, then drills down into your website, blog, social media, SEO, and email marketing metrics. It puts all of your most important marketing numbers for the month in a single resource.
This template covers multiple areas of marketing with a content-heavy focus, making it a great choice for general marketing reporting or content marketing reporting.
Social Media Marketing Report Template
Successful social media campaigns build on past and ongoing performance data. Half the challenge of collecting and analyzing social media data is formatting it. Fortunately, we make that step simple with our social media marketing report template.
Our social media report bundle includes a spreadsheet that creates graphs based on your weekly metrics. After you enter your engagement numbers, you'll be able to compare your account's performance at a glance. You'll also find a spreadsheet for quarterly reporting that breaks down all of your vital statistics for the quarter.
If you decide you need something more robust, you can also utilize CoSchedule's Social Organizer to create a report for you, in a few clicks.
Email Marketing Report Template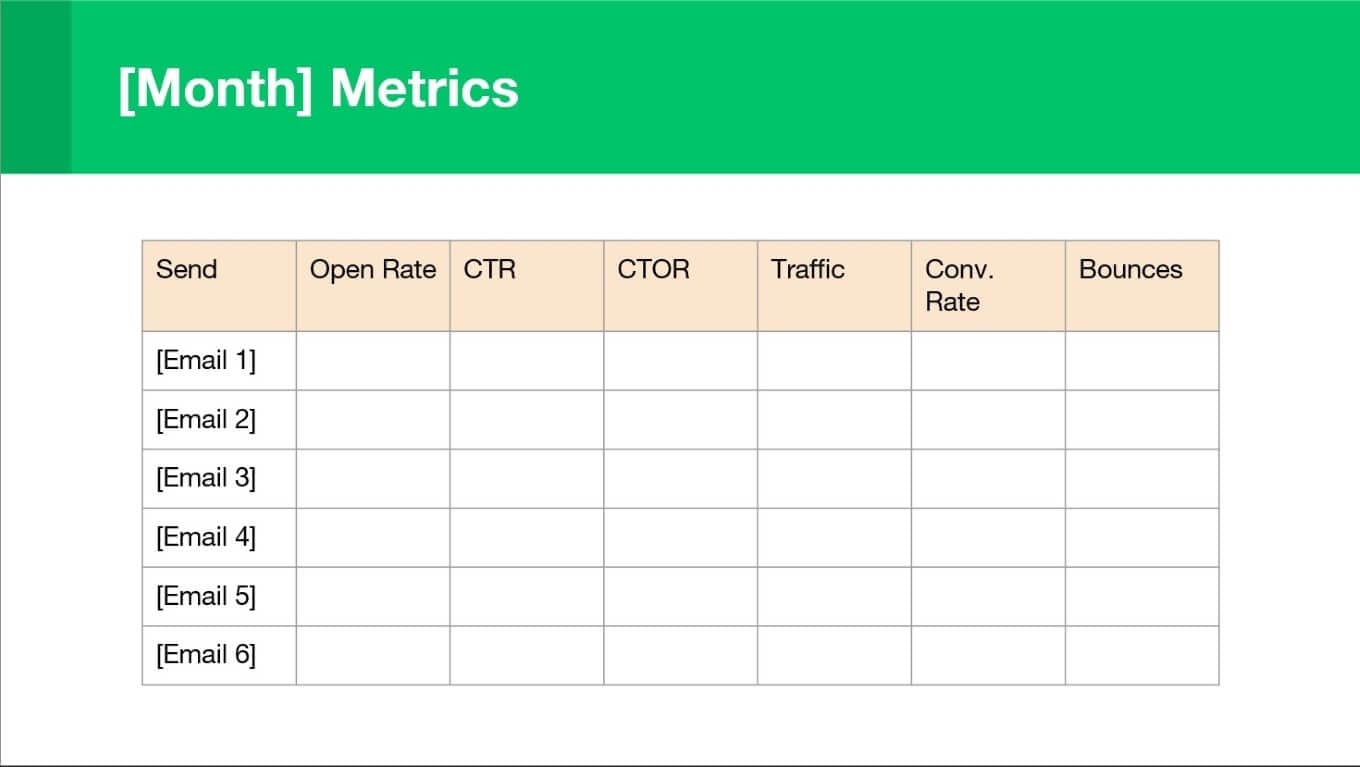 Let's round out our series of report templates with a resource from our email analytics reporting blog post. This template comes as a PowerPoint presentation that showcases your data in a digestible format.
This report provides high-level overviews of your email performance and deep dives into individual email results. After giving you room to review your monthly metrics and A/B test results, it delivers separate analysis slides for the emails in your campaign. The template then wraps up the report with spaces for insights and next steps.
Recommended Reading: Why Storytelling And Content Marketing Are A Match Made In Heaven
Get Ready for Every Step of Your Marketing Adventure
Now that you have virtually every template you need to plan, perform, and analyze your marketing, you'll have a structure to follow.
Looking for more templates from CoSchedule? Search "template" on our blog to find even more resources for your marketing team.
The post How to Build the Best Marketing Toolkit Using 37 Simple Templates appeared first on CoSchedule Blog.