We live in an era where newsletters don't exactly have the best reputation. Because many of us receive a lot of emails every day, newsletters would often be thrown in the trash in favor of what you think is relevant for you. Some of us even count newsletters as spam.
Perhaps many of us think this way because we're not aware of its actual benefits.
Before we get into that, let's give newsletters a fresh start by defining what they actually are.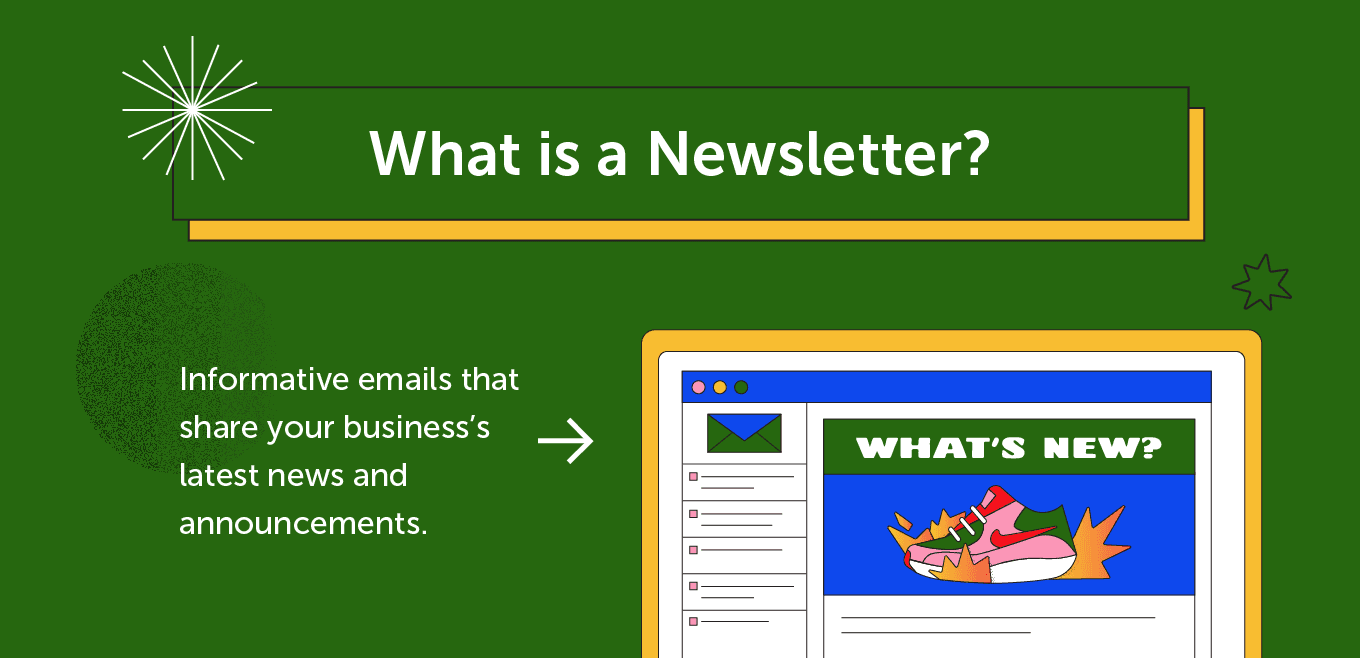 They could include blog articles, curated content, upcoming events, sales, and the like.
Now, moving on to some actual data that sheds new light on newsletters:
81% of B2B marketers

 said that their most used form of content marketing is email newsletters.
Email marketing is reported to

deliver 4400% ROI and $44 for every $1 spent.
Email newsletters are low-cost and direct. If you have their email on your database, it's because they want to know more about you.
Of course, the first step is to know what your audience wants to hear and see, and when they actually want to hear and see this information.
The next step, or what we'll be talking about today, is how to write an irresistible email newsletter that can actually drive results.
[Tweet "The step-by-step guide to writing a newsletter that actually converts."]
Your Very Own Email Marketing Calendar Template
We want to make sure you're as prepared as possible, so we've put together the perfect email marketing calendar template for you. You'll be able to easily access organized information about deadlines, who's doing what, goals, and so on.
Download now!
[content_upgrade_shortcode]
Table of Contents
Factors Affecting Your Newsletter's Success
Steps to Writing a High-Converting Newsletter
Choose the Right Email Service Provider
Factors Affecting Your Newsletter's Success
Before we find out the steps to making a top-notch newsletter, we need to understand some factors that could affect its success.
Advent of Social Media
People spend an average of more than 5 hours per day checking their email, but we also have to know that an average user spends more than 2 hours per day on social media.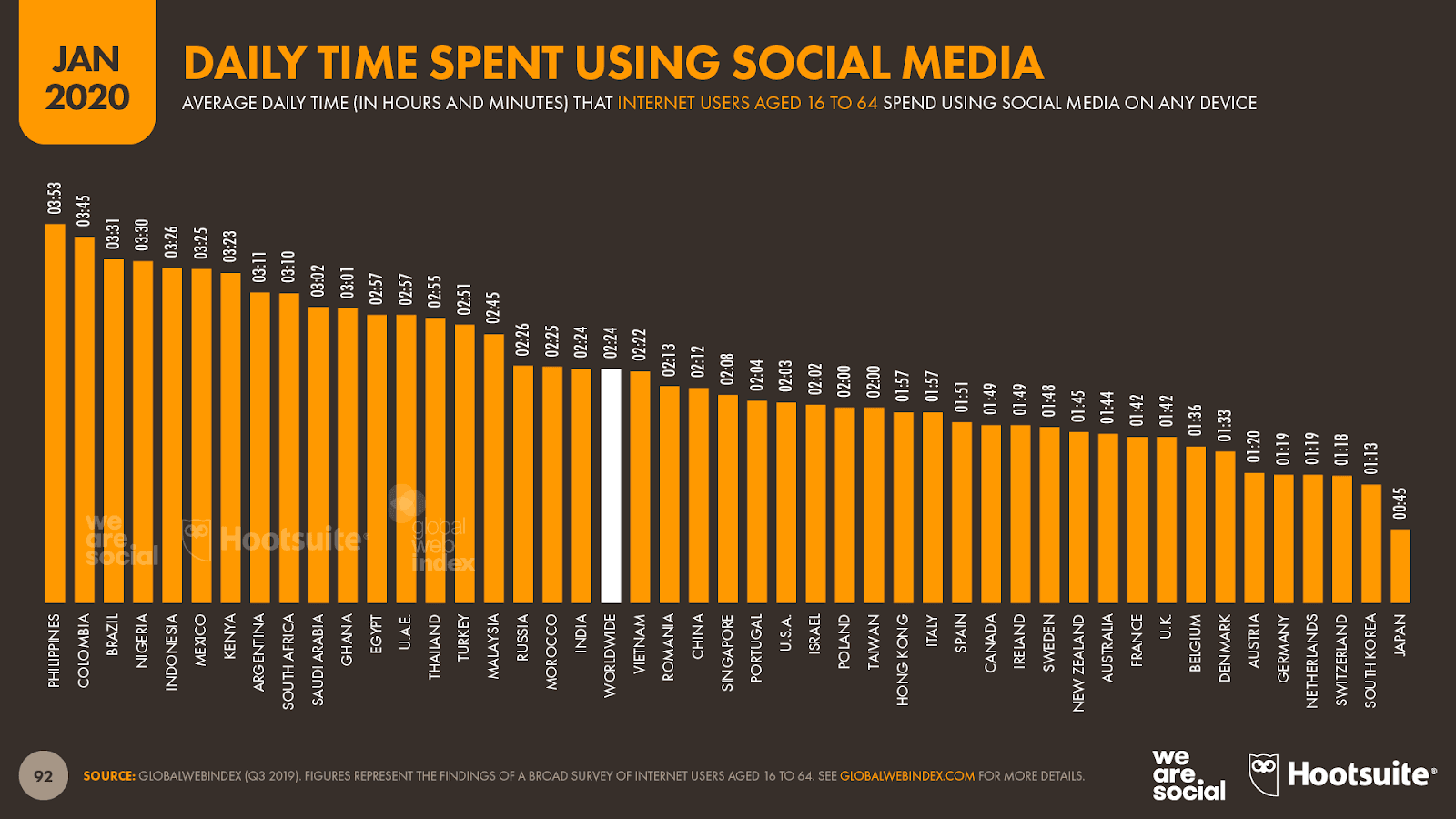 It's no surprise that Facebook is the most popular social media — considering how it's evolved to be multi-functional. You can even buy and sell items without leaving the platform!
Thus, as you create your digital ecosystem, you have to be able to determine the roles of each channel you'll use. What is the unique role I could assign to my email newsletters that my audience cannot get from my other channels?
Lack of Personalization
Another factor that can potentially affect your newsletter's success is being unable to connect with your audience.
Humans are social beings; using your phone and laptop to talk to customer service won't ever be the same as talking to an actual person, face-to-face. The best we could do, as marketers, is to recreate that feeling through email personalization.
This could be achieved through many different ways, including addressing the user by name or giving them personal discount codes. You could even share user-specific data you've gathered from how they've interacted with you over time, like what Spotify did.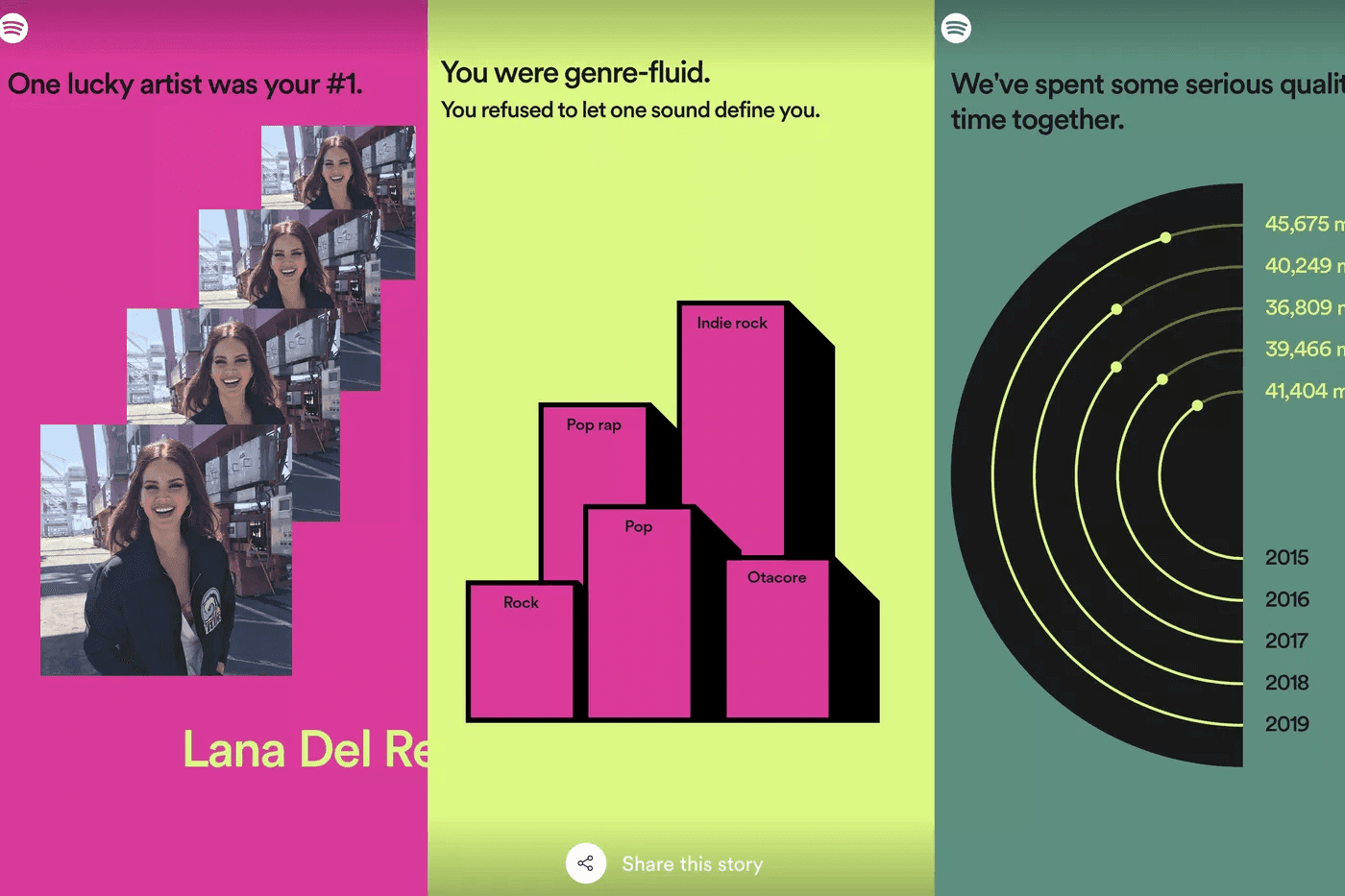 Back to the Top
Steps to Writing a High-Converting Newsletter
Crafting a high-converting newsletter is both an art and a science. It takes a lot of practice to be able to make one, but that's why we're here to help you get started.
Recommended Reading: How To Make The Best Integrated Marketing Communications Campaign In The World With Multiple Teams
Back to the Top
Choose the Right Email Service Provider
Email newsletters are typically built in one of three ways, one of which is by using an email service provider (ESP). This tool essentially allows you to send email campaigns to multiple subscribers.
If you've been in the industry for quite some time, you've probably heard of Mailchimp or Hubspot Email Marketing; however, don't fret if these don't sound familiar.
There are a lot of available ESPs out there, but not all are created equal. The best email marketing providers are able to give you robust features, like CRM benefits, segmentation and tagging, and ensure high email deliverability rates. Fortunately, many of the top email marketing tools cater to a wide range of businesses and budgets, so you'll be able to find the best one for your company.
[Tweet "Email newsletters are typically built in one of three ways, one of which is by using an email service provider (ESP)."]
Define Your Newsletter Goals
The best way to start writing your newsletter is to ask yourself why you're creating one in the first place.
This can be challenging — especially if it's your first time writing one. Everything seems like a guess at this point because you still have to figure out what works best for your audience.
To start off, you can marry your newsletter goals with your business objectives and determine which basic email marketing metrics you'll use as your Key Performance Indicators (KPIs).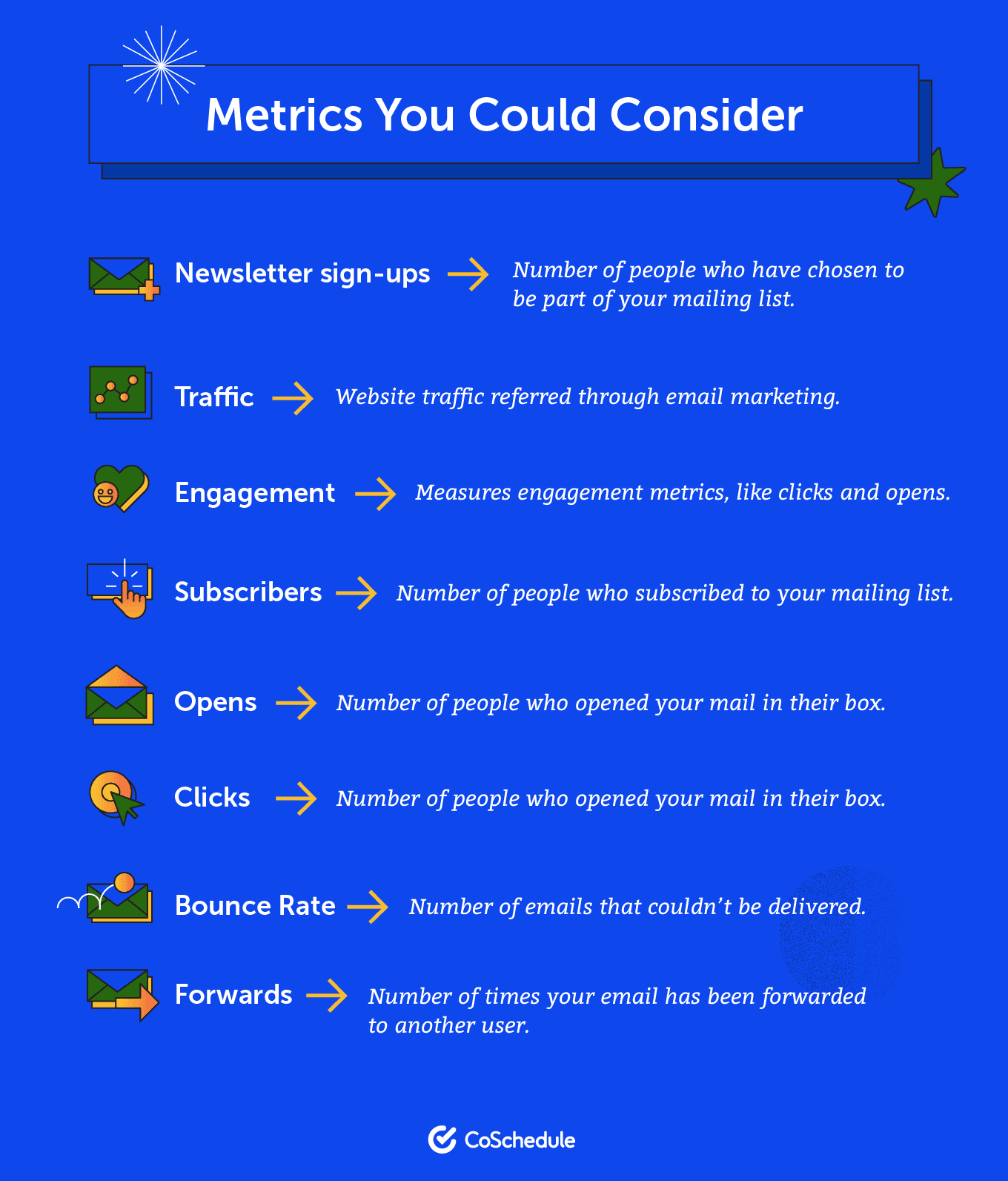 Invest Heavily on Crafting Your Subject Line
Once you have an idea what your goals are, the next step is knowing what to write about — starting with a powerful subject line.
You may think the subject line is as straightforward as what you write in your day-to-day emails, but nope! It's much more important than that.
Think about it: a person browsing their email could only see the subject lines of multiple messages on their inbox; yours have to stand out. The subject line is an important element when you write your newsletter because it has to be powerful enough to make them click.
Writing captivating subject lines should be backed by data. It has to personally connect with your market while saying so much in such a short sentence. Most importantly, you have to be able to test it first.
CoSchedule's Email Subject Line Tester is a tool you could use to check if your subject lines have the potential to drive more opens, clicks, and conversions. We recommend preparing a list of subject lines, so you could test away.
Plot Out the Content You'll Include in Your Newsletter
After your subject comes your content — what exactly do you want to convey, and how should you say it? Writing your content heavily depends on your goal, subject line, and the kind of audience in which you wish to talk.
To give you an idea, take a look at some of the newsletters you've received from different brands or businesses in the past. Here are common things you might see in a brand's newsletters:
New blog posts and articles
Most popular posts from the past
Events
Company news and advisories
Product announcements
Sales
Job listings
Curated content
Sponsored content
Based on your overall content strategy, identify which of these content types you'll use in your series of newsletters.
[Tweet "Writing your content heavily depends on your goal, subject line, and the kind of audience in which you wish to talk."]
Make a Strong First Impression
Your content has to include a strong but catchy introduction because if your intro does not convince the user to read on, then you've completely wasted your effort to write everything else.
Here are some tips to consider:
Get straight to the point:

Every reader wants to know what your email is about at a glance and how it can benefit them. Make sure you say this in your intro.

Personalize it:

Talk to the person as if you're talking to them face-to-face. Mention their name and address them as if you know them. Don't make them feel like you're an outsider.

Intrigue them:

If you want to go a different route, why not start with an intriguing sentence that makes them want to keep reading? This could be in the form of an intriguing question, a challenging statement, or a tease for a surprise they can anticipate.

Show it, then say it:

If you think you're talking to a visual bunch, you could try showing a photo that motivates them to read on.
Keep It Short and Sweet
Your readers probably don't have the luxury of time to read a novel in your newsletter, so it'll help if you keep it short… but sweet.
Similar to what we discussed in the previous points, being straightforward is okay as long as you make it captivating; don't just say it and leave. Give your audience a short but sweet surprise that'll make them want to hear from you even more.
Leave the Readers' Hanging
Your email newsletter shouldn't be a one-time thing. If you want to build a friendship with your audience, it has to take time to develop. It takes a strong and consistent presence to achieve a lasting friendship.
With this in mind, every newsletter you'll create should make your readers want more. Consider this in your overall content strategy: how will I keep my audience entertained through different content types?
Changing your content type according to what you want to say to your readers may help in keeping them entertained. These people have had enough of boring work-related emails — they need a little bit of entertainment from newsletters, like yours.
Recommended Reading: How to Design an Editorial Process That Fits Your Needs
Pay Attention to Your Newsletter's Design
There are two reasons why you should pay attention to your newsletter's design:
It could somehow tell you how much content you can include.
You could have really good content, but since you don't have a great template design, readers may not pursue reading your newsletter.
That being said, you better excel at both content writing and design for magic to happen.
When selecting a design, consider the content and copy of your newsletter and ask yourself this question: will this design help get my message across to the reader easily?
Here's an example template from MailChimp: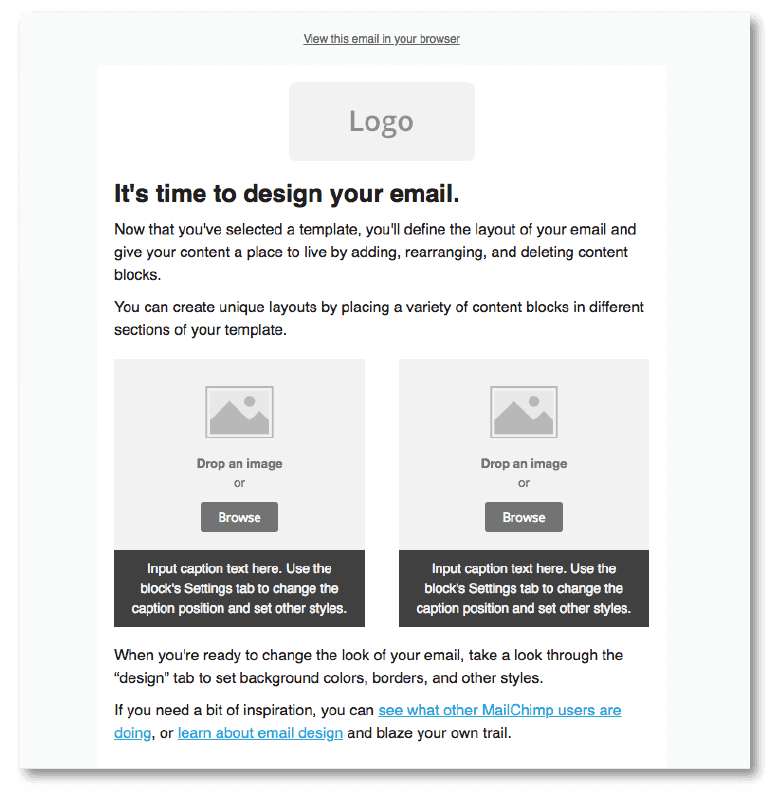 As a digital marketer, you should familiarize yourself with the basic elements that make up the structure of this template.
Logo:

Your company or brand logo situated at the top, so your reader can see it immediately.

Lead story:

This opens your story and determines the first impression your reader could give you. Make it powerful!

Two sub-stories:

The two blocks you see in the middle could be an image or video that could visually help your readers understand your content. Are you pushing for a product, service, or event? This is where you can show it. There's a little explainer at the bottom of the image that you can work with, too.

Call-to-action:

It's always smart to end with a hyperlink to a destination page where you want your readers to go to. Invite them to go there.
There are a lot more template designs you could explore, but again, make sure it serves your purpose.
Add Alt Texts to Your Images
Alt text is the copy you see on an image that failed to appear or load on the user's screen.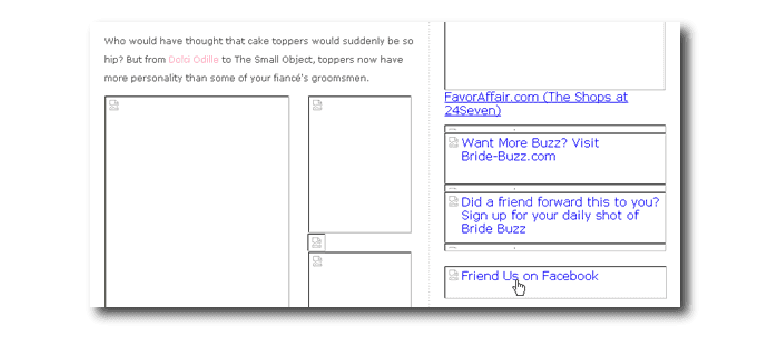 Adding alt text to your images helps your readers understand what they're reading in case the HTML doesn't render properly, or their email client blocks images by default.
Include Personalization Tokens
Personalization tokens enable you to show personalized content based on their property value in your database or CRM. Tracked visitors — those who visited your website and are tracked using browser cookies with a contact record in your CRM — fill this database.
The advantage of using personalization tokens is that you can tailor your content based on the recipient.
For you to better understand this, let's use Hubspot's Personalization Token as an example: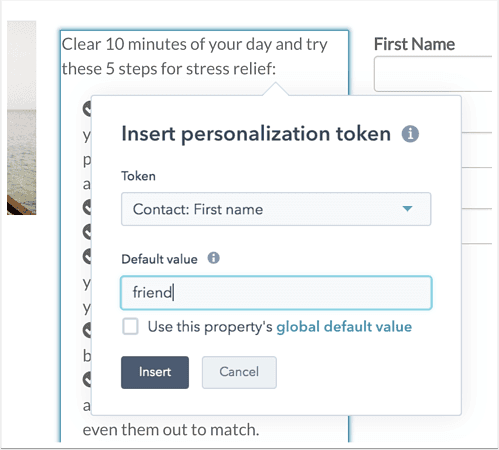 The Token lets you choose what type of personalization according to the property you wish to use. Properties could be the following:
Company:

Use the values for the company properties associated with your contacts in your CRM database.

Contact:

Use the values for the contact properties associated with your contacts in your CRM database, such as first name, last name, or email.

Office Location:

From the email footer information in your settings, which holds contacts' location-related information.

Subscription Type:

Use the recipient's subscription type.
Selecting a value for the token follows suit, which will ultimately depend if your contact has value for that specific property.
From the name itself, personalization tokens help your newsletter to be personalized — according to the reader's property. Of course, you'd want to send out newsletters to the right people, and this functionality could do that for you.
Craft Your Call-to-Action
Adding Call-to-Action (CTA) buttons to your newsletter seems like an obvious thing to do, but you shouldn't take it for granted.
A CTA button could be sprinkled on different parts of your newsletter, but it's wise to save the most powerful one for the end. Like your subject line, this ending of your newsletter could help bring in the traffic or conversions you need.
[Tweet "A CTA button could be sprinkled on different parts of your newsletter, but it's wise to save the most powerful one for the end."]
A powerful CTA should be able to incite the fear of missing out (FOMO). You want to make your readers feel that they have to click on that button, or they'd miss out on something great.
FOMO is a great way to anchor your CTA because it taps into several human emotions: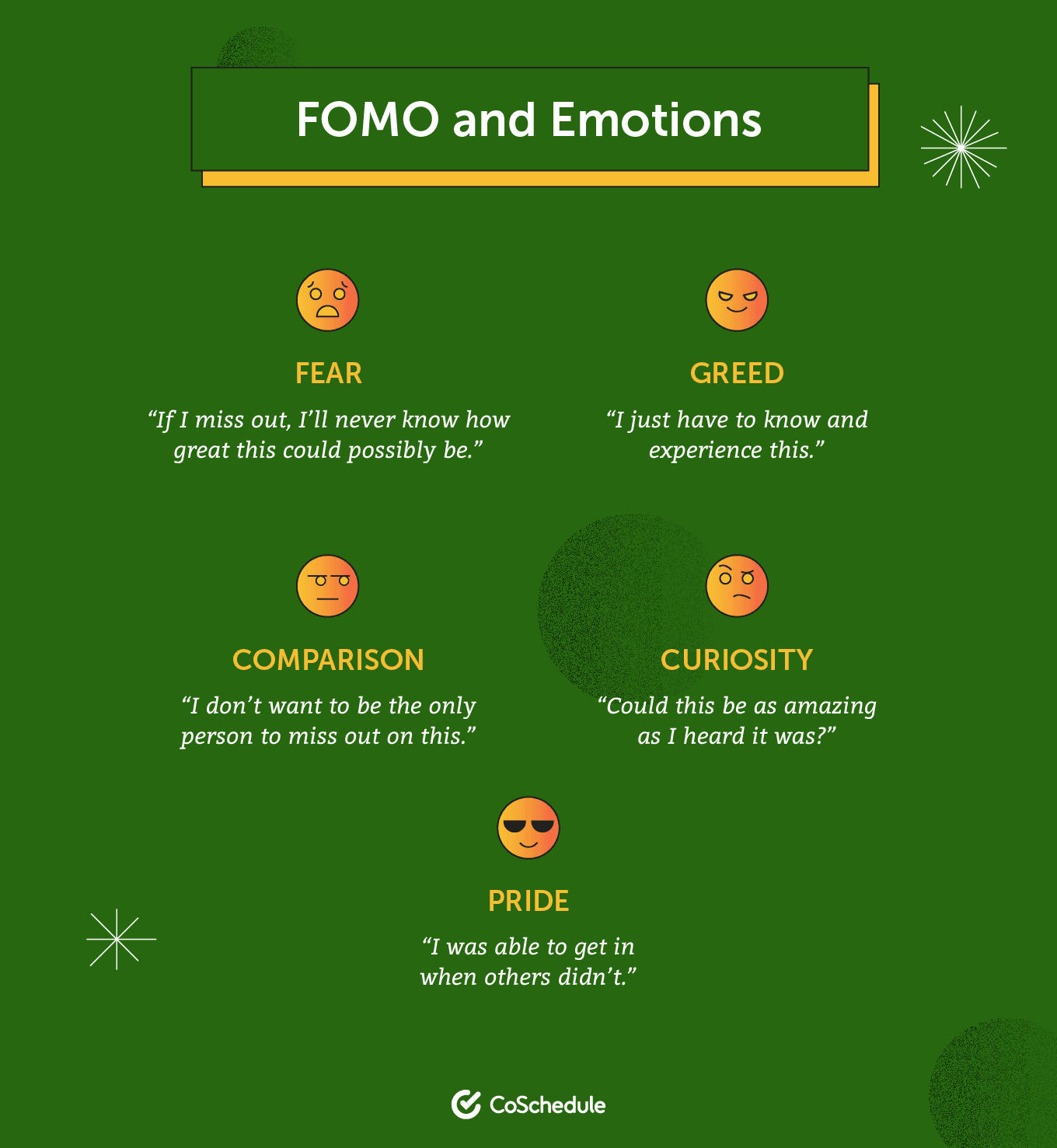 FOMO also rides on the aspect of exclusivity, which is making your readers feel that they're in it for something great when others aren't.
Words that hint exclusivity could be the following:
Last chance
One-time offer
Limited edition
Only a few left
Expires soon
Only available today
Of course, exclusivity is just one thing FOMO can ride on. You could also explore other emotions that best fit your content, it could go as deep as hope, desire, knowledge, and the like.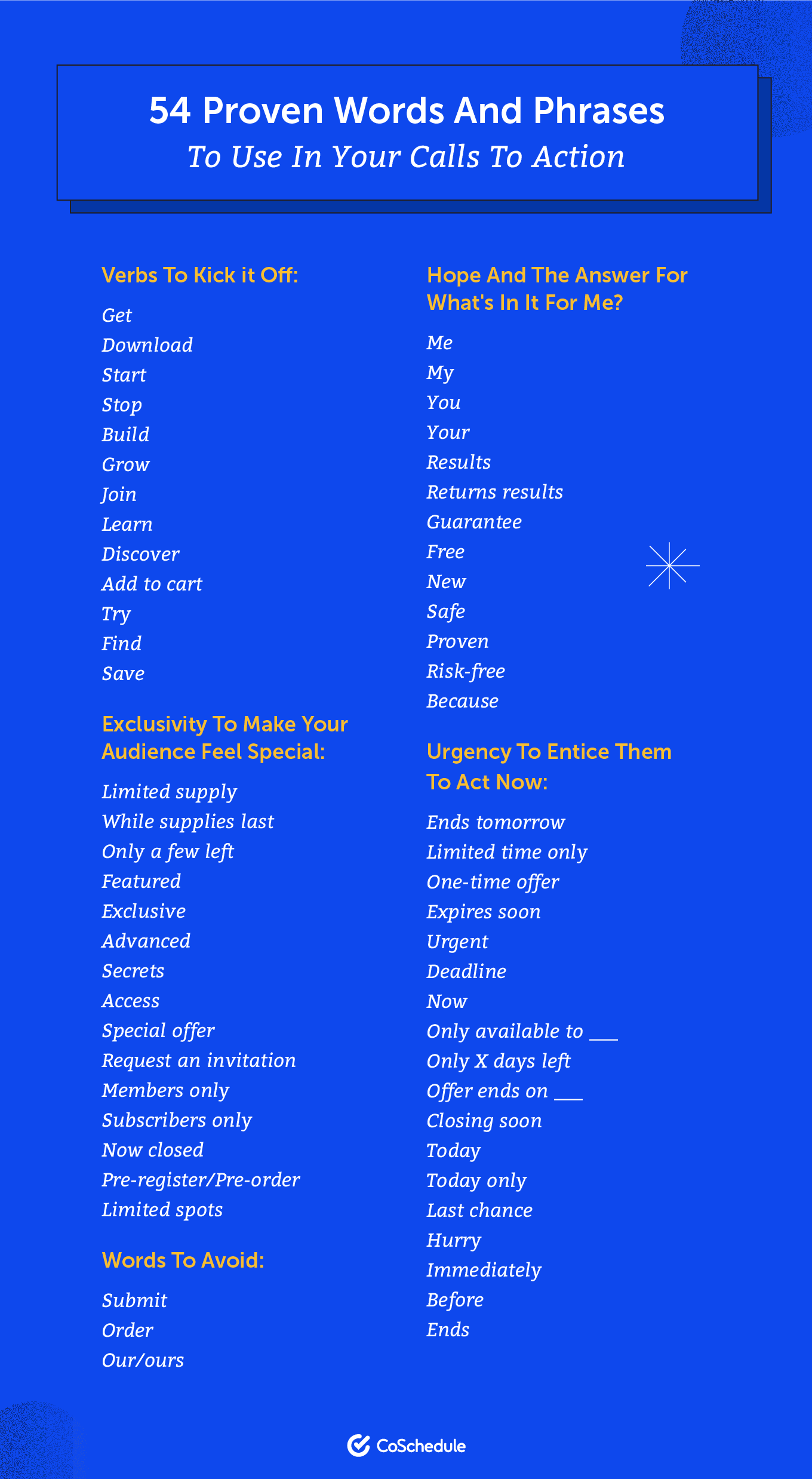 Ensure Your Newsletter Complies With Privacy Laws
Before you send out your newsletters, make sure it complies with privacy laws.
It may help to do research yourself, so you don't miss out on anything — as privacy laws could differ per country. Below is a general list of laws you, as responsible marketers, should take note of.
You must have permission to email the people on your database.

 Recipients should have given you permission for you to send them your newsletters or, at the very least, they should have an existing business with you.

Avoid misleading header information.

"Header Information" generally refers to the subject line, "From [NAME]", and reply-to address fields. Email marketing laws state that you should not include incorrect, unnecessary, or misleading information in these fields just to trick people to open your email (i.e. clickbait).

Categorize your email as an advertisement.

You don't have to explicitly mention that your email is an advertisement, but you shouldn't have subject lines that deceive your recipients into thinking that this is a personal email.

Include an option for readers to unsubscribe.

Give your readers the freedom to unsubscribe from your newsletters. Promptly unsubscribe them within 10 business days, according to the

CAN-SPAM laws

.
Make Testing a Habit
Your chosen ESPs will most likely have an A/B testing functionality built-in because you simply just have to use it.
Here are a few aspects of your newsletter that you can test:
Subject line
Preview test
CTA button placement
CTA button text
Recommended Reading: How to Write Awesome Content (Even in a Boring Niche)
Key Takeaways
The key to a successful newsletter is knowing how to delight your audience through valuable, relevant information. It takes a lot of practice to crack the right recipe, but once you do, it could bring magic to your company, connection to your users, and become an important brand in the lives of your customers.
The post The Step-by-Step Guide to Writing a Newsletter That Actually Converts appeared first on CoSchedule Blog.