You've heard about diversifying your income streams, but what about your e-commerce sales channels?
If you're selling physical products, and you're only relying on ONE channel to bring home the bacon, it's time to switch things up with Facebook's social commerce platform, Marketplace.
It's a simple, easy, cost-effective way to hit the ground running and increase your sales:
It's free to use.
It comes with a built-in audience of 800 million monthly users.
You don't need a website to sell.
And you can create listings on the go with the Facebook app.
And when you combine that with statistics like:
78% of US citizens use Facebook to find new products.
30% of consumers would purchase via Facebook.
1 in 4 business owners sells through Facebook.
You're leaving money on the table and missing out on a competitive edge.
In this post, we are going to dig deep into everything you need to know about Facebook Marketplace, how to create your first listing, the benefits, and what you can do to boost your sales on the platform.
What Is Facebook Marketplace?
Facebook Marketplace is like Craigslist and eBay…only better.
It's a peer-to-peer platform where you can buy and sell new and pre-owned items.
Facebook Marketplace is the newest way for e-commerce businesses to make sales and take advantage of the social media network's 2.7 billion monthly active users WITHOUT spending a dime on listings or ads.
All you need to do is upload your item, and in under 60 seconds, you'll gain access to a local audience ready to buy what you're selling.
6 Benefits of Selling on Facebook Marketplace
Facebook Marketplace Is Safer than Other Platforms
What makes Craigslist "untrustworthy" is the lack of accountability and transparency.
On Craigslist, you can pretend to be anyone, and there isn't a lot of information to help buyers and sellers weed out those pesky scammers.
With Facebook Marketplace, there is an added layer of trust. Each buyer and seller is connected to a Facebook account.
It gives you the option to snoop and double-check the person is "real" by:
Looking at profiles
Checking how long the account has been active on Facebook
Seeing previous Marketplace activity
Reporting any suspicious sellers and buyers
While it's no guarantee Facebook Marketplace is scam-free, its lack of anonymity is a safer option for everyone.
It's Free to List an Item
The best thing about using Facebook Marketplace?
You don't need to pay a single cent to the platform.
It's free to create a Facebook personal account or business page and free to list an item.
Unlike other platforms who have:
Non-refundable listing deposits
Insertion fees
Final value fees
Facebook Marketplace has none of that. It's one of the most affordable options for small e-commerce businesses.
Sellers and Buyers Can Send Instant Messages to Each Other
Instant gratification.
It's a cultural value we've adopted from the Internet, and it's made us impatient.
We expect:
24/7 customer service
Lightning-fast website load times
The ability to order taxis, food, and even dates with a swipe of our finger
So why should online shopping be any different?
Facebook addresses our addiction by allowing buyers and sellers to communicate instantly with Messenger.
It's a genius inbound marketing tactic.
If a customer has a question about your product, and you don't reply, you risk losing the sale.
Facebook Marketplace nips any potential profit pitfalls in the bud by helping you close the deal before the person moves on and buys from someone else.
You Have Better Odds of Making a Sale
I don't know about you, but when I hop onto sites like Craigslist, I'm SEARCHING for something specific.
Facebook Marketplace works a little bit differently. The platform capitalizes on user's scrolling habits, which increases the chances of someone stumbling across your item.
Users will see Marketplace ads in their timeline and in recently viewed items, increasing the chance of a sale.
Then there is the sheer amount of people using Marketplace every month.
According to Facebook, 800 million people use the platform, which is considerably less than Craigslist's 55 million monthly users.
Post Your Listing to Facebook Groups
Facebook is full of "buy & sell" groups.
Inside each one are people primed to buy, making it easier than eBay, Gumtree, or Craigslist to make a sale.
Facebook takes it a step further by allowing you to post your listing to relevant "buy & sell" groups in your area.
You can list your item in up to ten groups you're a member of on a mobile device.
On desktop, you select ten at a time and then go back and add the listing to ten more until you're done.
Doing so increases your organic reach on Facebook and gives you invaluable exposure, even with a zero ad budget. Just make sure you aren't spammy or over-posting.
Facebook Creates a Personalized Shopping Experience
Facebook's powerful algorithm doesn't stop at your newsfeed.
When you click on Marketplace, it greets you with "Today's Picks." A curated selection of items related to past searches, likes, and interactions on Facebook.
If your item lands up here, it almost guarantees the user has some interest in what you're selling.
When you combine that with the platform's localized shopping experience, it once again boosts your chances of a sale, and that's some powerful stuff.
How to Sell Products on Facebook Marketplace
Setting up a listing on Facebook Marketplace is ridiculously easy.
The "platform" is built into Facebook's desktop site and mobile app, and it takes only a minute to set up a listing on Facebook Marketplace. Whereas on platforms like eBay, the process is much, much longer. With more fields to fill out, it can take a larger chunk of your time getting your items listed and live.
Want in on all the action?
Follow these four easy steps to get your first Facebook Marketplace listing up on the platform.
Step 1: Access Facebook Marketplace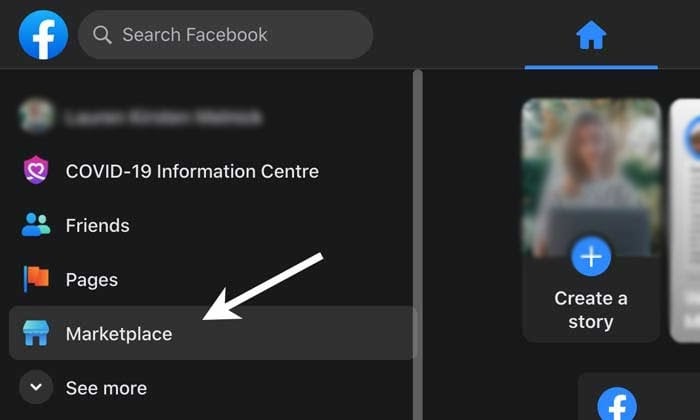 Log onto Facebook via your desktop and select Marketplace on the left-hand side of the screen.
If you don't see it on the menu, click the "See More" button, scroll down until you see the Marketplace icon, and select it.
For smartphone users, open the app and tap the "shop front" icon at the top of the screen.
NOTE: You don't need a separate account to use the feature. You can sell with a personal or business Facebook account.
Step 2: Create Your First Listing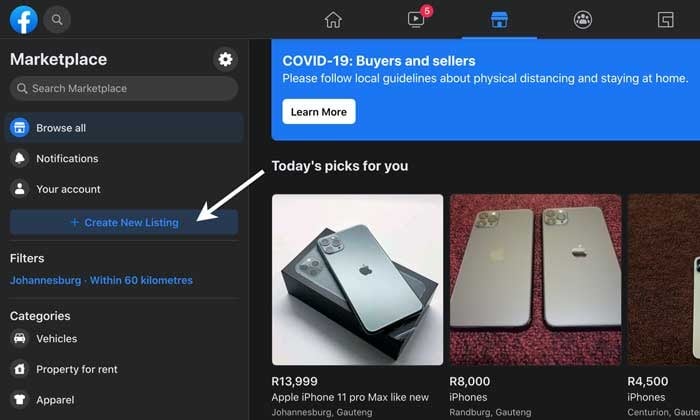 On the left-hand side of the screen, click the blue "+Sell Something" button.
A new screen will load, prompting you to choose a listing type from the following options:
Item for sale
Vehicle for sale
Property for rent or sale
Job opening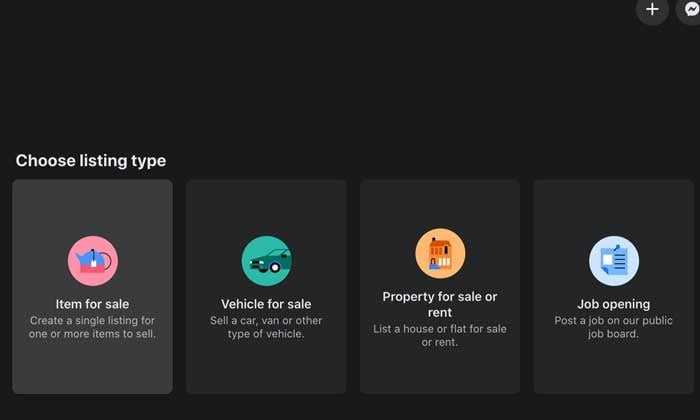 For mobile users, tap the "Sell" button at the top of the screen and select your listing type.
Step 3: Fill Out Your Listing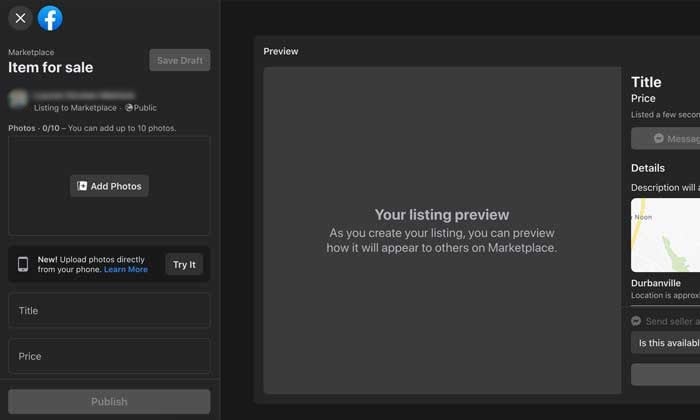 Next, fill out the following information about your listing:
Add photos (you'll need AT LEAST one)
Create your listing title (remember to use keywords people are searching for)
Add your price
Choose a relevant listing category from the drop-down list
Select the condition of the item you're selling from the drop-down list
Add relevant product tags
Add your location
Select the number of items available
Delivery method (shipping or local pick up)
Shipping rate (if applicable)
Facebook Marketplace Categories
You can list items in the following categories:
Classifieds
Clothing & Accessories
Deals
Electronics
Entertainment
Family
Hobbies
Home & Garden
Housing
Vehicles
When you're done, click "Publish", and your first Facebook Marketplace listing is officially live!
Step 4: Closing the Sale
Once a potential buyer stumbles across your listing, you can discuss all the details through Messenger.
When you're both happy, payment is made through processors like Shopify or BigCommerce.
How to Increase Your Facebook Marketplace Sales
Maximize your sales on Marketplace with these simple yet effective tips and tricks.
Do Your Research
Before you create your first listing, do your research.
Hop onto Marketplace and see what items are popular in your niche. You can do this by sleuthing on categories to see the best-sellers and visiting business pages.
If a page has a store, the top-performing products are always listed first.
By putting in the time to see what's trending on the platform, you'll get a good idea of supply and demand, price points, and how you can differentiate yourself from everyone else.
Use Facebook Ads
Once you know what products are popular, you can create Facebook ads for your listings.
And because you've done your research and know there's a strong interest, you'll see a much higher ROI and an increase in sales.
Using ads also allows you to retarget people who have bought from you in the past and follow your page.
Optimize Your Listing with Keywords
SEO isn't only for websites and bloggers. The same principles apply to Facebook Marketplace.
If you want your listing to rank on the search results and get found by your ideal customer, you need to make sure you're using the right keywords.
Optimize your listing by using your main keywords in the title and semantic keywords in the product's description.
For example, let's say you're selling an iPhone. A buyer would want to know things like:
The model
Storage capacity
The color
The condition of the device
What accessories it comes with (like a charger, AirPods, etc.)
Those are all keywords you want to include in your listing to rank higher in the algorithm.
Improve Your Photos
93% of consumers say visual appearance is the key deciding factor when making a purchase.
So if your photos are a blurry, pixelated mess and you have no sales, it's time to up your product photography game.
The good news?
You don't need to hire a professional photographer.
You can get high-quality photos using only your smartphone.
All you need is:
Good, natural lighting
A clean background (a solid black or white background works best)
A tripod (if you have shaky hands)
Presets (you can find free ones for Lightroom Mobile on Pinterest)
With these four things in your arsenal, your listings will instantly become more visually appealing.
NOTE: When taking photos of your products, make sure to show any defects and warranty information, and avoid stock photos. It will make your listing appear fake.
Aim for a Strong Seller Record
Facebook gives sellers two separate badges for how well you interact with customers. Make it a goal to work towards both badges to improve your reputation, trust, and sales with potential customers.
Very Responsive Badge: Awarded to sellers who respond quickly on Messenger to potential buyers.
Community Recommended Badge: Awarded to sellers with a high rating on Marketplace.
Include Delivery/Shipping
Want to stand out and give your buyers a "wow" customer experience?
Include shipping/delivery.
Add a small markup to your base price, and watch your items fly off the shelves!
Choose the Right Category
No one likes spam.
Don't list your DSLR camera in the appliances section. It's annoying and an easy way for your account to get flagged and possibly blocked from Facebook entirely.
Besides, you want to choose the right category, so the RIGHT people with the RIGHT purchasing intent see your listing.
The appliances section isn't where budding photographers looking for a deal are hanging out.
Don't waste your time or anyone else's.
Conclusion
Facebook Marketplace is no longer a place for casual garage sales. It's a quick, easy, affordable way for you to grow your e-commerce business.
With access to Facebook's giant reach, you can find new customers WITHOUT a massive platform or spending money.
All you need to do is take the leap and upload your irresistible offer to the platform, follow my sales-boosting tips, and wait for the money to start rolling in.
Are you going to take Facebook Marketplace out for a spin?
The post How to Sell Products on Facebook Marketplace appeared first on Neil Patel.