Planning a marketing project can feel chaotic for new and veteran marketers alike. With multiple elements and team members involved, how do you make sure you finish it on time and on spec?
If your marketing project needs organization, try using a roadmap. It provides a structure that makes it easier for you and your team to know what you need to do, when you need to do it, and when your project needs to ship.
In this blog post, you'll learn what a marketing roadmap is, what types of marketing roadmaps exist, and how to use them to stay organized. We'll also give you some handy templates to simplify the creation process. Let's get started.
[Tweet "How to organize a marketing roadmap in five, simple steps."]
Creating Your Own Marketing Roadmap
We'll explain how to construct your own roadmap throughout the remained of this post, but here are some resources to get you started.
To help you make a roadmap that fits your planning approach, we have plenty of templates for you to download below, including a(n):
Marketing Project Checklist Template
Annual Marketing Calendar Template
Annual Social Media Calendar Template
Email Marketing Calendar Template
Marketing Calendar Template from CoSchedule
Marketing Campaign Calendar Template
Marketing Calendar Guide
[content_upgrade_shortcode]
Table of Contents
What is a Marketing Roadmap?
Types of Marketing Roadmaps
What Does a Marketing Roadmap Look Like?
How to Plan a Roadmap in 5 Steps
What is a Marketing Roadmap?
A marketing roadmap is a specific plan and timeline for finishing your project or campaign. Like any other roadmap, a marketing roadmap should have a clear starting point (start date), waymarkers (project milestones), and destination (deadline).
Most marketers use a calendar or checklist as their roadmap, but your roadmap's format is ultimately up to you. The way that you organize or use your roadmap matters less than finding an organization method that works best for your workflow. A "perfect" roadmap will give you the tools you need to keep your projects and campaigns in order across your team.

Back to the Top
Types of Marketing Roadmaps
You can plan a roadmap for just about any situation. Here are three of the most common types of marketing roadmaps.
Project Roadmap
A project roadmap consists of all of the steps needed to launch a marketing project. Within a marketing strategy, a project refers to a single item, such as:
A blog post
A newsletter
An event
An email
Campaign Roadmap
Campaign roadmaps work on a larger scale than project roadmaps. They plan out all of the projects involved in an integrated marketing campaign.
Depending on how in-depth you want to organize your campaign roadmap, it might feature individual projects as steps or dig into each project's milestones. If you have extensive organization needs, you could also create individual project roadmaps to include in your campaign roadmap.
Strategic Roadmap
A strategic roadmap plans on an even higher scale than a campaign roadmap. It lays out all of the campaigns and projects within your marketing strategy's period — usually a year. With a strategic roadmap, you can go into as much detail as you need to keep track of your individual campaigns and projects.
Recommended Reading: Marketing Planner: What's Best for Organizing Your Marketing?
Back to the Top
What Does a Marketing Roadmap Look Like?
A marketing roadmap looks however you want it to look — the most important factor that goes into a roadmap's design is how it works for your team.
Here are four examples of common marketing roadmap formats that include ways to use our free templates. We'll also discuss the elements that every roadmap should include to help you develop an effective organizational tool.
Example 1: Checklist of Tasks
If you consider yourself a list person, try making a checklist-based roadmap. This kind of roadmap works well when you need a straightforward overview of the steps involved in your project, campaign, or strategy.
You can make a roadmap checklist in your favorite spreadsheet software. This example from our templates organizes the process behind a blog post into separate steps with assigned team members, deadlines, and progress tracking.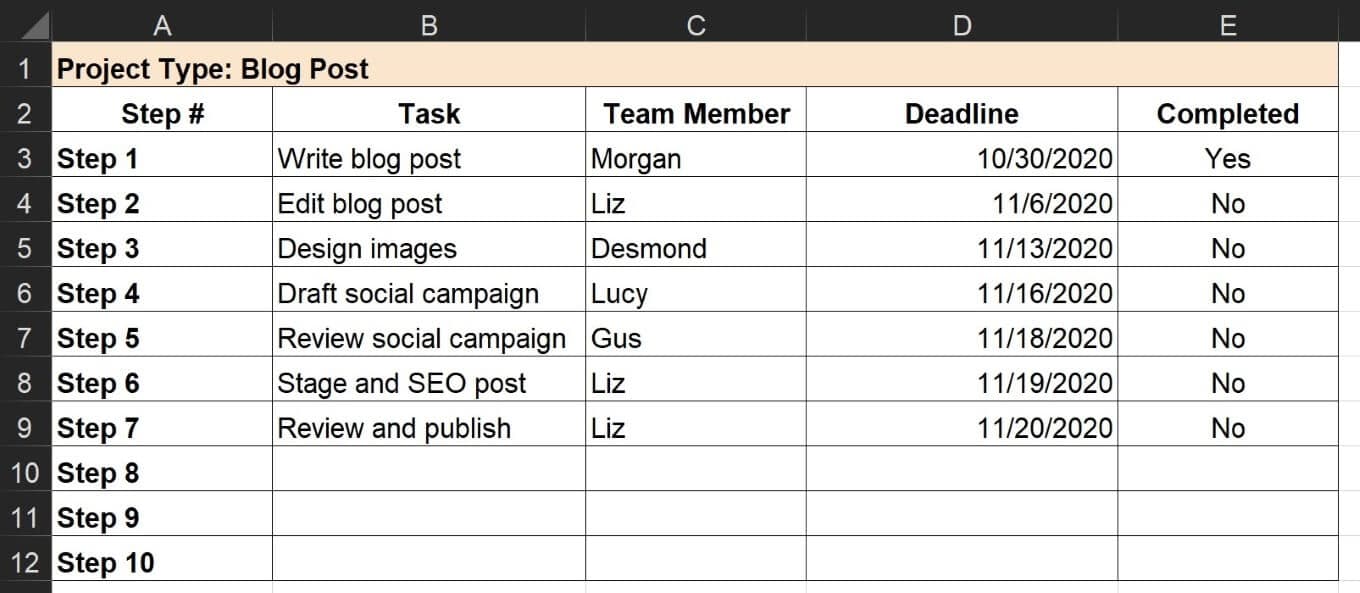 If you're a CoSchedule user, you can take advantage of the Task Templates feature when you want to make a roadmap checklist. Choose from eight, pre-made templates or customize your own to create a task checklist in a snap.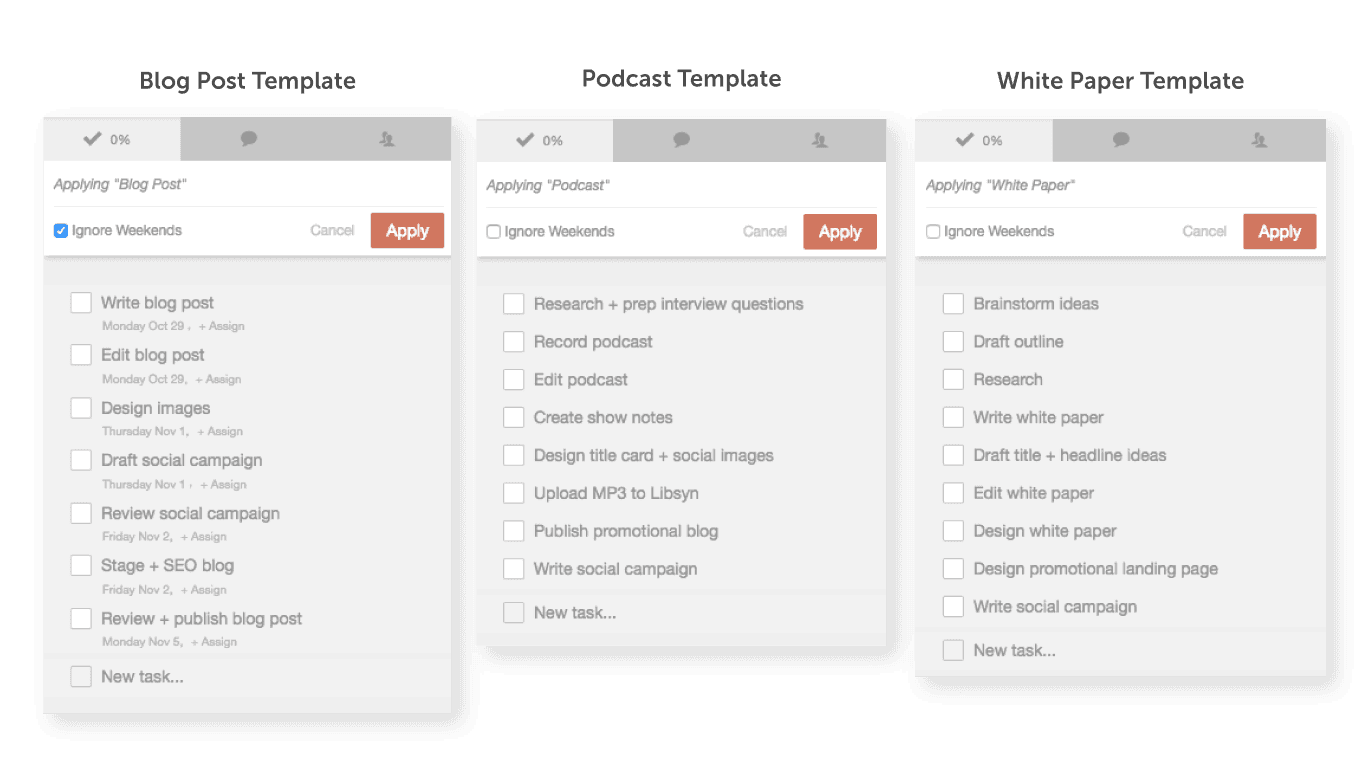 Marketers who prefer pen and paper can also write up a checklist and cross off items as they go. Choose a format that you know you'll use over one that you feel you're "supposed" to use.
Example 2: Marketing or Content Calendar
Calendars are the bread and butter of many marketing operations. A calendar roadmap organizes your tasks by date. Some calendar-based roadmaps look like a traditional calendar with sections for every day, while others feature sections that divide steps by day, week, month, or quarter.
Our template package includes a wide range of marketing calendars to use as a roadmap. Let's look at some of them in action.
In this general marketing calendar from our templates, you can see the tasks from the previous checklist laid out in a calendar.
We included the tasks for a single blog post project in this example, but you can use this calendar to outline multiple projects.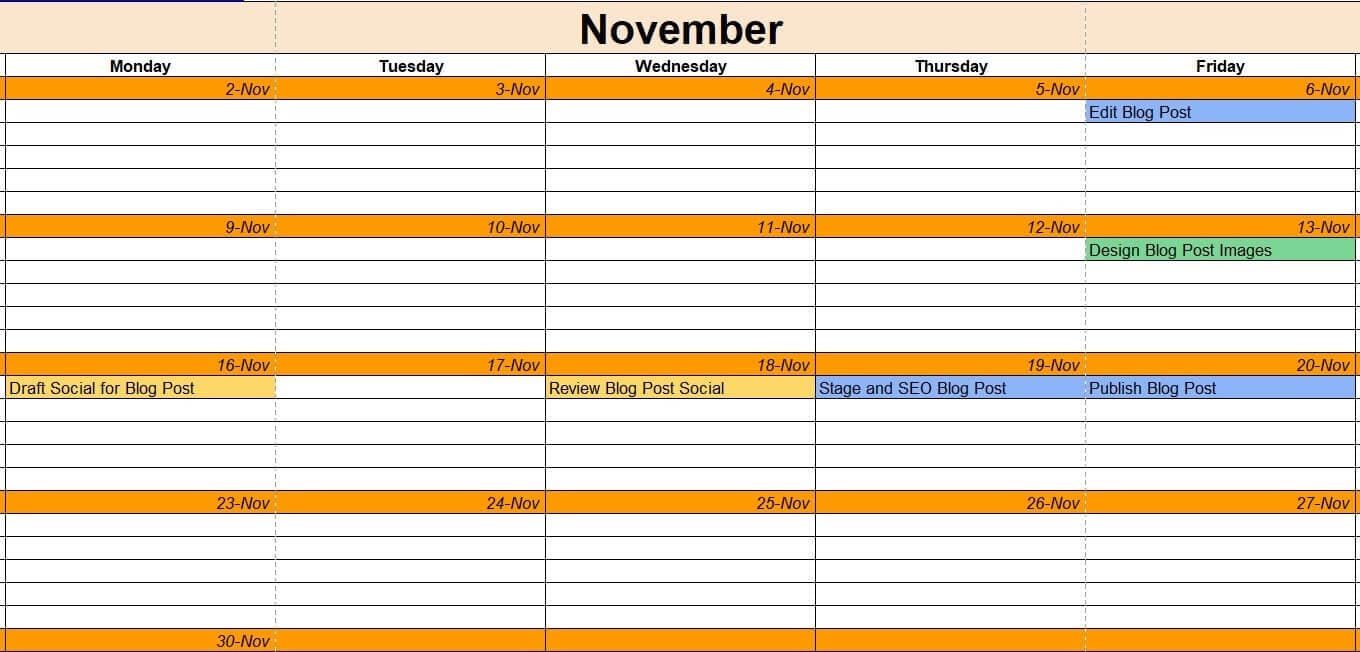 Depending on how you like to organize your projects, you can break your roadmap down by project or individual task.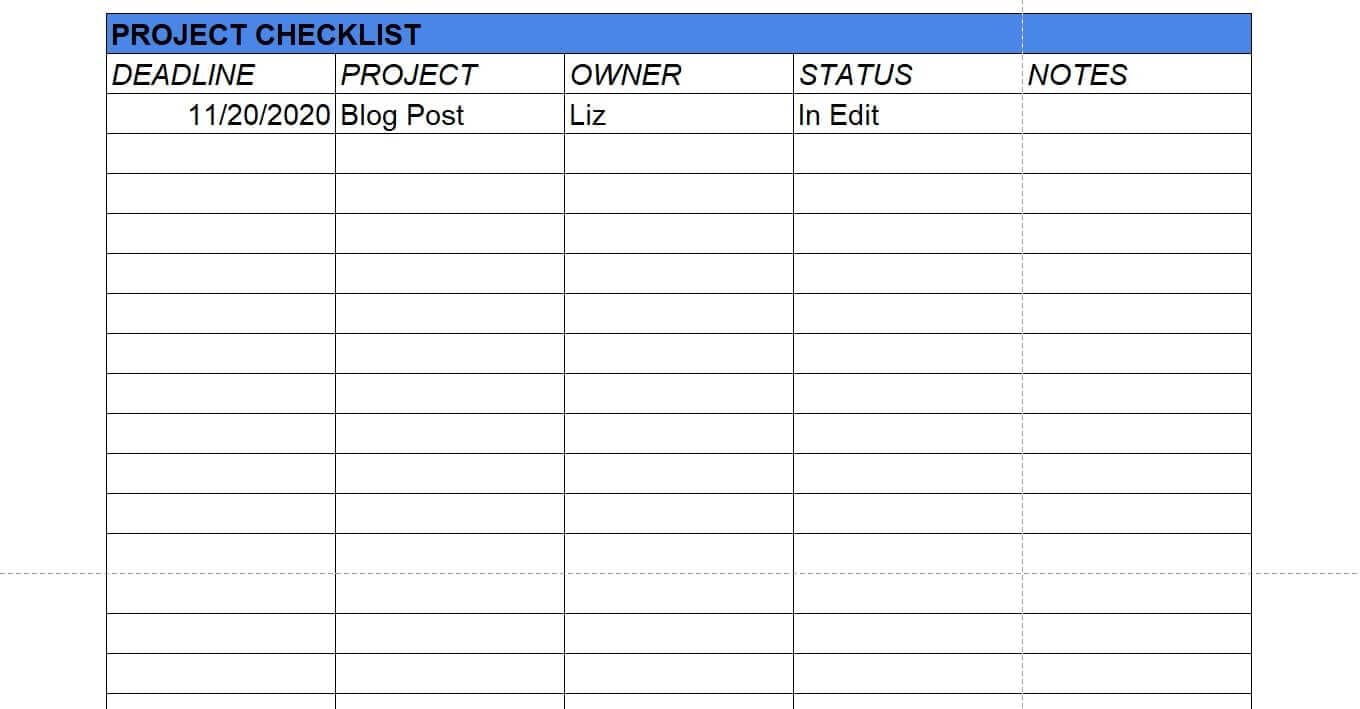 This template also lets you color code items based on the person responsible or project involved. We color-coded tasks by team members here.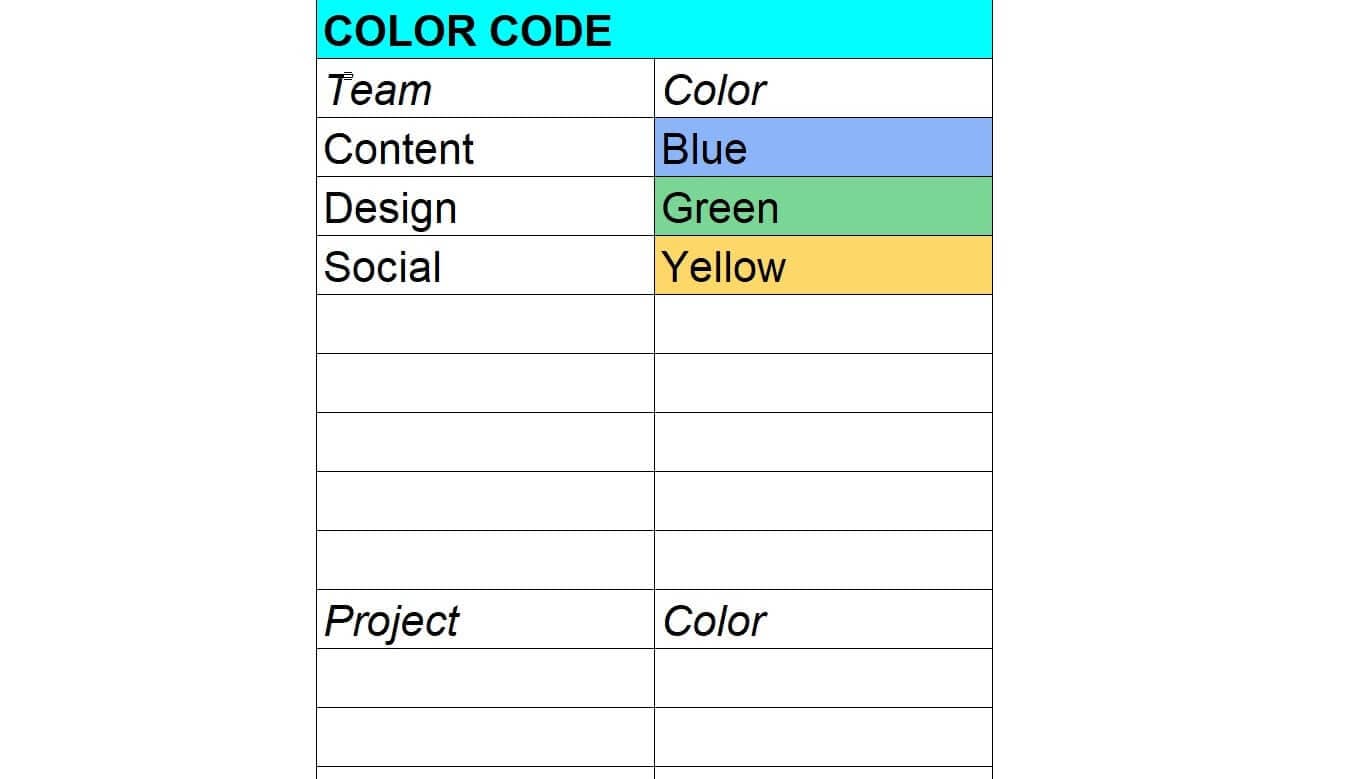 Our package of roadmap templates also features calendars for email newsletters and social media campaigns that use a different format than our general marketing calendar.

This email marketing calendar categorizes emails by month. If you visit our blog post about this calendar, you'll see that it also organizes emails by customer persona, topic, resources, and many other helpful details.
Social media marketing can require you to think on a smaller time scale than other types of marketing, so our social media promotion calendar tracks multiple posts per day.

We encourage you to customize this calendar based on the social platforms you use and the number of times you post on them per day. For example, Twitter best practices involve more frequent posts than Facebook best practices, so you might increase your Twitter rows and decrease your Facebook rows.
CoSchedule makes it easy to create a calendar roadmap with the Marketing Calendar feature. It enables you to create and categorize tasks, schedule them and assign them to team members. Since multiple people can see the calendar in real time, everyone can stay up to date on any changes in your roadmap.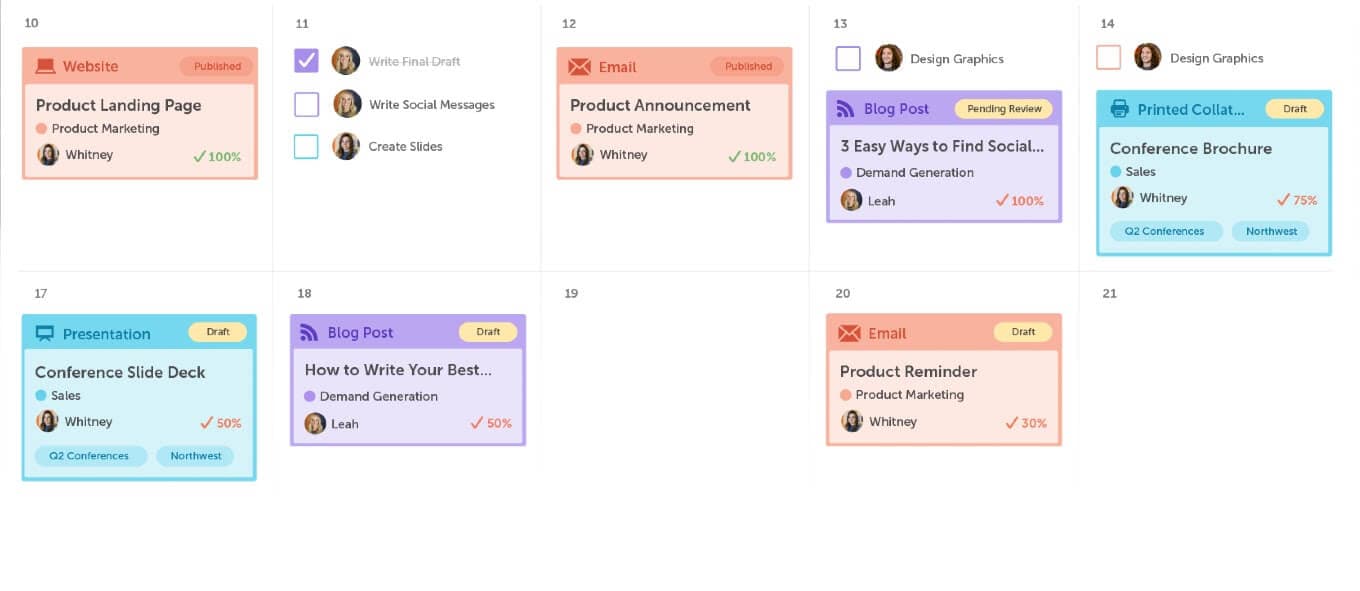 Recommended Reading: The Best 2021 Content Calendar Template to Get Organized All Year
Example 3: Kanban Board
Kanban boards provide a visual overview of a project's steps. You might already use one as part of an agile marketing framework. Regardless of the project management approach you use, you might enjoy the drag-and-drop mechanics of a kanban board — they're kind of like digital sticky notes.
[Tweet "Kanban board's drag-and-drop mechanics function like digital sticky notes."]
A kanban board consists of:
Moveable cards

 that each represent a deliverable, such as a campaign or a project.

Stationary lists

 that each correspond to a stage in your marketing process.
The specific features of a kanban board depend on the tool you choose. If you need kanban software, you can find one right in CoSchedule.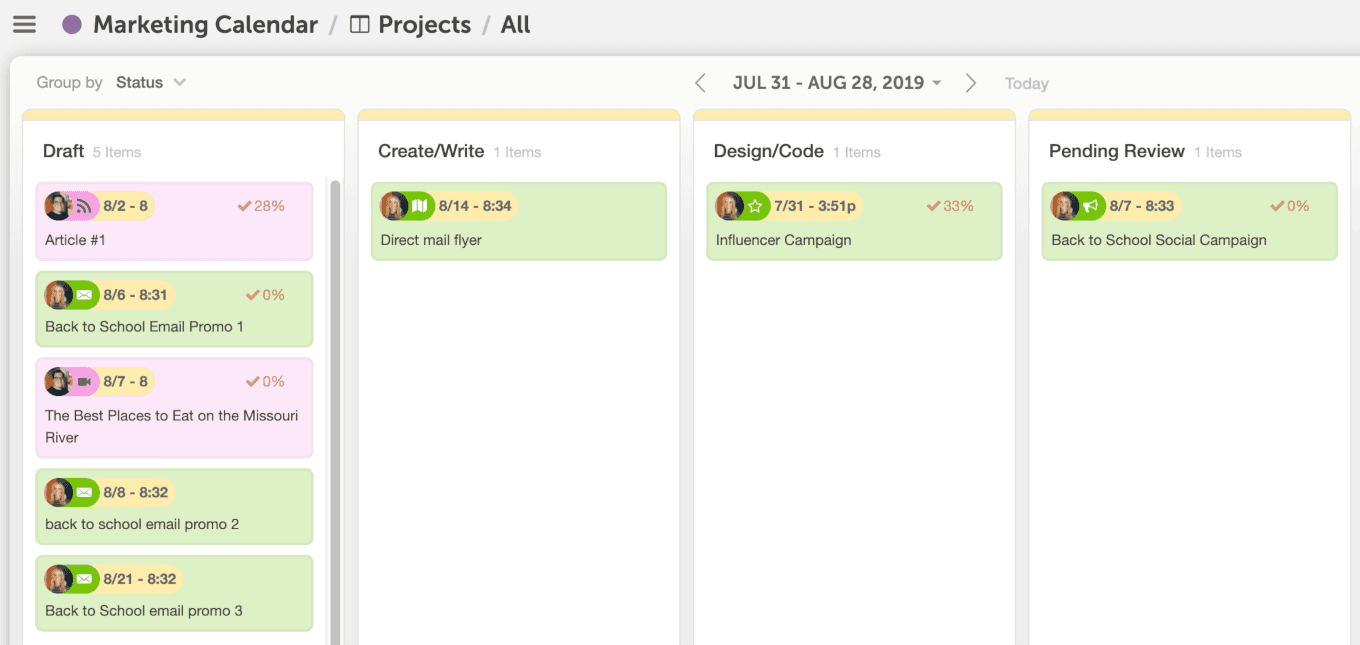 In CoSchedule's Kanban Project Dashboard, you can make any card a collaborative effort using team-friendly features. You can assign team members to cards to create a collaborative space to share checklists, deadlines, and updates.
Example 4: Gantt Chart
A Gantt chart creates a visual timeline of what your tasks are and when you need to do them. Once you understand how to interpret a Gantt chart, you can use it to determine:
What activities you need to do
When your activities start and end
How long you think an activity will take
Where activities overlap with each other
When your entire project starts and ends
This picture, from Gantt.com, shows what a Gantt chart looks like in action:
As you can see, the dates listed at the top of the chart outline what you need to do by day and week. With a Gantt chart, you can see how much you have on your plate at a given point in your schedule, and you can adjust as needed to better manage your workload.
Elements That All Roadmaps Should Include
To keep your marketing roadmap easy to understand and actionable, it should include these elements:
A clear timeline from the start of your project, campaign, or marketing period to its finish.

You want to define when your work starts and ends as well as the increments of time you'll measure in between.

A definition of what "complete" means.

 It's easy to tell when a single deliverable, like a blog post, is done. However, things get a little trickier when your roadmap involves something more complex, like an entire campaign.

A clear goal that your project or campaign has to achieve.

 As you plan a task, you should also

create marketing objectives

 that will work as a benchmark for

measuring your progress

.

A set of statuses that make it simple to understand progress.

 As you journey through your roadmap, you'll want to understand your progress at a glance. Define statuses for your tasks and projects that clearly tell you their stage of completion, like "Planning," "Execution," or "Shipped/Published."
Recommended Reading: The Best 2021 Social Media Content Calendar to Organize Every Post (Template)
Back to the Top
How to Plan a Roadmap in 5 Steps
Now that you know what a roadmap can look like, it's time for you to make one for yourself. It'll take five, easy steps to plan a roadmap for your next marketing project.
Step 1: Determine What You Need to Plan
Before you can plan your roadmap, you'll need to figure out what projects and tasks it'll cover. A roadmap can plan out:
A project.

 You can use a roadmap to break down a single deliverable, such as a blog post or white paper.

A campaign.

 Roadmaps can also plot out a full campaign, including the projects and tasks involved.

An annual strategy.

 If you need to plan on a large scale, you can also use a roadmap to organize your

annual marketing strategy

.

Something else.

 Your imagination's the limit when it comes to roadmapping. Perhaps you need to plan team operations or combine project planning with campaign planning.
Step 2: Break It All Down
Once you define what you're going to plan, it's time to break it down into the separate elements, projects, and tasks involved. The scope of your roadmap will depend on its purpose. For example, if you need a simple reference for your project deadlines across the year, you'll have less to plan out than you would if you need a detailed social media calendar for the month.
Ask yourself these questions as you create your roadmap's stepping stones:
What major steps will I need to take to finish the deliverables on my roadmap?
What benchmarks should I keep track of to define my progress in this roadmap?
Which tasks will I need to coordinate with my team throughout this roadmap?
[Tweet "The scope of your marketing roadmap will depend on its purpose."]
Step 3: Make a Timeline
Now that you have an outline of the steps you'll take in the roadmap, you can put them in chronological order. If you have a marketing timeline, you can use it as a guide.
Step 4: Estimate How Long Each Step Will Take
With your steps defined, outlined and put in order, you can give each of your steps a time estimate. This helpful HubSpot blog post on project estimates explains four methods for estimating time:
Three-point estimating:

 Taking the average of your best-case, worst-case, and average time estimate for the project.

Bottom-up estimating:

 Getting time estimates from everyone doing the work in your project and adding them together.

Analogous estimating:

Estimating a project's time based on the time it takes to complete similar projects.

Parametric estimating:

 Basing an estimate on internal or external reports and data.
If you're new to planning on a large scale, consider making your estimates longer than you think they would take. Then, as you get a feel for how long it takes for you and your team to get work done, you can adjust time estimates in future roadmaps.
Step 5: Plot Out Projects and Tasks With Your Favorite Tool
Using all of the information you collected in the past four steps, organize your projects, tasks, and milestones with the tool of your choice. If you're looking for a marketing-focused roadmap tool, consider a CoSchedule product.
Start Planning Your Marketing With a Roadmap
With a roadmap geared toward your team's priorities and workflow, you can better manage deadlines and keep your goals on track. We hope these tips and examples will give you the resources and inspiration you need to get organized for your next marketing adventure.
Time to start planning for success!
The post How to Organize a Marketing Roadmap in 5 Simple Steps appeared first on CoSchedule Blog.