Even if you publish the best content on any given content, Google might not rank it.
In fact, they usually don't.
It takes a lot more than just content to get Google traffic these days.
So what's required to win?
Sooner or later, you're going to need high quality links to your content.
There's lots of grey-area folks in this space. What's the right way to do it? Are there any good link building companies out there?
They do exist. They're just hard to find.
And be extra careful with all this. Not only does Google forbid paying for links, the only legitimate long-term strategy is to build links authentically. The right link building companies will help you do this.
Before going any further, always start with your goals. 
Know Your Goals and Desired Outcomes
Take a step back and ask yourself: Why do I need to build links to my website?
If you're like most business people, you're looking to hire a link-building agency because you heard links drive higher rankings and traffic to your site. 
Well, there are even more benefits if you build quality links to your site. 
Emphasis on 'quality.'
And it's because the way links work is pretty straightforward: Other sites trust your site for something, and they link to it. Google uses those signals, or 'vote of confidence,' to consider your website an authoritative resource. 
Your rewards? 
Authority
Higher ranking over your competitors for similar keywords or search phrases 
More qualified traffic
Leads and sales
Brand mentions across the internet
These rewards explain why some businesses spend between $10,000 – $50,000 per month on link-building alone. 
Yet, the competition for quality links has gotten tough.
Google cracked down on most of the link strategies. And even if you find something that works today, Google gets better at finding inauthentic links every year.
The last thing you want to build a bunch of links that Google starts ignoring in 12 months.
So, before you spray money on a link-building agency, be sure to choose one with experience building quality backlinks. 
To get quality backlinks, there are only a few strategies I know you can get them: 
Linkable content marketing
Blogger outreach
Guest posting
Curated, in-content backlinks 
Strategic link placements
Your SEO strategy and business goals determine what link-building strategies and agency you'll need. 
Let me explain with a few examples. 
Example #1: Blogger Outreach for Outdated Content
Imagine for a second your main competitor's site ranks No.1 organically for the keyword, "best female fitness apps," while yours languishes on Google's 19th page.  
And you realize this competitor ranks high because authoritative domains are linking to an old piece of content by them, which cited an outdated study related to women's fitness. 
Authority, as they say, breeds authority. 
So, to displace your competitor or, at least, improve your position on the SERPs, you'll also need to get backlinks from authoritative domains. 
Two options I trust you can leverage for this are:  
Create a refreshed version of the content sending links to your competitor. Then, reach out to the domains linking to them to replace links to your competitor with yours. 
Conduct a newer version of the fitness study making authoritative sites link to your competitor. Then, create a content piece discussing your findings and promote it to get links. 
Either way, the link-building strategy you'll need in this scenario is called linkable content marketing. 
And that's because content marketing and backlinks go together perfectly. You can't really do one without the other. 
To get links using this strategy, you'll need an agency with vast and proven experience in content marketing. 
Example #2: Outreach to Add Links to Brand Mentions
Let's stay with the "best female fitness app" example. 
Imagine that you went ahead to conduct a new study on women's fitness. 
After this, you produced an excellent content piece that breaks down your findings. 
Some months later, your study and content go viral, and many bloggers start mentioning it in their articles. 
Those mentions usually include links straight to your research.
But not always.
To seize this opportunity and build backlinks, you'll need to reach out to those bloggers and ask for a link.  
In this case, you'll use a link-building strategy called blogger outreach. 
Did you notice something in both examples I just shared? 
You need something worth linking to—something of high quality, to give other websites the confidence to send backlinks to your site. 
And these link-worthy assets are better if they're in the form of content.
The better your content, the easier it is to get these authentic links that are perfectly legitimate.
Why does any of this matter?
Why not just hire some agency to build links for you?
There's a lot of shady stuff in the link building space. If you don't have a specific idea for the type of links you want, you're going to get a link spammer to build a ton of bad links, charge you a ton, and then walk away. If you do enough of that, Google can penalize your site. It can take years to reverse that kind of thing.
Since link building has so much risk, you want to be in the weeds with any link building agency that you work with. It's the only way to ensure that they don't damage your domain.
Here's some other things to look for in a great link building agency.
6 Characteristics that Make a Great Link Building Agency
Great companies have attributes that define them in general. Great link-building agencies are no exception. 
But what characteristics should one lookout for, which makes a link-building agency great?
There are six significant ones I can bet my money on. 
1. Content Services
I prefer to keep content and link building closely aligned.
Simply buying a ton of links to a landing page hasn't worked in Google for ages.
To get good, authentic links, you need good, authentic content.
Many sites don't have that content. Even if they've produced great content in the past, they might not have content that's linkable enough. Research, stats, studies, and resources all do really well. 
If you don't have that type of content, you'll need an agency that can spot that gap and get the content produced for you.
2. Firm Link Building Restrictions
Any good link building agency will be deeply familiar with black hat SEO and the dodgy stuff some people do. And they never venture into these areas. It's just too risky.
The good agencies know precisely where to draw the line.
They believe in building long-term links that Google values.
So they've set firm boundaries with their team and their clients on what they won't do.
Ask them what links they won't build. And which strategies they don't use.
It should be a long list.
3. Monthly Link Reviews
Any legitimate link building agency will give you a list of every link that they've built.
This is your opportunity to review those links and make sure they're 100% legitimate.
If an agency attempts to hide the links or drags their feet at all, work with someone else.
When you start working with a new agency, be sure to check all of the links in their first batch. You want to be completely sure that every link looks good. Anyone can check link quality, you don't need to be an SEO expert.
Look for links on quality pages. Is it a good blog post? Is it a quality site? Does the link make sense?
If anything looks off to you, it'll also look bad to Google.
4. Great Expectation Setting
The simple fact of link building is that results are never guaranteed. Google doesn't give out rankings for participation. If you want that #1 slot, you need to outperform everyone else.
No one wins by doing a defined list of requirements, they win by doing more than their competitors.
If you have tough competition, you could be facing an uphill battle the whole way.
Great agencies know how hard some rankings can be. And they don't overpromise.
Stay away from anyone that promises #1 rankings. And if an agency promises rankings within firm timelines or makes really specific forecasts, consider these redflags.
How to Work with a Link-Building Agency 
What's it like working with a link-building agency?
It's easiest to describe what a link building isn't:
Go to the agency's website.
Pick a link order like you're on Amazon
Go to checkout and purchase your links
Wait for your links to arrive
Tons of companies offer that sort of thing.
And it's almost always doomed to fail.
Working with agencies like that will only get your low-quality links. The agency is pursuing a volume game, they can't give you the attention that you really need.
Look for a real agency that will help get you authentic links.
That process feels more link a real agency:
1. Get your team aligned
Like working with most agencies, you can set them up to succeed or fail.
No agency can perform miracles on their own.
Agencies get results by working closely with your team and using your internal resources when it makes sense. 
It's usually a good idea to get your team aligned before reaching out to an agency in the first place. Then there won't be any roadblocks once you get started.
Does your content team have bandwidth to work on link-focused content?
Will your tech team be able to make any site improvements if needed?
Have you done a recent SEO audit to clean up any weak sections of your site?
Does the agency "champion" on your team have enough authority to get changes live when needed?
Once your team is ready to go, reach out to an agency that seems promising. 
2. Discovery session
Authentic link building strategies are usually custom tailored to each site and business.
Most link building agencies will want to jump on a call with you, get a sense for your market and goals, and ask tons of questions to make sure they're a good fit. 
Expect to get on a discovery call with them.
And if you have a massive website, there might be several discovery calls.
Once you fill out the agency's contact form, you can expect to get these done within a week or so.
3. Research & strategic recommendations
The really amazing link building agencies will leverage their expertise to research your company, target audience, competitors, and industry.
They won't blindly offer to start building links.
After all, winning Google is about outplaying your competitors.
If you don't know the competition, you'll have a really hard time beating them.
So great agencies figure out that competition. They get a sense for how much work it's take to get good rankings in your space.
You should see a bunch of deep research on your site and competitors at this point.
That's how they come up with a set of strategy recommendations for you.
4. A contract with project deliverables
Assuming their recommendations look good, you can move to the proposal stage.
Expect long-term proposals.
Link building takes forever to work, especially if you're doing it the legit way.
First you need to get a campaign or content built, then you launch it, then you wait for organic links to come in, then you wait for those links to have an impact.
None of this happens quickly.
And link building agencies know this. They only want to work with folks that are truly onboard for the long-term.
5. Client onboarding
Yes, the top link-building agencies have an onboarding process unique to each client's project, so expect one. 
Going through this process is crucial as it sets the stage for working together. 
It also clarifies what you'll need to do to make the partnership successful. Follow up with your team and ensure the agency is getting what they need. 
That's the only way to give the project any chance of success.
How to Find the Right Link Building Agency for You
A link-building agency that's right for you is one that understands your needs and how getting backlinks would impact your business and SEO strategy in general. 
By now, I trust you already know this. 
First, avoid any agency promising you backlinks at the push of a button. Most times, such are black hat SEO ninjas with spammy PBN (private blog networks). 
And what can get from these kinds?
Spammy links!
Those ill-tactics may have quick wins—they had in the past, but give it some time and Google will penalize you and shrink your rankings. 
It's best to choose reputable, trusted, and experienced quality link-building companies who won't cut corners and daint their image and brands.  
Below are the best link building companies that come highly recommended.
The 5 Top Link Building Agencies
1. Neil Patel Digital – Best For Linkable Content Marketing
I've built millions of  backlinks to my personal blog using by using my linkable content strategy: 
Thats over 3 million backlinks which generate more than 3.4 million monthly organic visits.
By working with Neil Patel Digital, you get access to that same playbook for your own site. Contact us and my team will get in touch with you.
2. FATJOE – Best for Blogger Outreach
FATJOE is a trusted blogger outreach service even other agencies turn to for backlinks: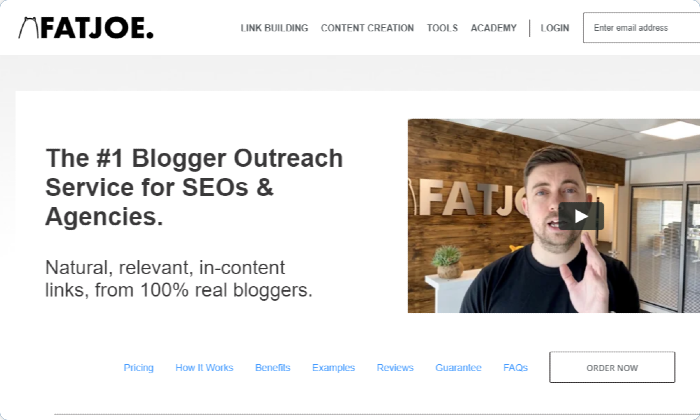 Founded by experienced SEO practitioner, Joe Taylor, FATJOE's blogger outreach service has generated backlinks for over 5,000 customers globally.
This is a great option if you already have amazing content and only need some extra muscle from an outreach strategy.
3. Page One Power – Best for Strategic Link Placements
Page One Power has built a reputation as the trusted link-building agency for getting strategic link placements on higher domain (DA60+) websites.
They do this through a combination of linkable assets and high-level outreach strategy. 
This agency's ten years of experience speaks for itself. They build about 15,000 strategic backlinks each year and and have 982 active partners: 
4. The HOTH – Best for Guest Posting 
If you need to generate some backlinks on your own, guest posting on other people's sites is the way to go.
But what if you didn't have the time to do this?
The HOTH can help:
The HOTH's guest posting is a productized service you can turn to and get links from sites with domain authority between DA10 and DA50. 
5. RhinoRank – Best for Curated Link-building
RhinoRank is excellent for getting links from websites that have mentioned your company or product in content pieces published on their sites without linking to you.  
The name of this link acquisition strategy is curated link-building. 
RhinoRank will do all the hard work, reach out to several webmasters with relevant brand mentions, and secure backlinks for your site.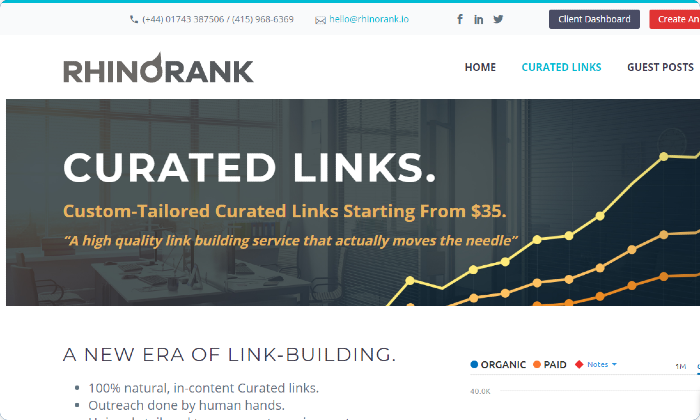 Conclusion: Look Beyond Backlinks
Yes, sites need links to rank in Google. Especially for competitive terms.
You could try to brute force your way through this and work with a link building agency.
Or you could roll out a whole marketing strategy that builds your domain authority, your brand, gets you a ton of leads, and builds links naturally over time.
That's how I prefer to do it.
Instead of just looking for a link building agency, consider a top-tier online marketing agency that can implement the entire program for you.
That's what we do at Neil Patel Digital.
The post How to Choose The Right Link Building Agency appeared first on Neil Patel.