Disclosure: This content is reader-supported, which means if you click on some of our links that we may earn a commission.
Getting the right goods to the right place, at the right time, and in the right condition is a crucial prerequisite for running a successful business.
But how is it supposed to happen if you end up selling an item that wasn't actually in stock? 
Or the sold item gets misplaced?
This is why you must know where your inventory is, how much you have, and how to get where it needs to go. Even better if all this is possible without any extra effort from you.
Getting the best inventory management software for your business will make all of it a reality. 
And if that isn't enough, the software tool can also help you reduce operating costs, increase revenue, and most importantly, ensure greater customer satisfaction.
But how do you know which platform you should choose?
That's where we come in.
Our team at has curated a list of the best inventory management solutions for different types of businesses below. Read on to find out the best match for your company.
The Top Five Options for the Best Inventory Management Software:
Cin7 — Best for Enterprise Resource Planning
QuickBooks Commerce — Best for Wholesale Business
Upserve — Best for Restaurants
Zoho Inventory — Best for Multi-Channel Retailers
Ordoro — Best for eCommerce Websites
How to Choose the Best Inventory Management Software for You
An inventory management software is more than a solution – it's a savior for your business.
You can systematically source, store, and sell inventory, for both raw materials and finished products. It also covers the entire supply chain, from production to retail and warehousing to shipping, plus any stock movement in between. 
The good news is that the software is a one-time investment, but you need to make the right decision. To ensure this, keep the following factors in mind before making your final choice.
Business Type and Requirements 
Although inventory management software is versatile, only a few cater to specific niche industry initiatives and business models. 
Think about it: The inventory requirements of a wholesaler differ a lot from those of a physical retailer. 
Moreover, every business has its unique needs, and your business is no different. You have to be aware of the kind of features you require in software for your inventory process's smooth functioning. 
Do you sell your offerings in-person or online? Is it through a website or online marketplaces–or a combination of the two?
A prospective software may offer several innovative features and support various sales channels, but if it doesn't have the features you need or back the sales channel you currently use, buying it would be useless.
Possible Integrations
Many inventory management software tools can integrate with other platforms, which helps you save time and ensure smoother operations when it comes to inventory management. 
Before choosing a tool, find out whether the prospective software plays well with the other solutions you already use and pay for. 
Imagine you sell products on Amazon. Understandably, you'll want to keep a record of your listed stocks in real-time. Make sure you cross-check that the solution you want to purchase can integrate with Amazon. If it can't, move on and look for other options.
Process Automation 
The rule here is simple: Choose a software that offers as many relevant automated features as possible. After all, the whole point of getting inventory management software is to make our lives easier. 
Think through each step of your inventory management process to determine what could be automated and what has to be done manually.
For example, automatically reordering more units when you're low on inventory. Or updating your inventory according to purchase orders and fulfillment. This, of course, will be done based on the settings you customize in the software you choose.
Customer Support
There's no guarantee there won't be any learning curve with the inventory management software you choose. Therefore, you may benefit from some expert advice from your software vendor in the beginning, after an upgrade, or when you face a glitch. Look for online resources, live chats, and other customer support tools they offer.
Make a point to choose a company that has a reputation for providing exemplary customer service. Don't forget to read customer reviews and feedback before initiating a purchase.
The Different Types of Inventory Management Software
In addition to the above factors, you must also understand the different inventory management types to make the right choice.
From free and basic tool suites to ones that are more expensive and have super-accurate programs, inventory management software varies a lot. You can also categorize them according to their features, as some tools do nothing but list orders, while others facilitate sales departments to track and categorize orders, give dynamic product information, and carry out personalized branding.
But since it's a software we're discussing, we've listed the different inventory management software types depending on how the vendor deploys it. 
There are three kinds of inventory management software based on deployment.
On-Premise Inventory Management Systems
These systems include software covered by a single license and hosted on the client's local server. This is the most expensive category, as they require complex setups and even hardware installation in some instances.
Software-as-a-service (SaaS) Inventory Management Systems
These solutions have a monthly subscription and are hosted on the vendor's server. The user isn't responsible for any installation, updates, or maintenance.
Cloud-Hosted Inventory Management Systems
Cloud-based solutions are quickly gaining popularity because of their high level of affordability and universal access. Also due to these reasons, this system category offers free basic plans. Additionally, the user doesn't need to update the software or perform any maintenance.
You'll also find software solutions that have a hybrid deployment. In this case, you'll have the option to choose between being an on-premise client or use a cloud-based interface.
#1 Cin7 – Best for Enterprise Resource Planning 
Cin7 can do more than inventory management–it's a comprehensive cloud-based software that can integrate with other modules, including point-of-sale software, an e-commerce platform, and a warehouse management tool. 
We feel this solution is best for enterprise resource planning (ERP) platforms because it features built-in modules for every aspect of your business that are a part of its subscription plans. It has a fully integrated point-of-sale (POS) system, along with plenty of B2B e-commerce features, manufacturing features, and a payment portal.
You also get inventory tracking, barcode scanning, and order fulfillment benefits that are standard with most inventory solutions.
Cin7 can integrate with more than 100 third-party applications, allowing you to run your business from a single platform, which is impressive. You can manage inventories across multiple markets and efficiently sell and distribute your products with minimal effort while your system remains up to date, thanks to its advanced demand forecasting and cross-channel syncing support.
Key Features
Inventory management
POS software support
Order management
Manufacturing and warehousing tools
Branch transfers
Pricing
Cin7 offers three pricing tiers based on your business size:
Starter
Advanced
Momentum
Prices start at $295 per month. You'll have to contact the company for a more accurate quote for your business, though.
#2 QuickBooks Commerce – Best for Wholesale Business
This product's name doesn't ring a bell? We don't blame you.
You may know QuickBooks Commerce by its former name, TradeGecko, and while the name might have changed, the software still offers everything you need for your wholesale business.
It allows you to easily monitor products as you sell, manufacture, and restock goods across all of your warehouses, sales channels, and locations. Plus, you can also set up a B2B e-commerce site, allowing all your clients to pay the agreed price. 
Additionally, there's a built-in payment processor that enables you to add a 'Pay Now' button in your invoices, making it easier for your clients to make a payment as soon as they receive an invoice.
QuickBooks Commerce can simplify your supply chain and order management. Not only does it have a mobile app to help you sell on the go, but its barcode scanning feature also makes it easier to update items or modify sales orders.
The software automates several repetitive ordering processes as well. This includes custom workflow creation for all types of orders, sending trigger emails, Slack notifications, and so on.
Key Features
Inventory optimization
Multi-channel management
Reorder management
Warehouse management
Reporting/analytics
Product identification
Mobile access
Pricing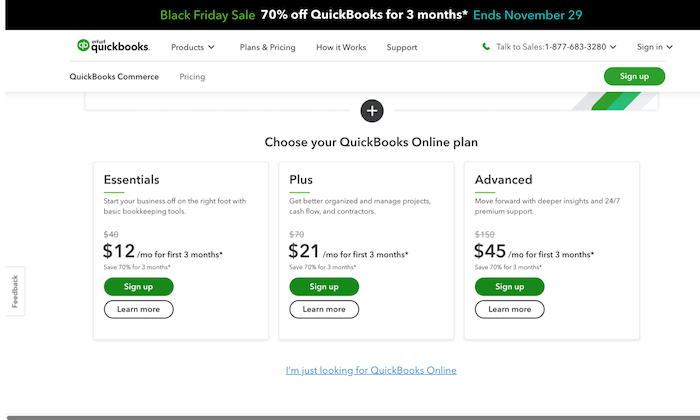 QuickBook Commerce has three plans payable monthly:
Essentials: $40
Plus: $21
Advanced: $45
Disclaimer: The above screenshot was taken when the website was offering a 70% discount for the first three months of purchase. It may not be applicable at a later date. 
#3 Upserve – Best for Restaurants
Restaurants have unique inventory needs, which is why they need more than a simple order management system–a challenge Upserve meets.
Upserve is a dynamic inventory management solution enabling users to track expiration dates and focus on specialty supply chain needs. It has been specially designed to fulfill the needs of a restaurant. 
For instance, you can create recipes for the dishes on your menu and customize each recipe with an accurate reading of the ingredients (and the amounts) used on the software. Once a customer places an order for that dish, Upserve will automatically deduct those quantities from the inventory levels for the ingredients used.
This feature also helps you decide the right prices for your menu items and identify where there may be excessive food waste.
Upserve has a built-in POS system, but you can only use their unique proprietary POS hardware to run it. Nevertheless, this isn't a deal-breaker when you consider its inventory management properties, especially for restaurants.
Key Features
Real-time inventory tracking
Recipe costing
Multiple-location support
Vendor management
One-click ordering
In-app barcode scanner
Pricing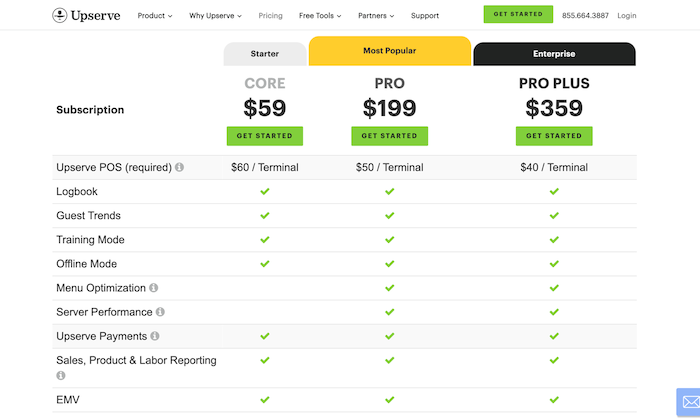 Upserve offers three subscription plans to its users:
Core: $59
Pro: $199
Pro Plus: $395
You also have the option to request a demo of the software.
#4 Zoho Inventory – Best for Multi-Channel Retailers
If you need advanced inventory management software for expanding business over multiple channels, Zoho Inventory is one of the best you can get.
It can streamline business operations, allow users to effectively manage inventory, purchase orders, sales orders, and shipments. It's a GST-ready tool that saves your business GSTIN and auto-populates itself whenever there's a purchase, sale, bill, or invoice.
The platform also offers integration with digital marketing sites like eBay, Amazon, Shopify, and Etsy. As a result, your sales team can manage online and off-line orders quickly and seamlessly.
What's more, the tool comes equipped with an end-to-end tracking system that allows you to track the movement of every item from your warehouse to the sales point. Receiving real-time shipping rates and in-transit details is another advantage.
You can think of Zoho Inventory as an AI-powered system with several powerful features that can be customized to suit your business needs.
Key Features
Inventory optimization
Multi-channel management
Reorder management
Product identification
Reporting/Analytics
Mobile access
Retail inventory management
Pricing
Zoho Inventory has different plans to suit the needs of diverse multi-channel businesses. Currently, you can choose from four options payable per organization, per month:
Free Plan: $0
Basic: $39 
Standard: $79 
Professional: $199 
The above are annual rates. If you choose to pay monthly, the prices will increase slightly.
#5 Ordoro – Best for eCommerce Websites
Ordoro is an all-in-one solution for inventory management and shipping for your e-commerce business. 
You can integrate all of your online sales channels, assign barcodes to SKUs, manage purchase orders, and automatically update quantities on fulfillment of orders through the software. It's designed to handle inventory updates for returned merchandise authorization (RMAs) as well.
It's an excellent choice for sites that require vendor management features, thanks to its dropshipping capabilities. 
Ordoro allows you to manage–both manually and automatically–all dropship requests to vendors without your involvement. It has a vendor portal that enables suppliers to fulfill orders directly within the platform.
Implementing a non-traditional inventory management strategy is also possible with this software. There's an option to strategically oversell your goods or limit the number of in-stock items visible to your customers to create an illusion of scarcity, encouraging people to place their orders sooner.
Key Features 
Barcode scanning feature
Built-in advanced analytics
Automatic inventory syncing
Multi-channel support
Inventory alerts/notifications
Kitting
Pricing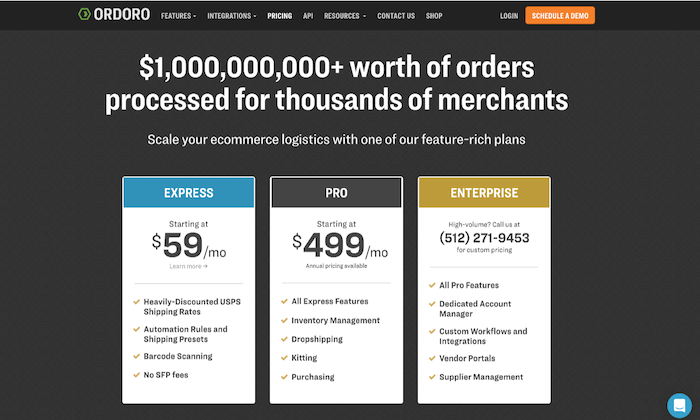 Ordoro has three feature-rich plants, including :
Express: Starting at $59 per month
Pro: Starting at $499 per month
Enterprise: Request a quote
You have the option to schedule a free demo from the company as well.
Conclusion
Choosing the best inventory management solution for your business shouldn't be taken lightly. Along with the pricing, feature availability, and benefits, you must also consider the people who will be using the software and their needs. 
Luckily, inventory management software is available in all different shapes and offer different functionalities to make it suitable for various businesses and industry niches. Just don't forget to use our guide and recommendations to find inventory management software that works best for your business.
The post Best Inventory Management Software appeared first on Neil Patel.