There are a lot of holidays out there that you probably don't know about. While you might think of International Legging Day and World Tuna Day as insignificant, international holidays — and yes, these are real holidays — there are ways to incorporate them into your marketing strategy.
Whether they are actually celebrated or not, some of these holidays are a fun and interesting way to create social media marketing campaigns that can appeal to all customer personas.
Not convinced?
You aren't required to use all of the ideas listed here, but if you find one, or two, or twenty that could help get your campaign wheels turning, why not give it a shot?
Read on to find some hidden treasures for your next social media marketing campaign.
Before You Continue…
Don't forget to take your social media calendar template with you. This is a great tool for making sure you have all of your future campaigns in order.
Download this template now, and you can add some of the mentioned holidays to your rough draft calendar as you go.
[content_upgrade_shortcode]
Table of Contents
What's a Social Media Holiday?
Annual Social Media Marketing Holidays
Find More Days With the National Day Calendar
Connecting Holidays to Your Brand
Planning Social Media Holiday Campaigns
What's a Social Media Holiday?
A social media holiday can be defined by holidays or other special days that may be relevant for brands to run marketing promotions on or around.
They can be priceless for promoting your business, product, or services because they have the ability to make connections to all backgrounds, passions, and identities. If you center your social media marketing campaigns around a variety of holidays, you're sure to attract countless people.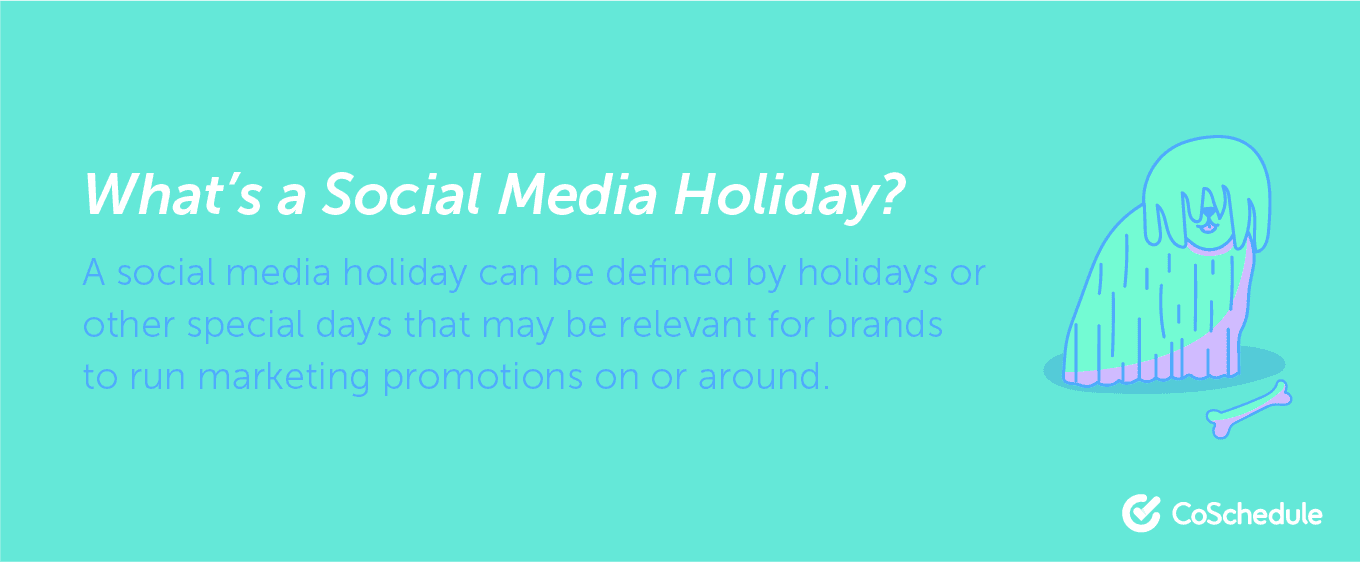 Let's go through just a fraction of the international and national holidays you can add to your promotional calendar.
[Tweet "120 social media marketing holidays to inspire your next successful campaign."]
Back to the Top
January Social Media Marketing Holidays
January 2nd – World Introvert Day

January 4th – National Trivia Day

January 5th – National Screenwriters Day

January 8th – National Winter Skin Relief Day

January 9th – National Static Electricity Day

January 10th – National Cut Your Energy Costs Day

January 13th – National Sticker Day

January 18th – National Thesaurus Day

January 24th – International Day of Education

January 28th – Global Community Engagement Day
February Social Media Marketing Holidays
February 1st – National Get Up Day

February 4th – World Cancer Day

February 5th – World Read Aloud Day

February 7th – National Send a Card to a Friend Day

February 11th – International Day of Women and Girls Science

February 14th – National Organ Donor Day

February 17th – National Random Acts of Kindness Day

February 20th – National Love Your Pet Day

February 27th – National Retro Day

February 29th – National Time Refund Day
March Social Media Marketing Holidays
March 3rd – World Wildlife Day

March 7th – National Be Heard Day

March 8th – International Women's Day

March 14th – International Day of Mathematics

March 19th – National Certified Nurses Day

March 20th – International Day of Happiness

March 22nd – World Water Day

March 27th – World Theatre Day

March 30th – National Doctors Day

March 31st – National Crayon Day
April Social Media Marketing Holidays
April 1st – April Fool's Day

April 2nd – International Children's Book Day

April 6th – World Health Day

April 10th – National Siblings Day

April 14th – International Moment of Laughter Day

April 15th – World Art Day

April 22nd – National Earth Day

April 23rd – Spanish Language Day

April 28th – World Day for Safety and Health at Work

April 29th – International Dance Day
May Social Media Marketing Holidays
May 1st – Global Love Day

May 4th – National

Star Wars

Day

May 11th – National Eat What You Want Day

May 12th – International Nurses Day

May 16th – International Day of Light

May 18th – International Museum Day

May 20th – National Rescue Dog Day

May 21st – World Day for Cultural Diversity

May 25th – Geek Pride Day

May 30th – National Creativity Day
June Social Media Marketing Holidays
June 1st – World Reef Awareness Day

June 5th – World Environment Day

June 7th – World Food Safety Day

June 8th – World Oceans Day

June 14th – World Blood Donor Day

June 15th – Nature Photography Day

June 17th – Micro-, Small, and Medium Enterprises Day

June 19th – Juneteenth

June 23rd – International Women in Engineering Day

June 28th – National Logistics Day
July Social Media Marketing Holidays
July 1st – International Joke Day

July 7th – Global Forgiveness Day

July 11th – Cheer Up the Lonely Day

July 15th – World Youth Skills Day

July 18th – Nelson Mandela International Day

July 20th – International Chess Day

July 24th – National Drive-Thru Day

July 26th – National All or Nothing Day

July 28th – National Waterpark Day

July 30th – International Day of Friendship
August Social Media Marketing Holidays
August 4th – National Chocolate Chip Cookie Day

August 5th – National Work Like a Dog Day

August 8th – National Dollar Day

August 13th – International Lefthanders Day

August 17th – National Thrift Shop Day

August 19th – World Photography Day

August 21st – National Senior Citizens Day

August 24th – National Waffle Day

August 26th – National Women's Equality Day

August 30th – National Beach Day
September Social Media Marketing Holidays
September 4th – Global Talent Acquisition Day

September 5th – International Day of Charity

September 8th – International Literacy Day

September 12th – National Video Games Day

September 14th – National Live Creative Day

September 15th – National Online Learning Day

September 21st – International Day of Peace

September 24th – National Punctuation Day

September 25th – World Dream Day

September 30th – World Podcast Day
October Social Media Marketing Holidays
October 4th – World Animal Day

October 5th – World Teacher's Day

October 9th – World Post Day

October 10th – World Mental Health Day

October 12th – National Savings Day

October 15th – Global Handwashing Day

October 22nd – National Color Day

October 25th – International Artists Day

October 29th – World Internet Day

October 31st – World Cities Day
November Social Media Marketing Holidays
November 1st – National Authors' Day

November 4th – National Candy Day

November 8th – National Cappuccino Day

November 13th – World Kindness Day

November 19th – International Men's Day

November 20th – Absurdity Day

November 21st – World Television Day

November 25th – Shopping Reminder Day

November 29th – Electronic Greetings Day

November 30th – Computer Security Day
December Social Media Marketing Holidays
December 4th – World Wildlife Conservation Day

December 9th – National Pastry Day

December 10th – Nobel Prize Day

December 15th – International Tea Day

December 18th – National Twin Day

December 23rd – National Roots Day

December 25th – A'Phabet Day or No "L" Day

December 28th – National Short Film Day

December 29th – National Hero Day

December 31st – Make Up Your Mind Day
Recommended Reading: Marketing Research Strategies: Ideas and Approaches to Conducting Research for Marketing Purposes
Back to the Top
Find More Days With the National Day Calendar
Keep up with even more "national days" by following the National Day Calendar. By doing so, you can discover more registered holidays, apply to register your own national holiday, research national day recipes, and follow along with The Daily National Show.
Don't miss out on the countless holiday campaign promotion possibilities!
Back to the Top
Connecting Holidays to Your Brand
When it comes to choosing which special day you want to tie to your business, product, or services for your next social media campaign, there are a couple steps you'll need to take.
First, it's important that you do your research.
Doing your research means understanding the history of the holiday, why it's celebrated, and who primarily celebrates it. You don't want to go into this campaign not knowing everything you possibly can about something that will be carrying your promotion.
[Tweet "Make sure you're doing as much research as possible about your holiday campaign inspiration."]
Secondly, it's probably a good idea to find ways that these holidays are relevant to your products or services. At the very least, you should make sure your brand can authentically support them.
Some questions you might ask yourself about the holiday could be:
What does this holiday celebrate?
What inspired this holiday?
Who celebrates this day, and why?
How do my products or services directly or indirectly relate to this holiday?
Is there enough correlation here to deem this as appropriate for a campaign promotion?
What does this day mean to me?
Finally, try finding hashtags that relate to the holidays of your choosing. This will help promote your campaign across all social media platforms and expand it as far as possible.
Try using RiteTag to help find the best hashtags to include in your campaign. RiteTag offers the best hashtag suggestions based on your submitted images or text, and the suggestions pop up instantly! It will quickly analyze your images or short pieces of text to find a set of hashtags that work perfectly for promoting your next campaign on social media.
Recommended Reading: The Best 2021 Content Calendar Template to Get Organized All Year
Back to the Top
Planning Social Media Campaigns
Social media campaigns don't have to be a lot of work. The secret is a solid plan.
If you're planning to add more than one holiday or special day to your to-do list for the year, try mapping out these days on your social media calendar. This doesn't necessarily mean just plopping a chosen holiday on your calendar, this means laying out ideas for the whole campaign.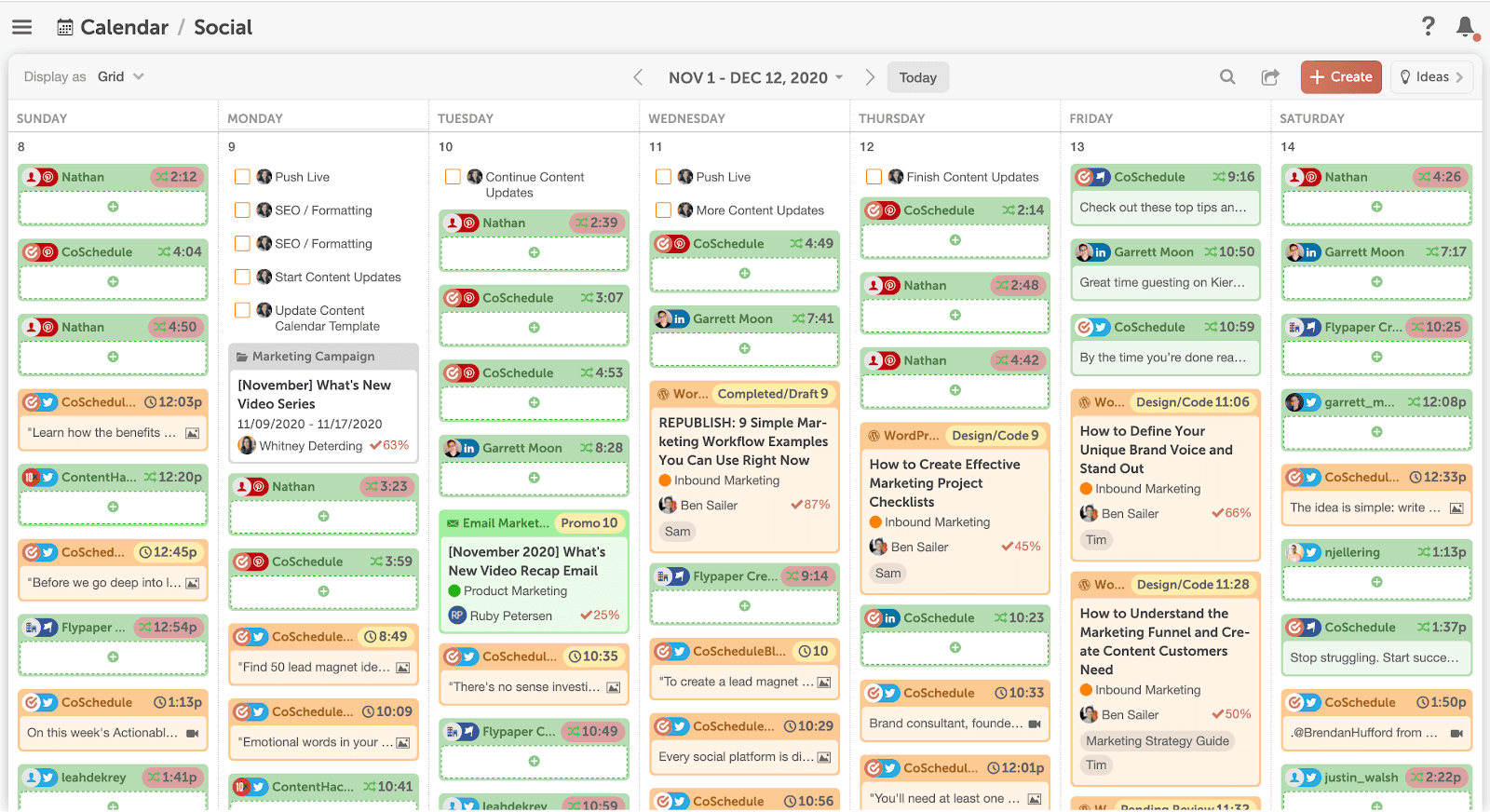 I know, I know, that sounds like a lot, but you'll thank yourself later on when that campaign date starts closing in. You won't be overwhelmed by having to brainstorm concepts with a deadline hanging over your head.
Once you've planned and created campaign concepts for each holiday, it's time to plop them onto your social media calendar. If you're new to creating campaigns like this, test the waters first and pick up on more holiday campaigns as you go.
Here are some great tips for planning your campaign:
Start with choosing your channels.
Understand the purpose of your campaign.
Determine your audience.
Figure out your posting frequency and schedule.
Measure your social campaign performance with CoSchedule.
You can measure each campaign's success one by one, and you can apply what you learn about each holiday campaign in your next one. This includes understanding what worked, what needs improvement, or what could just be omitted completely next time.
Recommended Reading: The Best 2021 Social Media Content Calendar to Organize Every Post (Template)
It's Time to Get Started
Spread your wings and try something different with your social media calendar. Calendars aren't only filled with holidays like Halloween, Christmas, and New Year's Day.
Don't be afraid to branch out and add some uniqueness to your social media campaign strategies, but don't forget to do your research, find the best connections, and plan, plan, and plan some more.
The post 120 Social Media Marketing Holidays to Inspire Your Next Successful Campaign appeared first on CoSchedule Blog.