As the most successful retailer in the world, it's only natural for Walmart to have expanded into the e-commerce space. The Walmart Marketplace is among the fastest-growing e-commerce stores out there, so if you're looking for an Amazon alternative, it's a serious contender.
But how do you make the most of Walmart Marketplace? Well, let's take a look, starting with how the platform operates.  
What is Walmart Marketplace?
As an e-commerce platform, Walmart Marketplace lets third-party vendors sell their products to the Walmart customer base. Once you register as a seller and upload your listings, your items appear in the search results alongside Walmart's products and other Marketplace vendors.
You're probably wondering what Walmart gets out of this, but it's actually pretty simple. It's all about moving with the times.
Walmart launched the marketplace back in 2009 to attract online shoppers and grow its customer base. By welcoming third-party vendors, Walmart can deliver a broader, more diverse product range to its customers, so there's less need for them to shop elsewhere.
Why Should I Sell on Walmart Marketplace?
The most obvious reason why you should join the Marketplace is the potential customer reach. Since millions of people shop on Walmart.com, there's already a huge customer base for you to draw from. If you haven't quite figured out your target customers yet, Walmart handles this for you.
However, that's not the only plus for vendors. Here are some other key advantages to becoming a Walmart Marketplace Seller:
Walmart consistently generates a high volume of sales.
There's a major push towards attracting millennials with improved delivery options, increased brand diversity, and better customer service. If you target millennials, this is the platform for you.
There's so much autonomy. You set your prices and fulfill orders, and you build your own brand.
If you're a Shopify vendor, it's easy to integrate your listings with the Walmart Marketplace platform.
Who Should Not Sell on Walmart Marketplace?
There are lots of reasons to sign up for the platform. Still, it's not for everyone, and it all comes down to Walmart's price guarantee.
Your product listings appear alongside Walmart's items, meaning you may be competing with lower-priced merchandise. What's more, you can't sell on Walmart Marketplace if:
You sell the products on other e-commerce platforms at lower prices.
Customers can buy the same product for less on another site.
My advice? Ensure you can meet Walmart's price demands before you sign up. Don't forget to factor in shipping fees and other costs.
What Products Are Allowed on Walmart Marketplace?
There are over 35 product categories to choose from, including toys, games, and electronics, so there's a good chance you'll find a fit for you. Some items, like perfumes and seasonal goods, require special permission before you can sell them—contact seller support to arrange this.
Here are some items you can't sell on the Marketplace.
Alcohol
Event tickets
Gambling products
Tobacco
Any food requiring refrigeration, i.e., not shelf-stable
It's always best to contact seller support if you're unsure about an item you plan on listing.

How Much Does Walmart Marketplace Cost?
It's completely free to sign up for a basic Seller Account on the Marketplace, but here's a breakdown of what you need to know.
You don't pay anything to list products for sale on Walmart Marketplace.
Once you sell something, you pay a Referral Fee on the item.
You don't pay monthly or annual subscriptions.
The Referral Fee is a percentage of the gross sale price and varies based on what item you sell and what category it's in. Referral fees start at 6% and go up to around 20%.
Think of the Referral Fee as commission. You pay Walmart a commission for introducing you to potential customers and facilitating a sale.
How Much Can I Make on Walmart Marketplace?
That's the biggest question, isn't it—how much money can I make this way? It all comes down to:
Managing your store effectively
Optimizing your prices
First, you need to know how much other vendors charge for items like yours. In other words, do some market research.
Check out competitor stores.
Research how much your items sell for around the Marketplace and elsewhere.
If you list an item at the same price as another vendor, Walmart automatically promotes the product that was listed first. For example, if you and vendor B both sell hairdryers at $40, but vendor B listed their hairdryer the week before you, theirs appears in the item listings before yours.
Want yours listed first? Drop your prices if you can, and watch out for competitors changing their prices.
That said, there's no point in selling items for rock bottom prices if you won't make a profit. So, you should determine your profit margin. Factor in costs like:
Referral Fee
Shipping costs
Returns fees
Your purchase costs
Any overhead costs you have, e.g., electricity, labor costs, and other merchant costs if applicable
Once you've identified your margins, it's time to set prices. We can't tell you how much you should charge, but you should be aiming for the lowest possible price. If you can't "compete" with Walmart's low pricing structure, it might not be the platform for you.
There's good news, though. As of Q2 in the 2021 fiscal year, Walmart online sales jumped by a record 97%, meaning there's a whole lot of profit potential on this platform if you use it properly.
Let's look at how to do just that.

How Do I Sell on Walmart Marketplace?
Onboarding onto Walmart Marketplace is relatively straightforward, but it's even easier if you know what steps to work through.        
1. Get a Walmart Marketplace Account
First, you need a Walmart Marketplace Account. Here's what you need to get started:
A US business address and tax ID
An integration strategy for uploading and managing your product catalog
A company website
An established selling history
Essentially, you need to show Walmart that you're a serious seller. You're someone who knows how to process and fulfill orders, and you prioritize customer care.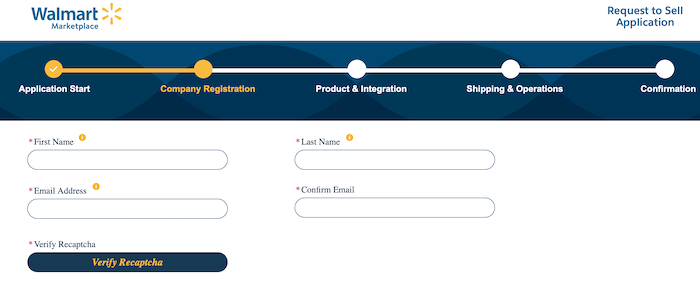 The application takes around 10-15 minutes to complete, but the approval process can take a few weeks, if not months.
2. Register Your Business on Walmart Marketplace
Approved to sell? Now, it's time to create your Partner Profile, which offers customers an overview of your entire business and all your policies.
First, click the link in the email you received from Walmart Marketplace. It takes you to an account registration page.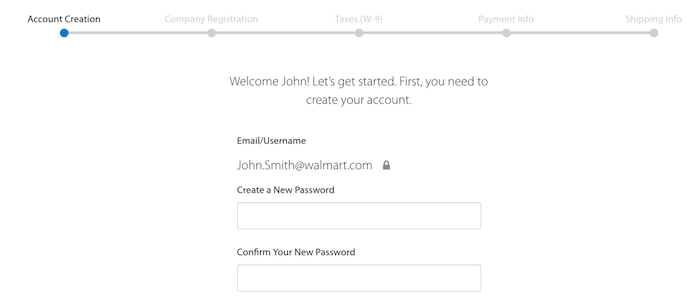 Once you've chosen a password and confirmed your business name and address, you fill out a W-9 so that Walmart can verify your identity. Here's what the form looks like: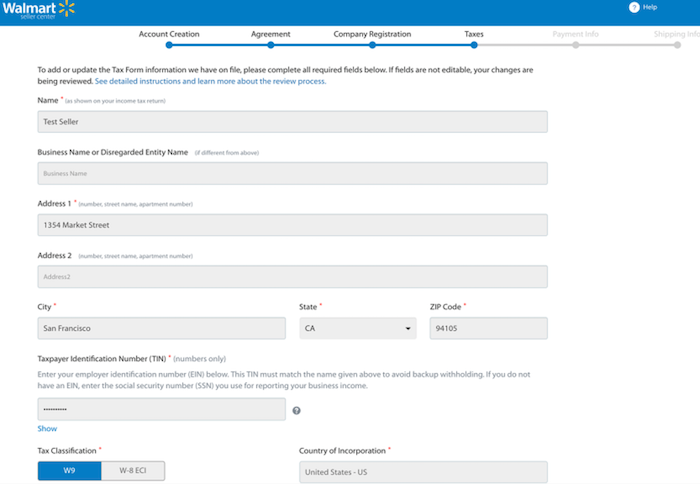 After you're finished with the tax paperwork, select how you want to receive payment. You can choose from Payoneer or Hyperwallet. It's a good idea to set up an account with one of these providers before you start the application.
Finally, you choose your shipping model, including which regions you deliver to and which delivery options you plan to make available.

Next, it's time to add some details. Include your:
Privacy Policy
Shipping Policy
Customer Service and Returns Policy
Key contact information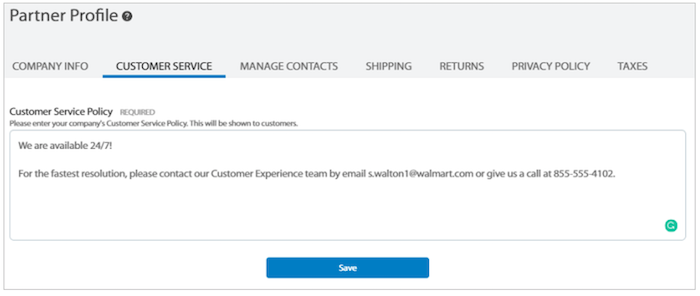 It shouldn't take long to work through the Partner Profile, and there's no need to wait for approval before moving on to the next stage.
3. Create Walmart Marketplace Listings
Once you've completed your Partner Profile, it's time to post some items.
Have your image source URLs ready before you start.
Pick meta keywords to include in your listings.
Make sure you've chosen an upload method. For many people, the "Bulk Upload" method is preferable because all you're doing is entering product details into a spreadsheet. You don't need fancy technical skills.
The first step is picking the product category. Remember, there are multiple categories available, so be sure to choose the closest match. Here's an example of what the categories look like.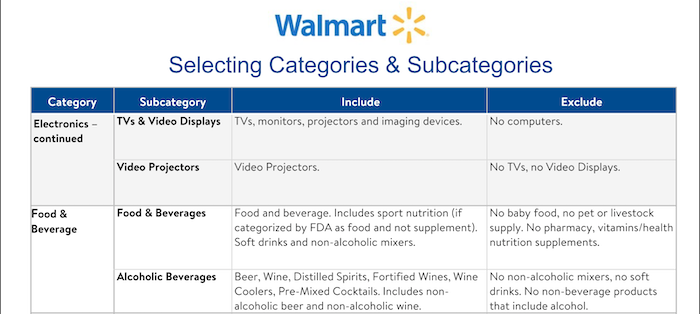 Then comes the tricky part: How do you make your listings stand out? Well, it's all about optimization.
Choose the correct category.
Ensure you upload at least four product images.
Optimize your title with keywords – use my free tool, Ubersuggest, for keyword ideas.
Include customer reviews if you have them.
Choose a competitive price.
Offer Expedited Delivery, if possible. Customers generally want their items quickly.
Why is it so crucial for listings to stand out? Because the best listings win Walmart's coveted "Buy Box."
Remember when we said that Walmart shows customers the earliest-posted and cheapest item first? Well, customers don't just "see" this item first. It's the default product automatically added to someone's cart when they click "Add to Cart."
"Add to Cart" is the "Buy Box," and as you can imagine, it's highly coveted real estate on the Marketplace!

4. Fulfill Walmart Marketplace Orders
You need to follow some pretty strict fulfillment rules to maintain your spot on the platform.
Always acknowledge a customer order within four hours of receipt, even if you're not shipping it right away. This is key to excellent customer care.
Customers can usually return any item they buy within 30 days. You can reduce this to 15 days for products like electronics, but it's okay to give customers longer to return items, too.
You don't need to accept all returns, but your exceptions must be reasonable, e.g., if the merchandise is soiled or removed from original packaging.
If you're at fault, e.g., you send someone the wrong item, you pay the return fee. Otherwise, the buyer pays.
You must always offer at least two shipping options:
Free Value Shipping
Standard Shipping
You can also offer Expedited or Next Day Delivery, but these orders must arrive quicker than the cheaper shipping options—or you might need to reimburse shipping.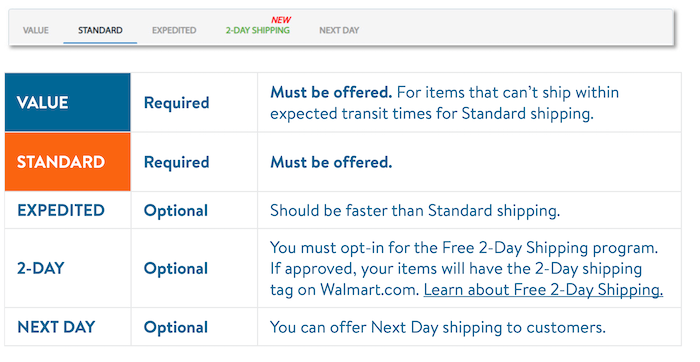 Avoid late orders wherever possible. Unhappy customers reflect poorly on your overall rating.
Set realistic order cutoff times for different shipping options.
Add a Shipping Policy to your profile, so customers know what to expect.
5. Get Paid by Walmart Marketplace
The payment rules are a little complicated, but we can break them down like this:
Most people get paid every 14 days.
The payments received depend on Walmart's internal payment cycle.
If your account is less than 90 days old, it takes a little longer to receive payment. Each item you sell takes at least 28 days to settle, not 14, during this time. Think of it as a probationary period.  
Payments received after midnight on Friday PST settle in the following payment cycle. In other words, this is the cycle cut-off.
Walmart posts payments on Tuesdays.
Refunds are deducted from your payments as they're processed. You can view your transaction history by checking the "Payments" section in the Seller Center.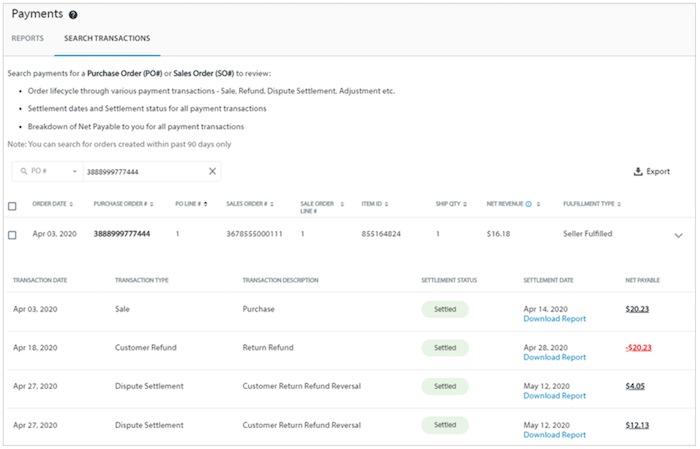 6. Keep Your Walmart Marketplace Account Compliant
Walmart cares about vendor quality, so here are some tips to bear in mind.  
Don't list prohibited products.
Fulfill orders on time.
Keep your inventory up-to-date to avoid disappointed customers.
Ensure your products match the descriptions, and don't send out defective items.
The bottom line? Maintain high customer service standards, keep your listings accurate, and don't take on more orders than you can handle.
Conclusion
Now we've explored the inner workings of the Walmart Marketplace, there's only one thing left to do—apply to join the platform!
Just remember to optimize your listings with the right keywords and best prices before you get started. For some extra help with your marketing and analytics, check out my consulting services.
Remember, you need to impress the Marketplace before you sign up, so it makes sense to do some groundwork first.
Have you tried the Walmart Marketplace? How is it working for you? 
The post How to Get Your Products in Walmart Marketplace appeared first on Neil Patel.