One of these two headlines scored 26 points higher than the other in Headline Studio. Can you guess which one?
If you guessed the second headline was the higher-scoring one…you're right.
And it actually started out as the first headline.
To increase our headline score by 26 points, we did just one thing: We analyzed it using premium features in Headline Studio. It's the one and only way to reach those high scores and get more traffic, more clicks, and better results from your headline.
If you want higher scoring headlines, look no further. We created this ultimate guide to walk you through each of Headline Studio's premium features—and how to use them to boost your score.
Let's start with that first headline: 100 Singular Headlines You'll Wish You Wrote

Headline Studio gives this headline a score of 65. Which roughly translates to…meh.
But we can take that headline from meh to marvelous with the help of a few premium features in Headline Studio.
Premium Features in Headline Studio:
Suggestions
Word Inspector
Versions & Favorites
Competition
Thesaurus
Word Banks
Premium Feature: Suggestions
I
mprove Your Word Balance with
Headline Suggestions
The Word Balance report tells you how balanced your headline is based on the types of words you used. When your headline strikes the right balance of common, uncommon, emotional, and power words, it'll score higher and perform better.

Our headline is missing emotional words specifically, so adding one or two will definitely increase our score.
But how do you know which words even qualify as emotional words?
Your headline Suggestions will tell you.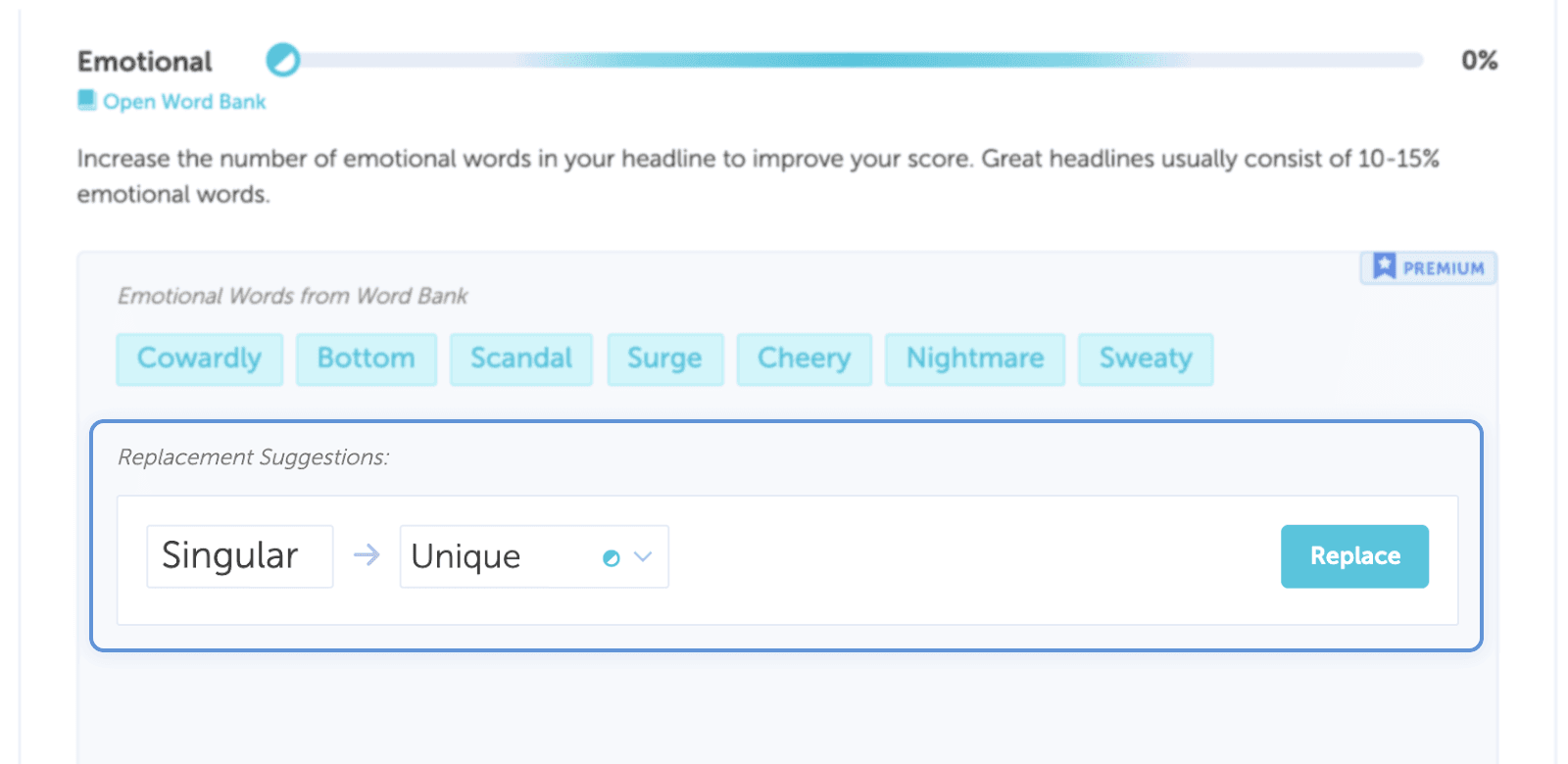 These are suggestions of actual word replacements that will improve your headline score, based on tons of industry data. And the best part? You can implement them in just one click of the "Replace" button.
You'll also find your Suggestions under the Structure tab.
Suggestions for this headline
For our headline, Headline Studio recommends we change singular to unique to improve our emotional word balance and build our score.
After reanalyzing our headline, our score has increased by 4 points to 69. We're getting there.

Back to the Top
Premium Feature: Word Inspector
Dig Deeper Into Your Headline with Word Inspector
Word Inspector is another premium Headline Studio feature that helps you easily find word replacements and take a closer look at your headline, word-by-word.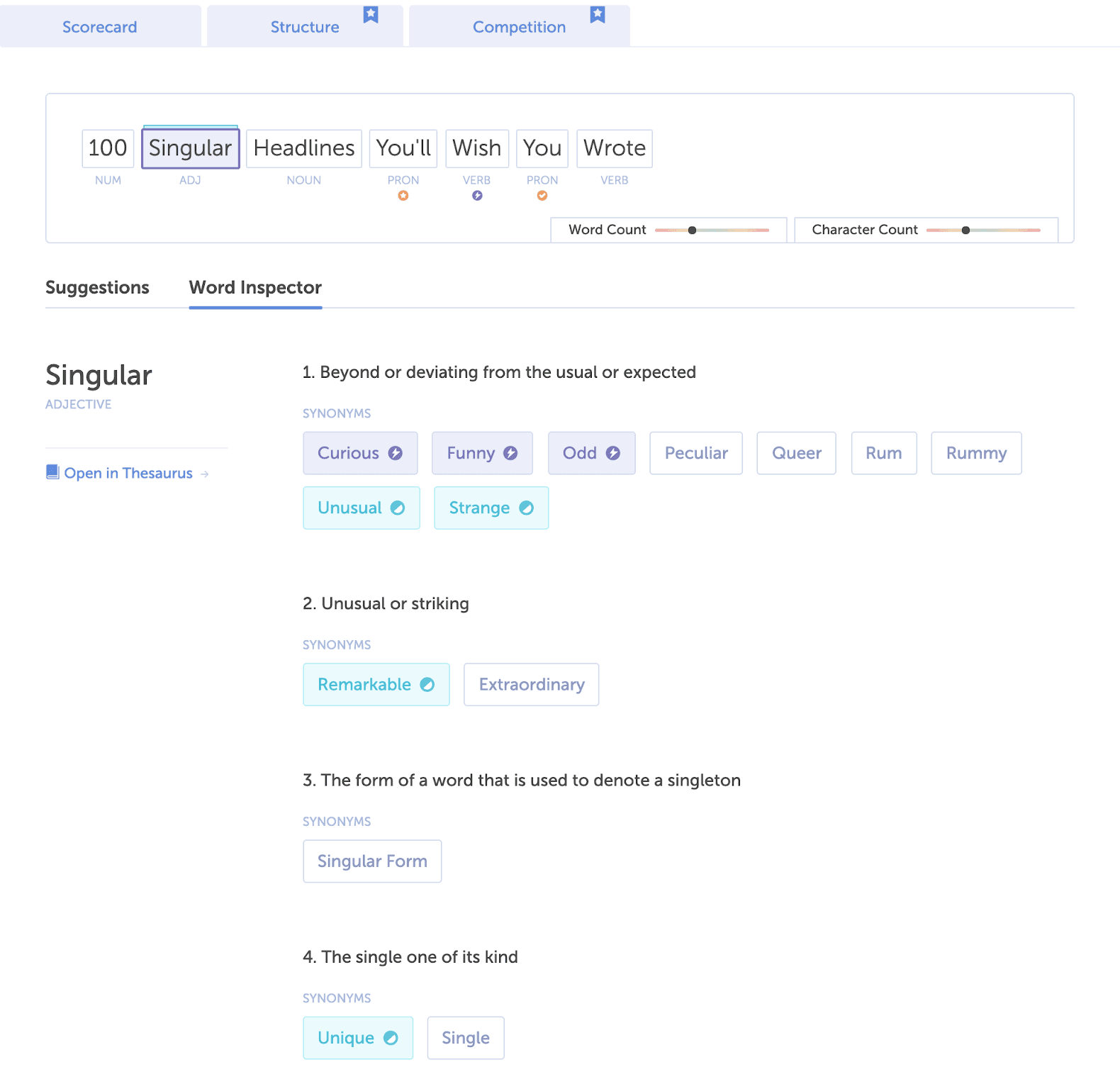 Just click on each word in your headline to reveal its definition, synonyms, and additional power & emotional words that will boost your score.
Back to the Top
Premium Features: Versions & Favorites
Reanalyze Your Headline to See Your Past Versions & Favorites
Once you've reanalyzed your headline, you might be wondering…will your past headlines disappear forever?
Fortunately not, thanks to Versions. It's a premium feature that keeps track of all of your past versions of each headline, so you can revisit them anytime.
Here's an example of what the first two versions of our headline look like: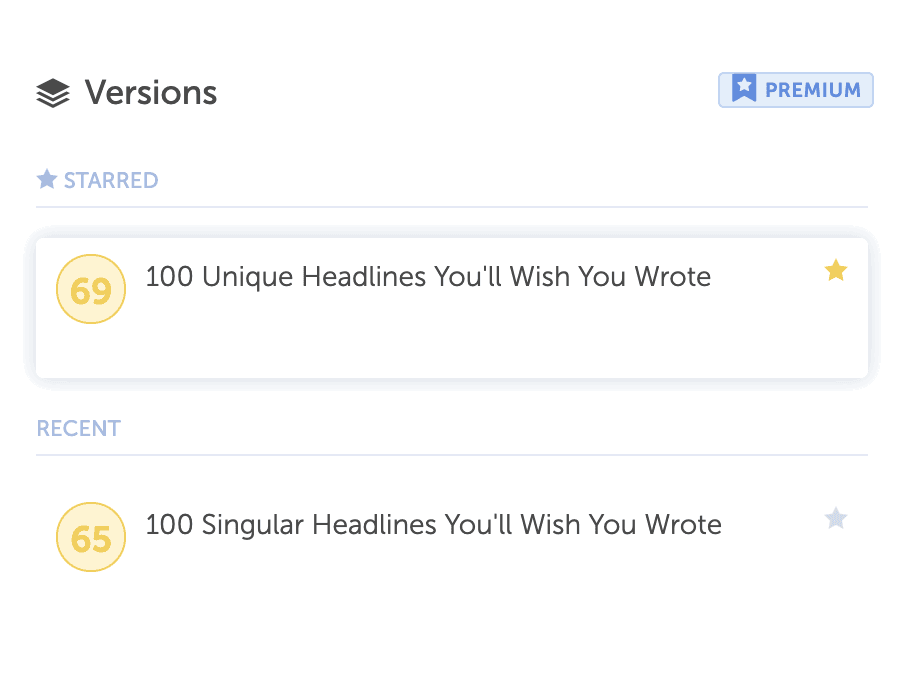 Notice that little gold star next to our most recent headline? That's a Favorite: a headline we starred because it's our highest scoring headline yet. Your favorite headlines will always stay at the top of your list for easy access.
Back to the Top
Premium Feature: Competition
Get Inspiration from Competing Headlines in Competition
The Competition tab in Headline Studio runs a report on your competitors, giving you a sneak peek at how headlines similar to yours are performing in search results.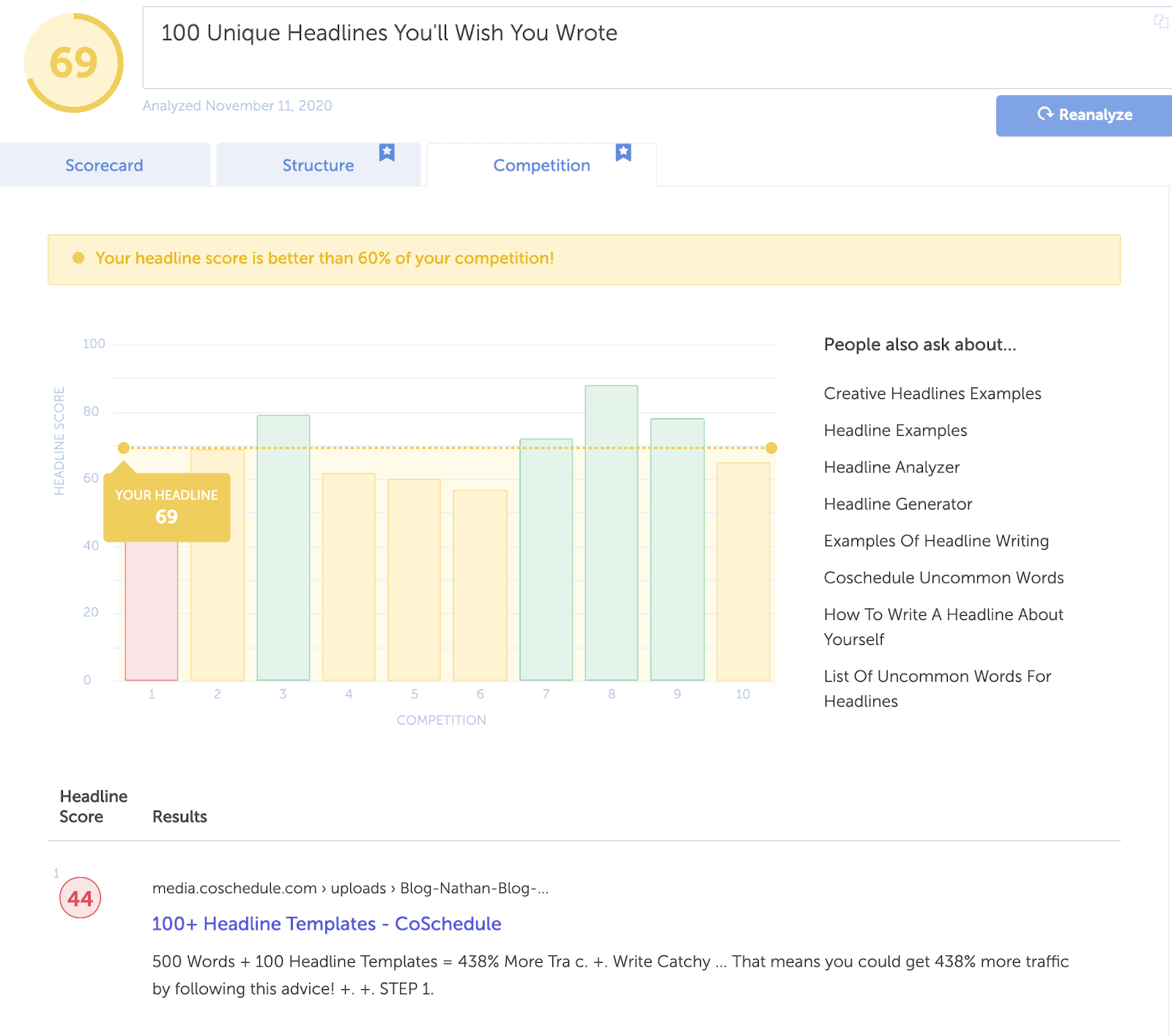 Here are 3 ways you can use your Competition report to your advantage:
Keep building your score to beat your competition.

A headline that scores higher in Headline Studio should get more clicks in search results. Our headline currently scores better than 60% of the competition, but what if we could increase that to 70% or 80%?

Swipe a few tricks from the good headlines.

See a headline that scores highly in search results? Try adding some of the words or ideas from that headline into your own.

Get additional inspiration from search keywords.

See related topics people also search for and try implementing them into your headline to increase the score.

Back to the Top
Premium Feature: Thesaurus
Find Synonyms That Increase Your Score in the Thesaurus
It's time to keep building our score. Let's use one of the results from the Competition report to do that.
This headline includes the word uplifting. That seems like a solid, positive word choice that would inspire people to click. But how can you know whether it'll increase your score?
A quick search in Headline Studio's premium Thesaurus will tell you.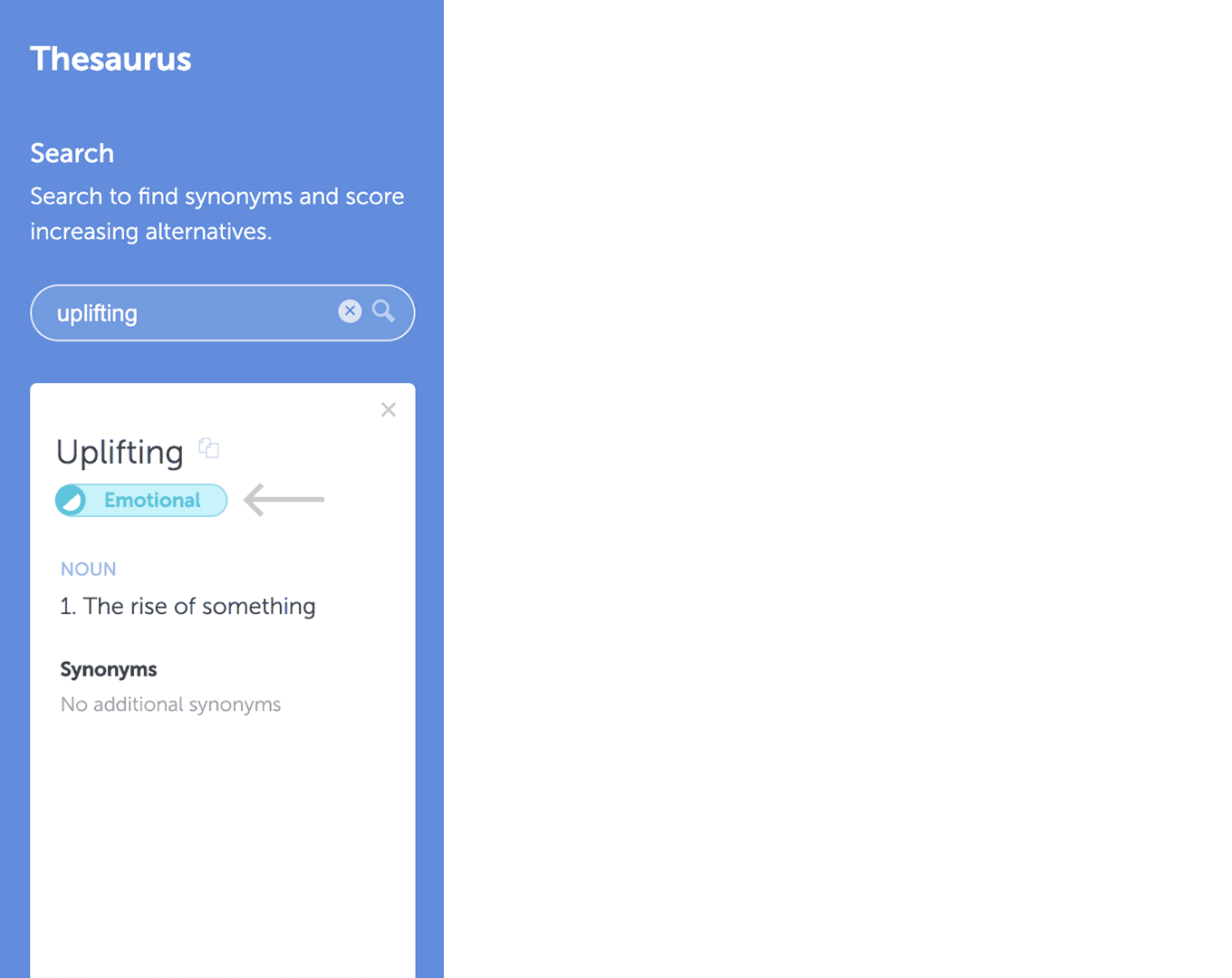 The Thesaurus reveals that uplifting is an emotional word in Headline Studio's Word Banks (which we'll get to later). Meaning it'll automatically uplift our score. And that's pretty great.
Here's another high-ranking competing headline in search results:
This headline uses the phrase you'll wish, just like ours. But they follow it up with the word sooner.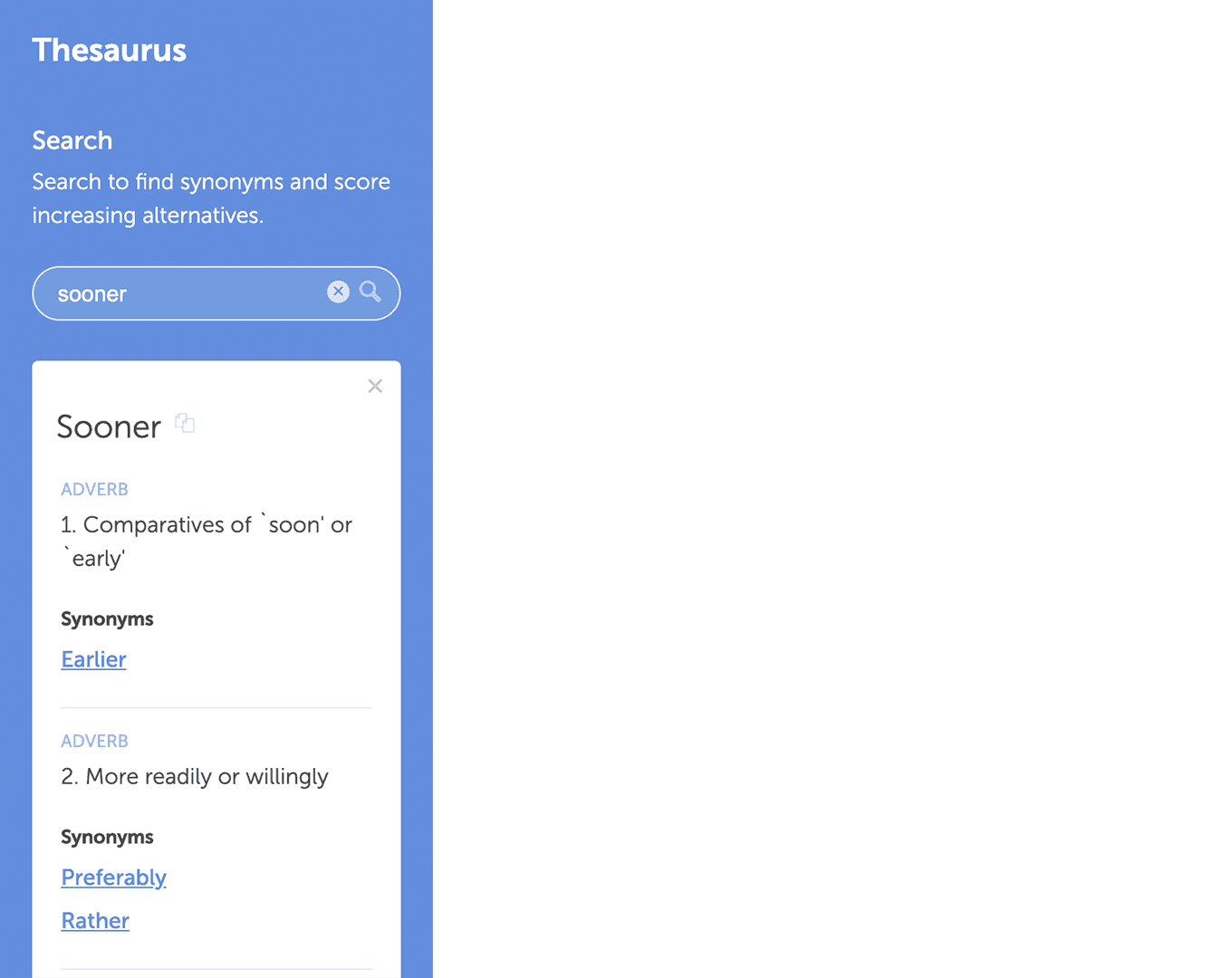 A quick search in the Thesaurus shows that sooner isn't a score-boosting uncommon, emotional, or power word. But after a few clicks through its synonyms, we arrive at a word that IS an uncommon word: first.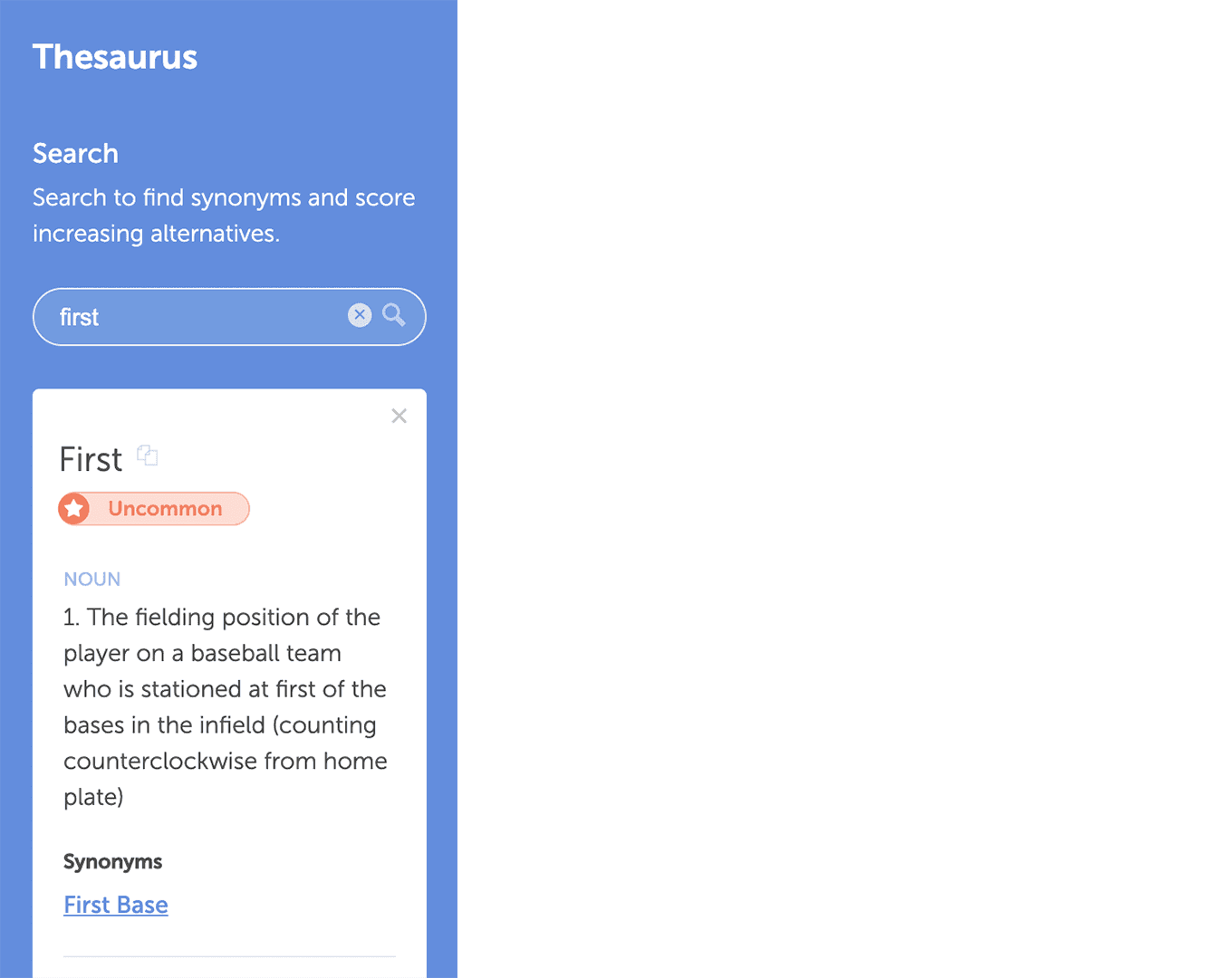 After reanalyzing our headline with the words we found in the Thesaurus, we have a new score that's finally in the green!
Back to the Top
Premium Feature: Word Banks
Find more score-boosting words in Word Banks
When you need to increase your headline score, Headline Studio's premium Word Banks are pure gold. They provide you with hundreds of common, uncommon, emotional, and power words to improve your headline.
You'll find each of these Word Banks right below the Thesaurus: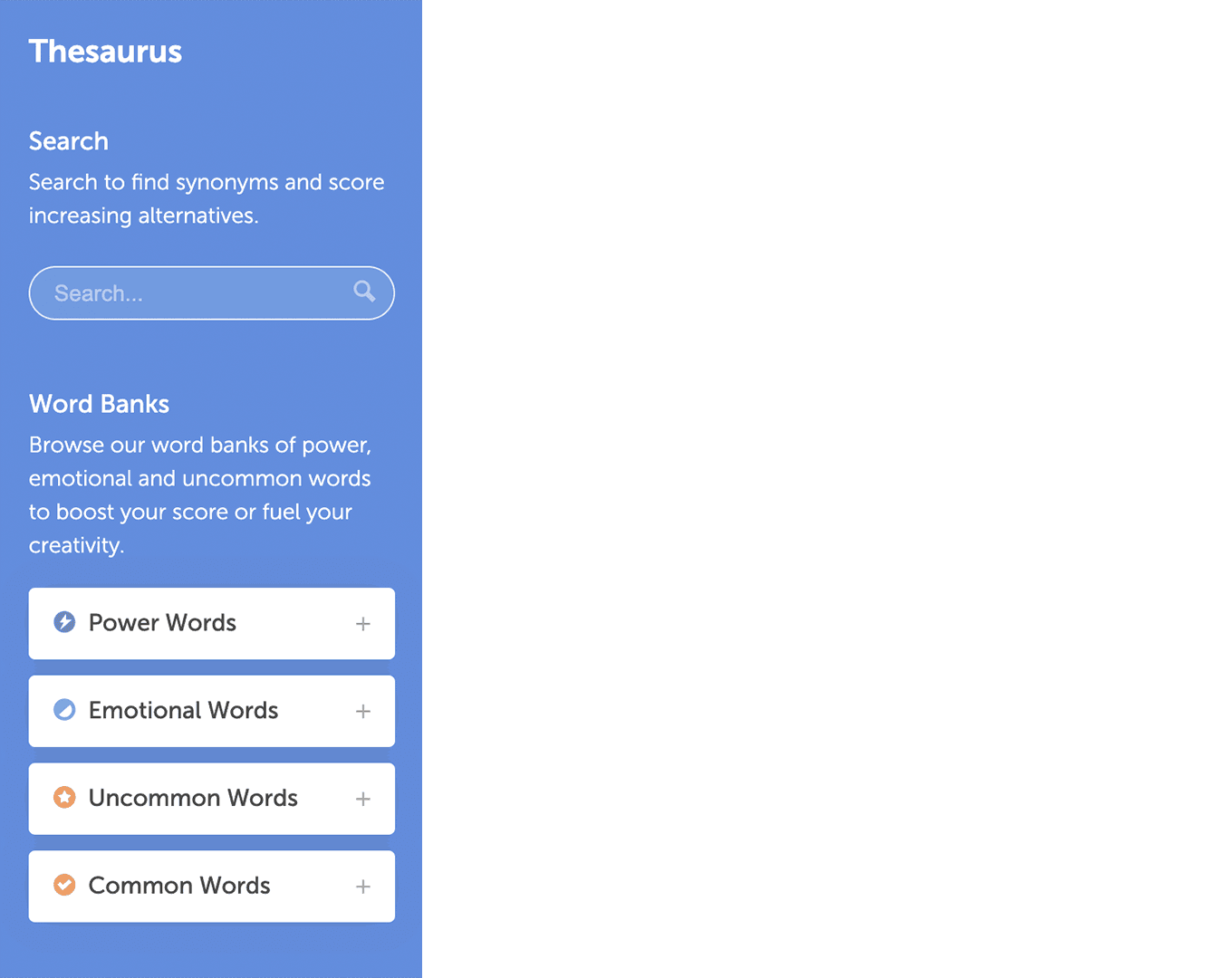 One easy way to make the most of the Word Banks is to take another look at your Word Balance report.
It'll tell you which types of words your headline is still missing, and Word Banks will help you find those missing words that will improve your score.
For example, our current headline is still missing some common words.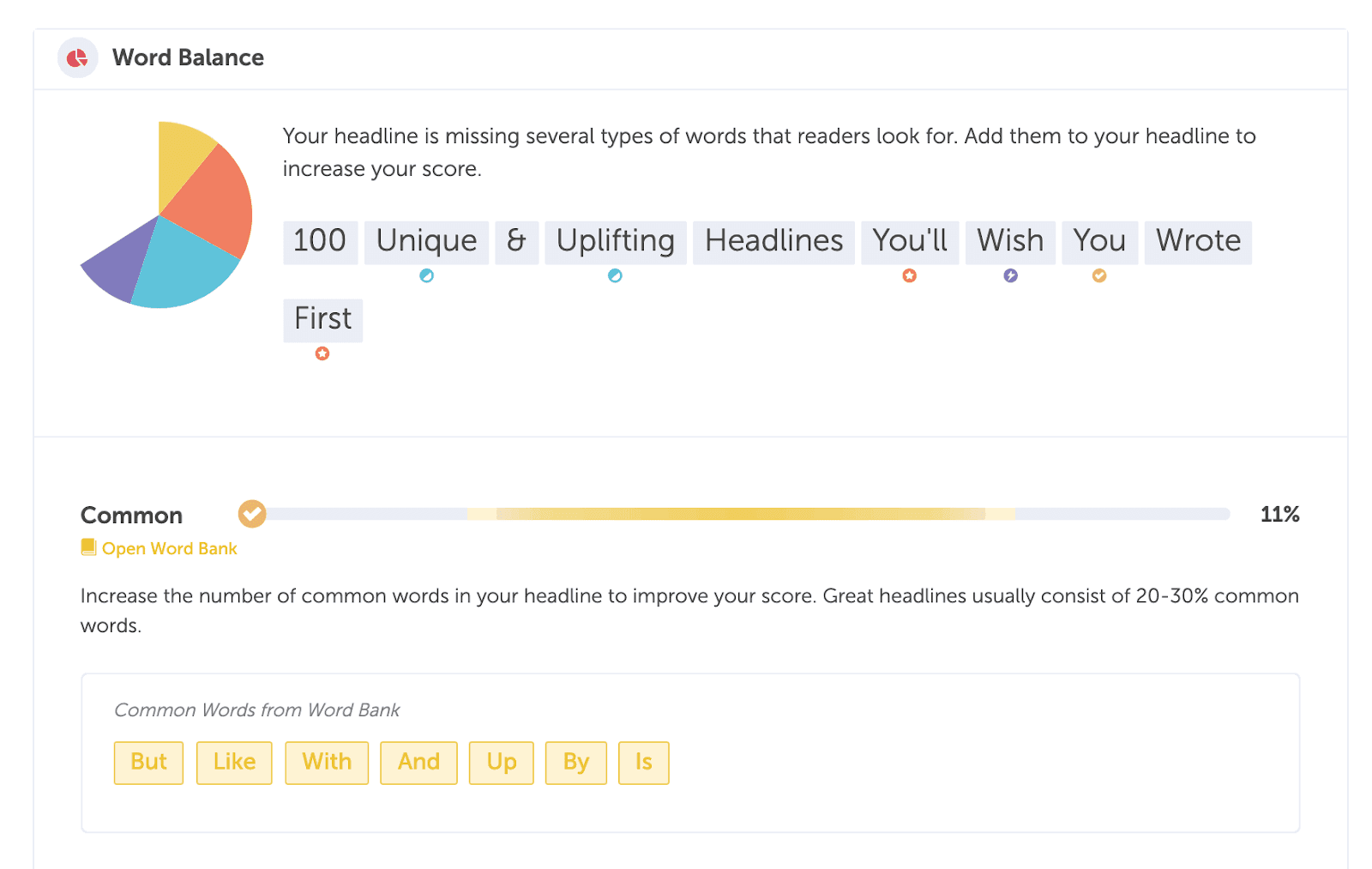 With the help of Word Banks, we quickly found a handful of common words to add to our headline: of, the, most, and that.
Then we analyzed our headline one last time.
Back to the Top
And now for the final reveal…
Our headline score BEFORE using premium features:

Our headline score AFTER using premium features:
We officially increased our score by a whopping 26 points with the help of a few premium features in Headline Studio!
Our headline is now primed and ready to get maximum clicks, shares, and engagement.
Now it's your turn to boost your score in Headline Studio
Head over to Headline Studio and use these premium features to instantly increase your own headline scores. If you haven't signed up for Headline Studio yet, get started free.
P.S. Want more helpful headline writing tips? Check out the Learn tab inside Headline Studio for more headline-related blogs and resources.
The post How to Boost Your Headline Score Using Premium Features in Headline Studio appeared first on CoSchedule Blog.