Every minute, Facebook users upload 147,000 photos, and Instagram users post over 347,000 stories. That's a tremendous amount of content entering the digital space every day—which may be a problem for digital marketers.
In a world where everyone seems to be creating content, it's simply not enough to develop everyday content anymore.
You need to produce visually appealing, unique content at a high volume, all without overextending your marketing budget.
Let me introduce you to generative media and all its possibilities.  
What is Generative Media?
Generative media is computer-generated art or "photographs" as shown below. In other words, it's not an artist drawing the pictures or creating the design. It's all made by artificial intelligence (AI). Here's how it works:
The artist "instructs" the machine to create content within specific parameters or algorithms.
Following these algorithms, the machine generates images.
The artist can change the parameters for creating content at any point.
You can see it as a collaboration between artists and machines—there's still a creative process that could benefit from a professional artist's eye. In this medium, the artist hands over some control (and labor) to a computer.
But if you're not the artistic type? You can give the machine complete control. Here are some examples from Generated.Photos of AI-generated stock photos of faces:
Think of a conventional artist. They can spend hours, days, or even weeks working on the same piece. While this might be okay for personal endeavors, it may not be great for producing scalable marketing content.
Generative media lets this same artist create hundreds, if not thousands, of quality pieces in this same timeframe. All they need to do is set some rules for the computer to follow. The machine will then keep generating content within those parameters until the artist turns the program off or the program runs out of new possibilities.
This isn't just a visual technique, either. You can use generative media to create music streams, slogans, dialogue, and marketing videos. Let's take JustEat as an example.
JustEat is a platform to order food straight to their door from their mobile devices. The company collaborated with Snoop Dogg to launch a new ad campaign, and it wanted to extend this to its Australian subsidiary, MenuLog.
The solution? Use AI technology to switch out the name "JustEat" for "MenuLog" and make Snoop Dogg's lips move differently.
Remember, generative media isn't just about art or image creation. You can successfully use these techniques across various media to boost your marketing efforts.
The takeaway? Generative media is extremely diverse and works effectively across various mediums.  
Are Companies Currently Using Generative Media?
Yes—and far more than you may think! In fact, the worldwide generative media market is expected to reach almost $398 million by 2025. Here are just a few examples of other companies already deploying generative media:
Yelp's Use of Generative Media 
Yelp is a popular website where people post reviews of businesses. As part of its marketing strategy, Yelp uses generative media techniques to:
Compile vast numbers of images
Identify textures, colors, and shapes in user-submitted photos and generate lists of places with similar features that might appeal to the same users

Examples might be users who visit a lot of kid-themed restaurants or relaxing bars
Malaria Must Die and Generative Media
The charity "Malaria Must Die" used generative media to allow David Beckham to speak in nine different languages across its campaign videos. They employed video synthesis technology to dub Beckham and made him appear to be speaking those languages.  
How Baidu Uses Generative Media
Baidu, a Chinese search engine, uses a generative technique called "Deep Voice" to create synthetic voices to communicate with audiences. The algorithm "clones" someone's real voice to be used for everything from marketing videos to campaign slogans.
Where it took an extremely long time for even one voice to be created in the past, now it takes less than 30 minutes of data training for each—and they're working on thousands.
Other Terms for "Generative Media"
You might see other terms like "generative art" and "code art" around the internet. They are just different names for generative media. Here's a list of terms currently used for generative media:
Generative design
Generative art
Algorithm art
Evolutionary art
Synthetic art
Code art
Procedural art
This isn't an all-inclusive list, but it gives you an idea of how broad and varied generative media can be across different industries.
Why Should Marketers Care About Generative Media?
Generative media is not just about content creation in the strictly artistic sense. It's about improving the overall user experience visually. Let me give you an example.
Say you're hosting an event to showcase your brand. Rather than opting for static, unchanging backdrops, you may want eye-catching backdrops to draw crowds. Additionally, you could want people to engage with the display, whether it's by taking photographs or videos to share on social media or merely immersing themselves in a stunning visual experience.
Generative media makes this possible because you can somewhat easily (and cost-effectively) program algorithms to generate new patterns, images, and videos on-screen.
The best part? There's no need to draw all these patterns yourself or employ an artist to create them. The algorithm does the work for you.
What can we take from this? Generative media may improve your engagement levels because the technique provides an immersive experience.
Still not entirely convinced it's worth checking out? Here are some statistics to bear in mind:
Over 70% of people prefer personalized ads. By combining generative media with other techniques like machine learning, you can customize everything from emails to videos with names and individual preferences, giving users a deeply immersive ad experience.
On Facebook, over 500 million people watch videos every single day. Customize your videos, use them to showcase your brand personality, and make them engaging to try to capitalize on this high traffic volume.
Including fresh, interactive content in your email marketing can boost click-to-open rates by 73%.
Around 72% of people prefer videos and visual content to text marketing, which means visual media should be central to your marketing strategy.
Identifying Opportunities for the Use of Generative Media
Speaking of digital marketing strategies, here are some tips for identifying ways you can use generative media across your business:
Does your marketing strategy rely on high volume content creation? Integrating AI or generative art can help you produce the quantity of diverse content you need—without compromising on quality.
Consider customer reach. If you're trying to reach audiences across the world (for example, if you're a vlogger or you frequently use videos), generative media may help you communicate in various languages by generating voice scripts, as we saw earlier.
Are you customer-focused? Using generative media to personalize ads and videos could help you build brand loyalty.
Use generative media to stand out and boost your brand profile at one-off events. For example, you can deploy algorithm art on jumbotrons or posters.
In other words, generative media may help you build the story behind your brand, expand your customer reach, and increase engagement levels by providing a highly immersive experience.
And it doesn't matter what kind of company you run. Take Yelp, for example. At first glance, it's not the kind of brand you'd commonly associate with generative media or machine learning. But that just shows there's no limit to which companies can adopt generative media into their marketing strategies.
Creating a Generative Media Project
Whether you're ready to tackle your own generative media project or you plan on outsourcing the work to a freelancer, you have some steps to take. Let's take a look at both of these options.
Creating Your Own Generative Art
Want to flex your art skills and design your own project? First, you need to get some tools.
You can choose open-source software that lets you create your own coded art or assistive creative apps for building songs and icons. These tools are relatively cost-effective and easy to use if you have some basic coding knowledge.
Once you've figured out your way through the new tools, you can either let the computer "decide" what designs to create, or you can set your own parameters. Check out platforms like YouTube for hints and tips. You can also download premade generative art from websites like Generated Photos.
Outsourcing Generative Art Projects
If you're not artistic, don't have time to learn the trade, and there are no team members you can use, it may be best to outsource content creation. Hire a freelance artist to work with your team—check out platforms like Creativepool to find talent.
Alternatively, if you're only looking for one or two pieces, you can buy some premade generative artwork from platforms like Etsy.
Using Generative Art in Your Marketing Strategy
Ready to use generative media in your digital marketing campaigns? Here's how I'd move forward.
Be clear about what you're trying to achieve. How will generative art support your marketing goals? Are you using it for a one-off event, or will it become part of your brand's story?
Set a clear budget for how much you can spend. If you plan on distributing posters or creating pamphlets, don't forget to factor in the cost of printing and materials. You'll also need to cover artists' fees or subscriptions to software platforms, if applicable.
Check out your competitors. What are they working on? How are they using social media?
Consider how you will promote your use of generative media. Will you take to social media to tell your customers about it? Or will you take it one step further and work on a press campaign?
Don't forget to set a schedule for reviewing your progress and tracking your metrics, too. What are you looking for?
Marketing aims to convert leads to customers, so you need to know if your generative media is working for you. Consider tracking:
Website traffic
Social media engagement levels
Customer feedback and reviews
Conversion rates
You could also try A/B testing, which lets you compare one version of an ad campaign against another. Does your generative media campaign outperform your other campaigns? My A/B Testing Calculator can help you here.
Popular Generative Artists
If you want to check out generative media for yourself, here are some of the most popular generative creators changing the art scene:
GMUNK
Bradley G. Munkowitz, or "GMUNK," uses a blend of light projections, artwork, and other visual effects to create programmable displays and adverts for events, conferences, exhibits, and concerts.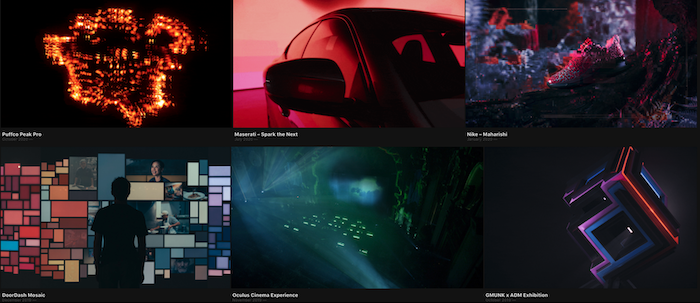 With a client list including Dolby, Maserati, and Nike, it's safe to say GMUNK is a top artist in this field.
Michael Hansmeyer
Hansmeyer uses generative techniques to create 3D architecture. His exhibits can be found across the world, from Tokyo's Mori Art Museum to Design Miami/Basel.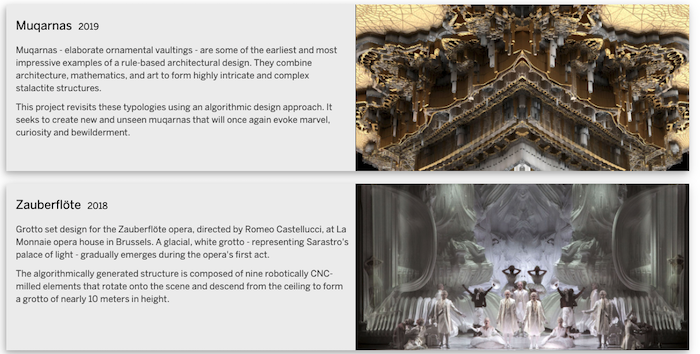 He uses generative art to explore the intersection between the unexpected and the expected and believes in the power of AI to speed up and enhance the creative process.
Taryn Southern
Taryn Southern is best known as the first artist to use AI to compose and produce an entire album. Named one of the Top 20 Women in VR, she's performed at major events, including Google's AI Summit and VidCon.
Mike Tyka  
A co-founder of Google's Artists and Machine Intelligence (AMI) program, Mike Tyka is one of the first artists to "draw" portraits using generative media. They're created by a neural network trained to "visualize" imaginary people and draw what it "sees."
Conclusion
From Instagram to e-commerce stores, generative media may improve the overall user experience and boost your marketing strategy. I believe whatever industry you're in, it's worth exploring.
How are you finding generative media? Have you tried it out yet?
The post Generative Media: The Future of Visual Marketing appeared first on Neil Patel.