Disclosure: This content is reader-supported, which means if you click on some of our links that we may earn a commission.
Web hosting comes in all different shapes and sizes. As a whole, these plans can be segmented into four main categories—shared, VPS, cloud, and dedicated.
Shared hosting is essentially the entry-level web hosting category. 
It's ideal for new websites and smaller websites that don't have a ton of traffic just yet. Since shared hosting is the first tier of hosting options, it's always the most cost-effective way to host your website. 
For those of you starting a new website from scratch, shared hosting will be the best option 99% of the time. These are the top hosting companies for shared plans:
The Top 6 Options For Shared Hosting Companies
Bluehost
A2 Hosting
TMDHosting
Hostinger
DreamHost
GreenGeeks
How to Choose the Best Shared Hosting Company For You
As you're shopping around and evaluating different shared hosting companies, there are certain factors that you need to keep an eye out for. Make sure you take the following elements into consideration:
Speed
With shared web hosting, your site will be sharing server resources with other websites on the same server (that's where the name "shared" comes from).
This ultimately impacts the performance of your website, including the site speed. Your site won't be as fast as it would if you were on a VPS (virtual private server) or dedicated hosting plan. But that's fine; most new websites don't need top-of-the-line performance. 
With that said, some web hosting providers are faster than others. If your loading times are too slow, it will cause visitors to bounce and ultimately create a negative experience for people on your website. 
Uptime
Uptime is another crucial factor to consider when discussing site performance. If people can't access your site, it's going to be detrimental to your success. 
Generally speaking, some downtime is bound to happen. Certain providers will guarantee uptime rates, like 99.9%, but those typically come with all different types of contingencies. For example, planned outages wouldn't qualify for the guarantee. 
Read some reviews from current customers to see if they are experiencing outages and downtime.
Traffic
Make sure you choose a plan within the shared hosting category that can accommodate the traffic you're expecting. 
For example, some plans won't be able to accommodate more than 10,000 monthly visits. You might need to choose a tier that supports 25,000 or 50,000 monthly visitors. Once you get beyond these numbers (and it will probably take a while), then it might be time to consider moving away from shared hosting to a VPS or cloud hosting plan. 
But for not, there are plenty of shared hosting providers out there offering plans to accommodate the traffic for new websites. 
Security
At a minimum, your web hosting provider should be giving you a free SSL certificate. 
But beyond that, some providers will go the extra mile to help protect your website from things like malware, brute force attacks, and more. So keep an eye out for packages and promotions that will protect your website from malicious attacks. 
Some hosts will include these extras in your plan, while others will charge you extra to add-on a security package. 
Limitations
The vast majority of shared hosting plans will have some restrictions for your bandwidth and storage. 
Your bandwidth essentially restricts the amount of data that gets transferred from your site at any given moment. The more traffic you have, the more bandwidth you'll need to accommodate that traffic.
This is especially true for websites with lots of videos, images, or dynamic content (all of these require additional bandwidth).
Although many hosts will advertise unmetered or unlimited bandwidth, that's really never actually the case. So double-check your contract before making a commitment. 
Storage can also be referred to as disk space. This is the amount of space your website can occupy on the shared server. Images, videos, files, databases, scripts, code, and more all eat into your disk space limits. 
Similar to bandwidth, be wary of hosts promoting unlimited disk space—that doesn't actually exist.  
Support
If you're new to the world of web hosting, you're going to have some questions. It might not be today or next week, but eventually, you'll need assistance. 
Make sure you choose a web hosting provider that will be there to help you out. This is crucial in times when your site goes down, or you need a time-sensitive reply. If your site crashes on Friday afternoon, waiting until Monday at 9:00 AM EST isn't really a viable option.
The best web hosting providers offer 24/7/365 support.
The Different Types of Shared Hosting Companies
Earlier I mentioned the different types of web hosting (shared, VPS, cloud, and dedicated). But there are further segmentations within the shared hosting category itself. Before we dive into the company reviews, I want to quickly explain the differences between the following shared hosting types:
Linux Hosting
Generally speaking, Linux servers are the default option for shared hosting. Unless you're super technical and need to run specific applications at the server level, you shouldn't have to think twice about this— Linux servers will be just fine. 
Windows Hosting
Some hosting providers let you choose your OS. So if you don't want a Linux server, you might have the option to select a Windows server instead. This is really only necessary if you're running custom server-side applications written in .NET or SQL servers—both of these need a windows hosting plan. But the vast majority of you don't need to worry about this. 
WordPress Hosting
As the name implies, WordPress hosting is designed specifically for WordPress websites. These plans will include features like one-click WordPress installations, automatic WordPress updates, security optimized for WordPress, and more.
If you're running a WordPress site, it's definitely a good idea to consider WordPress hosting. But with that said, you can still host your WordPress site without a WordPress-specific plan. 
Managed Web Hosting
Managed hosting will be a bit more expensive than traditional shared plans. That's because managed providers allow you to stay hands-off.
If you don't want to worry about security, backups, updates, and other technical aspects of hosting your website, a managed hosting provider can handle all of these things for you. You'll pay a little extra, but you really won't have to do anything beyond running the site itself. Everything behind the scenes will be managed for you.
Domain Registrars
Lots of domain registrars also double as web hosting providers. Avoid these. 
There are certain instances when you can bundle web hosting and domain registration, but I'd only recommend that from a hosting provider. You should never get web hosting from a domain registrar—period.  
Website Builders
Similar to domain registrars, lots of website builders also offer web hosting plans. Again, stay away from these. Even if you're using a site builder to create your website, you should still get your hosting plan from a traditional hosting company. 
#1 – Bluehost — The Best Shared Hosting For WordPress
More than two million sites worldwide are powered by Bluehost. This is one of the most popular and reputable shared hosting solutions on the market today.
I also like Bluehost because they've been on WordPress' list of recommended web hosts for 15+ years. 
In addition to the WordPress hosting plans, there are plenty of other great reasons to choose Bluehost. Here's why they rank so high on my list:
Free SSL certificate included with your shared plan
Free domain name for the first year
One-click WordPress installation
24/7 customer support
30-day money-back guarantee
$200 in marketing credits
Bluehost makes it easy for your site to scale as well. As the site grows and you need more resources, upgrading your plan accordingly is a breeze. They also advanced extras like Cloudflare CDN, domain privacy & protection, spam protection, SiteLock, CodeGuard, and multi-server management. 
Plans start as low as $3.95 per month. 
#2 – A2 Hosting Review — The Best Hosting Company For Speed
A2 Hosting is another well-known name in the web hosting world. If you want fast loading times and outstanding performance on a shared plan, this will be a top choice to consider.
Certain plans come with turbo boost servers that are up to 20x faster than traditional shared plans. Here's a closer look at those plans:
Sites of all sizes can rely on A2 Hosting for optimized performance. Other top features, benefits, and highlights of the shared plans included:
Free and simple site migrations
Free automated backups
99.9% uptime guarantee
Speed and performance optimized for WordPress
Free SSL certificate
Guru support available 24/7/365
A2 Hosting is a great option for new websites, as well as existing websites looking to switch hosting providers. They offer WordPress hosting as well. 
You can sign up for A2 Hosting risk-free. All plans are backed by a 30-day money-back guarantee. 
#3 – TMDHosting — The Best Fully Managed Plans
If you're looking for a hands-off hosting solution, I highly recommend TMDHosting. 
While this might not be the most recognizable name in the industry, these managed shared hosting plans are second to none. 
For new websites and existing websites alike, TMDHosting has solutions to accommodate your needs. Let's take a closer look at the noteworthy highlights from this hosting company:
24/7/365 premium support
Global data centers
Military-grade security
Optimized for open-source platforms (WordPress, OpenCart, Drupal, PrestaShop, etc.)
Free application installation with 1,300+ apps
Free components installation
Free template installation
Up to 16x faster page loading speeds
Live malware protection
Free domain
Linux and Windows servers available
Free daily backups
99.999% uptime guarantee
As you can see, managed plans from TMDHosting definitely come packed with features and benefits. If you're migrating over from another host, TMDHosting will transfer your site files and databases for free. They'll also compensate you for unused months on your other contract. 
Shared hosting starts at just $2.95 per month. All plans are backed by a 60-day money-back guarantee. 
#4 – Hostinger Review — Best Cheap Shared Hosting Plans
If you're on a tight budget and don't want to spend a fortune on web hosting, you should definitely check out Hostinger.
With shared plans starting at just $0.99 per month, this is roughly 25% of the price compared to entry-level plans from other providers.
Even at such a low introductory rate, you really aren't sacrificing too much quality with a shared plan from Hostinger. Aside from the rock-bottom pricing, there are still plenty of reasons why Hostinger ranks so high on my list:
24/7/365 live chat support
Automatic one-click WordPress installations
Strong uptimes rates and loading speeds
Easy to set up whether you're creating a new site or migrating an existing site
Free SSL certificate
Simple, intuitive, and user-friendly control panel
Flexible and built to scale
It's worth noting that you'll need to lock-in a 48-month contract to get the lowest possible rate. Since you have to pay for this contract upfront and in-full, it's actually going to cost you more than just $1 today. 
Hostinger offers a 30-day money-back guarantee, so you can sign up risk-free. 
#5 – DreamHost Review — The Best Shared Hosting Features
DreamHost is one of the most reliable and reputable hosting solutions on the market today. They offer a wide range of hosting solutions, including feature-rich shared plans. 
Plans start as low as $2.59 per month.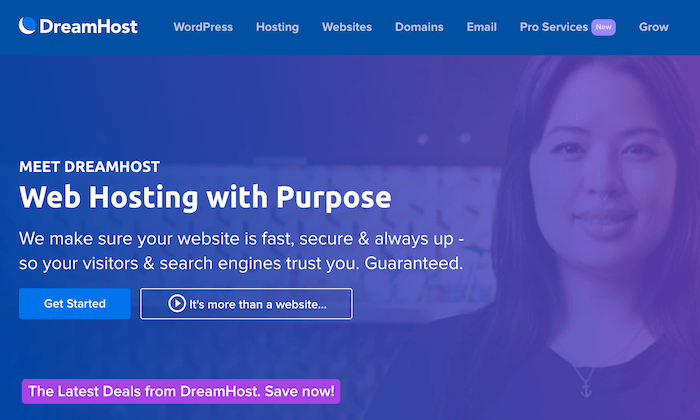 Why should you consider DreamHost? Let's take a closer look to see what these shared plans have to offer.
24/7 support
WordPress hosting
Free domain name
Fast SSD storage and email hosting
Anti-spam protection and free WHOIS privacy
100% uptime guarantee
One-click WordPress installs
Unlimited traffic
Automated WordPress migrations
Automated backups
Some of the advanced features include canned CGI scripts, Crontab access, full Unix Shell, unlimited SFTP users, unlimited MySQL databases, and more. So if you're a developer or a technical user, these will definitely come in handy. 
It's no surprise that 1.5+ million websites rely on DreamHost for web hosting. All plans are backed by an industry-leading 97-day guarantee. 
#6 – GreenGeeks Review — Best Eco-Friendly Hosting Company
GreenGeeks is a bit unique compared to some of the other providers on our list. It's definitely not the most popular or most recognized name in the hosting world.
But as the name implies, this provider offers eco-friendly hosting, which is extremely important in today's day and age.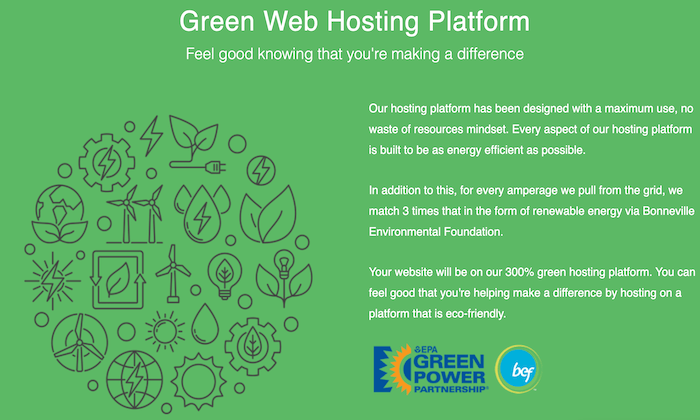 If you want to limit your carbon footprint and help protect the environment, GreenGeeks will be the best option for you to consider. Aside from this unique differentiator, here are some other reasons why 45,000+ websites rely on GreenGeeks:
Free nightly backups
Free SSL certificate
Free domain for first year
Free CDN
Unlimited email accounts
LSCache included with plans
Free site transfers
24/7 tech support (chat, ticket, or phone)
Developer-friendly tools and features
Real-time security scanning and proactive server monitoring
Built for speed and scalability
When you sign up for a GreenGeeks shared hosting plan, you can sleep well at night knowing that your site is stable and you're making a difference in the world. Plans start at $2.95 per month, and they're backed by a 30-day money-back guarantee. 
Summary
Every website needs a hosting plan to be live on the Internet. 
If you're starting a new site from scratch or currently running a small website, shared hosting will be the best option for you. But which hosting company is the best?
Use the recommended providers and buying guide explained above to find the best shared plan for your website. 
The post Best Shared Hosting Companies appeared first on Neil Patel.